Just Published — The Forrester Wave™: Global Continuous Testing Service Providers, Q1 2019
Digital disruptors and customer-obsessed organizations are improving customer experience (CX) by shortening their software delivery cycles, delivering features in smaller increments, and scaling their existing Agile processes in concert with DevOps. Traditional testing services don't cut it for these organizations: 20 of 25 reference customers told us that they are adopting continuous testing (CT) services to support their Agile and DevOps initiatives within a digital transformation journey. Of those CT services, broadly speaking, clients say automation is the most impactful and differentiating for delivering better software faster. This is the second Forrester Wave™ I've done on continuous testing providers in the last 24 months; the previous one included CT vendors with revenue between $50 million and $1 billion — Forrester clients can read that report here.
This year's Wave focuses on the larger global systems integrators that are offering CT services with revenues above $1 billion. In a nutshell, the following are the takeaways from the Wave:
Accenture, Tata Consultancy Services, Wipro, and IBM lead the pack.
Capgemini, Cognizant Technology Solutions, Infosys, and NTT DATA offer competitive options. DXC is a Contender.
AI and machine-learning accelerators, automation augmentation, and talent are huge differentiators.
While customers claim to enjoy higher levels of intimacy with smaller global vendors, they enjoy enough intimacy with the large ones, too, as you can see in the figure below.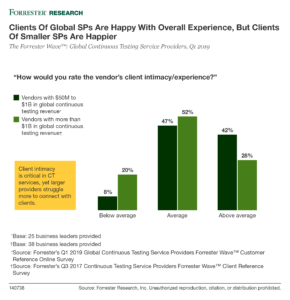 Forrester clients can read about why we positioned the vendors where we did, as well as what specific evaluation criteria we used in the report, here. They can also download the Excel file with all the details of the report evaluation. Happy reading, and talk to you soon. Send me an email at dlogiudice@forrester.com if you have any comments, or schedule an inquiry if you want to discuss more details.
Categories