Making the Transformation From a Product Focus to an Audience-Centric Go-to-Market Model
As organizations mature, they must find a way to tailor their offerings to satisfy audience needs
At Summit 2017, Ross and Marisa introduced the SiriusDecisions Go-to-Market Execution Model
Organizations should work to understand the level of traction they have with key audiences
It's not easy for organizations to stay attuned to their buyer and customer audiences. This is understandable, as many businesses start when someone has a great idea and wants to find a way to bring it to market. However, as organizations mature, they must find a way to tailor their offerings to satisfy audience needs – if they want to increase engagement and grow revenue.
This was the central theme of Ross Graber and Marisa Kopec's keynote presentation, "Product-to-Audience Transformation: Making It Happen," which they presented this morning at SiriusDecisions' Summit 2017 in Las Vegas.
"Even the most successful companies will hit an inflection point where they can no longer focus on how awesome their product is," said Ross. "But the B2B factory was built to market and sell products. And that machinery resists audience-centricity at every step."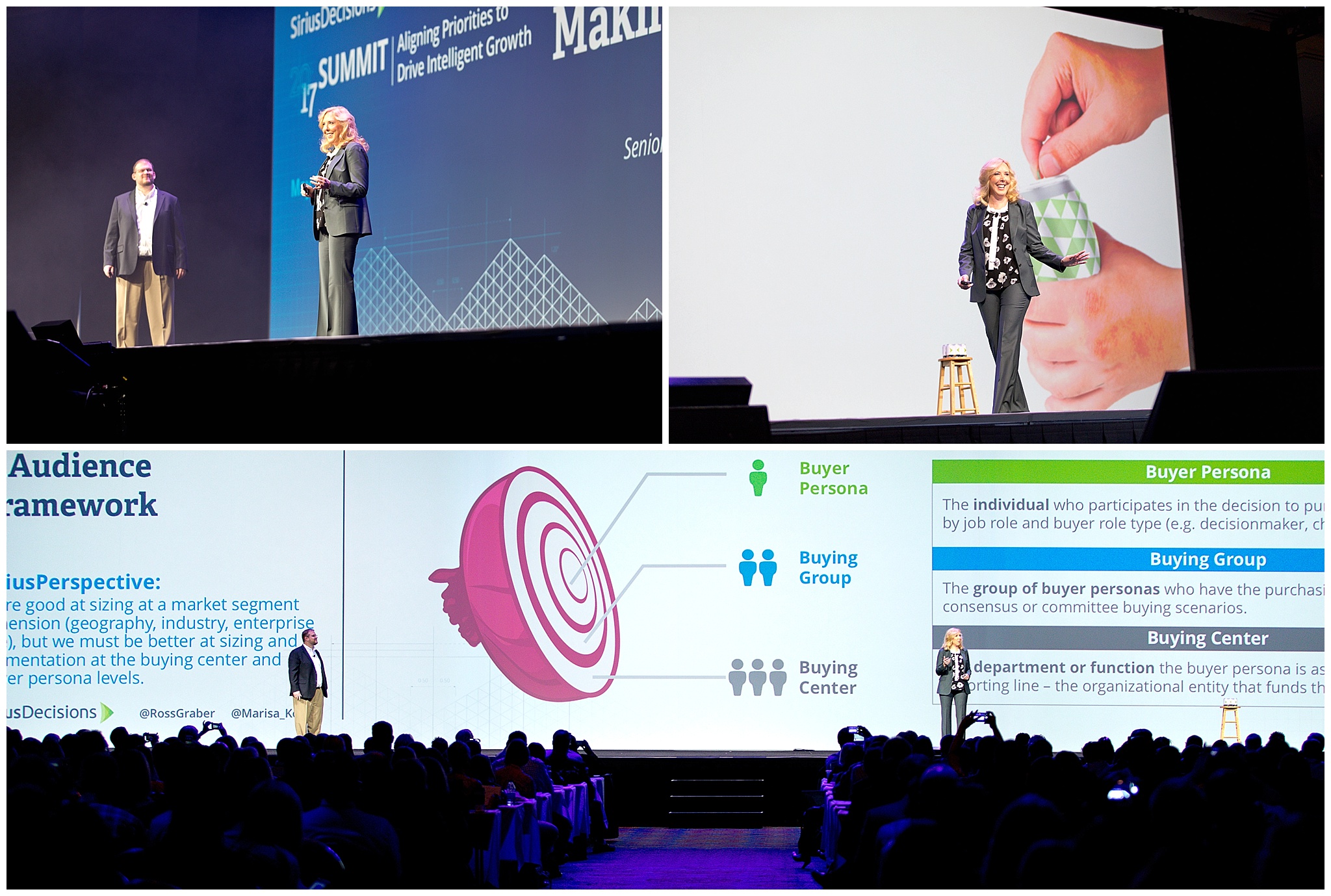 How can you tell when your organization is NOT audience-centric? Perhaps you focus too heavily on internal business issues. Or, if you are focused on the buyer, you may not have a good idea of how you match up against competitors. Even if you know who you're up against, your messaging may not resonate with buyer needs.
To combat these issues, Ross and Marisa introduced the SiriusDecisions Go-to-Market Execution Model, a cross-functional workflow process for bringing existing offerings to market to reach new markets or buyers – or to make messaging resonate more strongly with existing buyer audiences. To walk Summit attendees through the model, Marisa and Ross focused on six critical process elements that organizations must change to become audience-centric.
When polled during the session, more than 60 percent of Summit attendees said their organizations planned to grow primarily by selling to new buyers, and Marisa noted that the Go-to-Market Execution Model is especially well suited to support the accomplishment of this goal.
Using the metaphor of a six-pack of beer, Ross and Marisa described the "Transformative Six-Pack" – six elements of the model that are particularly effective at transforming a product-centric approach to a truly audience-centric strategy. Marisa noted that, "With change management, you probably could use a few brews, right?" This six-pack of key elements includes:
Audience framework. Your organization might be good at sizing a market segment dimension (e.g. geography, industry, size). However, organizations must also be able to segment by buyer persona, buying group and buying center.
Buyer needs. Using the SiriusDecisions Needs Dimensions Framework, organizations must understand the type of buyer need and who drives a purchase. Otherwise, messaging could fall flat with a key buying audience.
Go-to-market model. The go-to-market model must align offerings to buyer needs, rather than the other way around. This requires a clear audience framework, offering maps and a map of the buyer's journey.
Messaging source document. This document should capture deep audience insights to guide the messaging output. Organizations must isolate the target audience and define the persona context. Marisa stressed that boring, product-centric messaging does not connect with buyers. Messaging must be both relevant and striking to engage the audience.
Campaign hierarchy. Organizations should take care not to focus campaigns on internal product roadmaps or business unit structures. Rather, they should be built according to audience segments and buyer needs, with offering maps coming out of those elements.
Measurement. Referring to the cans of beer, Ross said, "It's always the last one that leaves you with a throbbing headache." Likewise, many B2B professionals struggle with effective measurement, the last element in the model. In measuring performance, organizations should work to understand the level of traction they have with key audiences. Common growth signals include sales qualified lead volume, deal velocity and cost per lead. Putting these into context requires an underlying data model that helps the organization create an audience-based go-to-market dashboard. Ross stressed that, "Audience-centric measurement is NOT a nice-to have; it is a must have."
Ross and Marisa closed by reminding the Summit audience to adopt a step-by-step approach to adopting, operationalizing and optimizing the elements contained in the transformative six-pack within go-to-market execution and workflow processes. Marisa emphasized that organizations need not implement the entire framework right away: "You can work on just one of these areas and make a tremendous impact. You don't have to consume the entire six-pack all at once."
Categories