Meet the SiriusDecisions Channel Operating Model!
Continued changes in channel strategies and new trends and related best practices have inspired this recently evolved model – the Channel Operating Model
The new model represents the key processes and activities to support partners and establish channel excellence
Alignment between channel sales, channel marketing and channel operations remains a critical focus
SiriusDecisions recently introduced a newly updated model across the Channel Marketing Strategies and Channel Sales Strategies services. Originally launched as the SiriusDecisions Channel Program Model in 2015, the new model is the SiriusDecisions Channel Operating Model.
The Channel Operating Model outlines the key processes and activities required to build, manage and grow a successful indirect business. The model offers a holistic approach required to support partners and establish channel excellence, providing a cross-functional mapping for channel sales, channel marketing and channel operations. The model reveals a total of 72 individual processes and activities across five key components or stages: Plan, Recruit, Engage, Grow and Measure.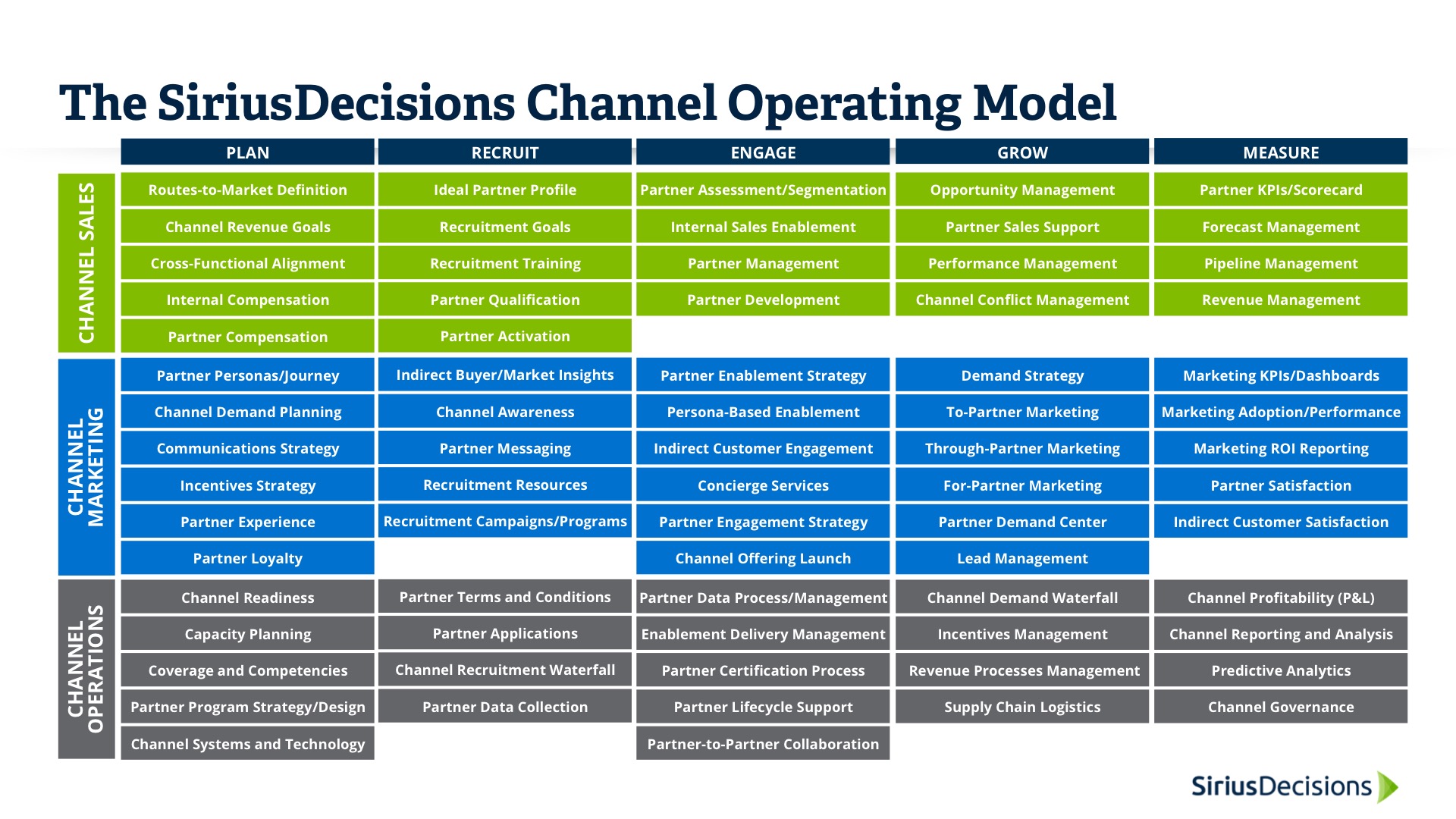 Because the new model was built using a similar design and structure as the previous model, the enhancements may not be apparent at first glance. But the newly evolved model includes numerous newly added or expanded key processes and activities across the channel sales, channel marketing and channel operations functions. As a highlight, I am sharing five expanded processes and activities for channel marketers, with descriptions for what those leaders should focus their efforts to achieve:
Partner loyalty. Plan programs to ensure partner commitment and loyalty, with the goal of encouraging ongoing partner advocacy (e.g. partner reference program, partner advocacy program).
Indirect buyer/market insights. Define and document insights on target indirect buyers and markets. These efforts may include working with product teams to document indirect buyers' journeys and persona profiles, identifying unique indirect buyer or market requirements, conducting channel-specific competitive analysis, and providing formal opportunities for product managers to gain insight directly from partners on their needs and requirements.
Channel awareness. Create awareness of the organization's channel strategy, commitments and partner opportunities across relevant communities. Align with public relations and analyst relations functions to ensure that channel-specific analysts, press, media and influencers are included in annual plans. Establish a cadence for channel-related press releases and success stories. Align internally with marketing functions to ensure that advertising and awareness activities are extended to support channel goals.
Persona-based partner enablement. Channel marketing should establish persona-based enablement programs (training curriculum, certification programs, resources, tools) for each relevant partner persona (e.g. executive management, technical, sales, marketing, professional service, support) by partner type.
Indirect customer satisfaction. Establish programs and processes to enable the measurement of indirect customer satisfaction directly or through partners. This measurement should include an evaluation of customer satisfaction related to working with the partner as well as working with the supplier, and customer satisfaction with the supplier's offerings.
Suppliers can use the SiriusDecisions Channel Operating Model in four ways to improve their channel business, 1) as a blueprint to outline the core areas that need to be designed, built and managed for channel success; 2) as a diagnostic tool for evaluation, improvement and cross-functional organizational alignment; 3) as a springboard for an organization's channel success; and 4) to establish a standard language for the entire organization and among the channel functions.
Categories