PEAK Humans Can Flourish In Our Transformation-Filled Future Of Work
Academics to consultants are prognosticating on the future of work, picking winners and losers, often to the detriment of employees. Forrester's data shows that job losses will reach 29% by 2030, and the creation of equivalent jobs will total only 13%. Job losses and gains dominate the headlines. Humanity remains at the center. The future-of-work story is about customers, employees, and leaders.
Customers continue to demand more value, leaving companies in a constant state of transformation, compounded by the economy, tensions between globalization and localization, transparency, data security, and ethics, and all multiplied by the acceleration of automation and intelligent technologies. This puts employees, leaders, and even robots themselves at odds. Despite a difficult transition ahead to redefine our humanity as a culture, at home, and at work — humans can flourish.
Imagine if we put as much time, value, and investment into evolving humans as we do developing new technologies, knowing that technology advancement is inseparable from human advancement — a continuous, symbiotic tech-human loop that keeps meeting the needs of the empowered customer.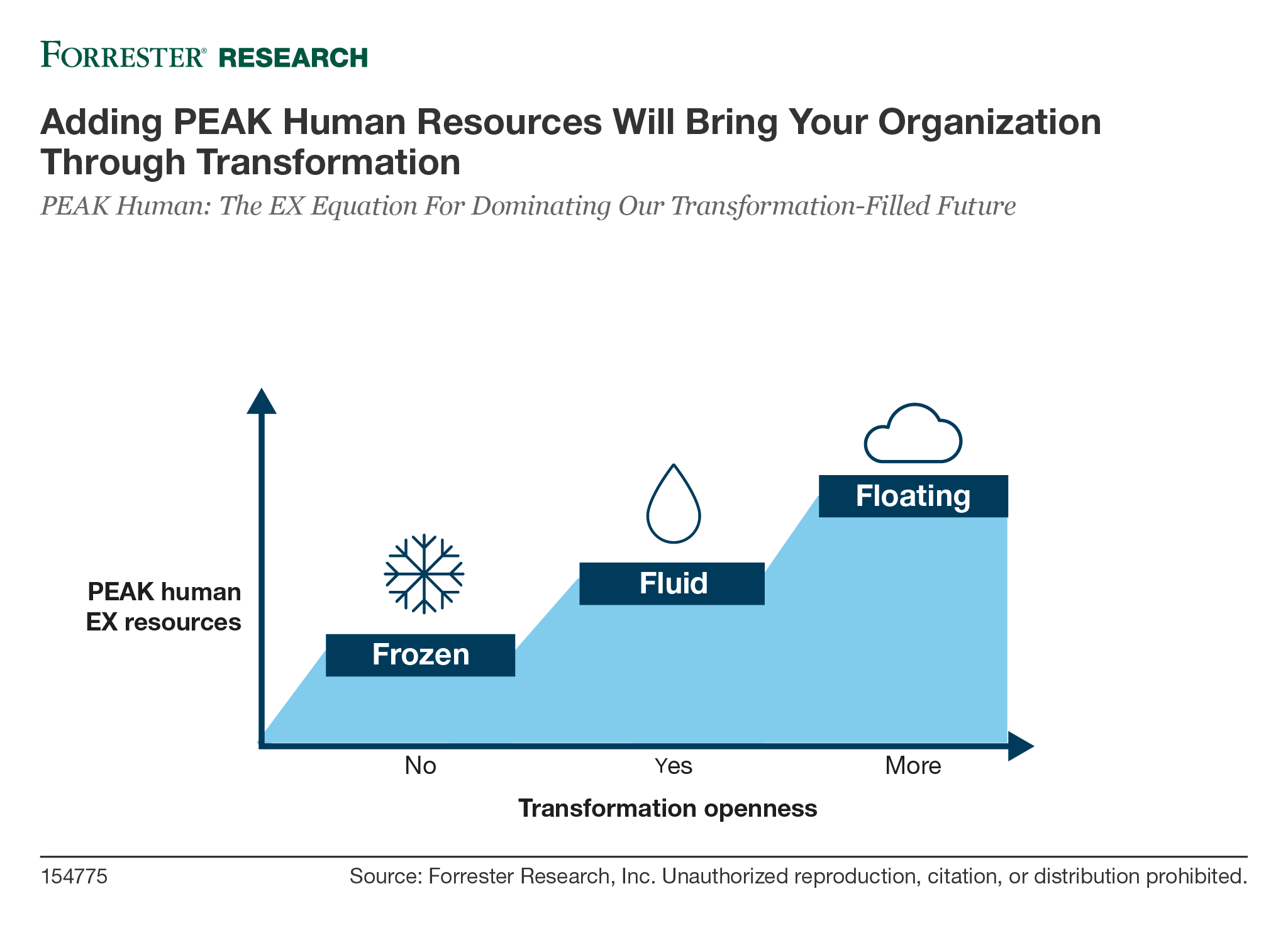 This does affect employees. Companies are on a mission to be agile, more innovative, and resilient to disruption by Amazon or venture-backed startups. This causes leaders to embark on multiple, simultaneous transformations, creating disorder, stress, and uncertainty among even their most talented employees. Any hope of success means that leaders have to inspire their employees to derive strength from the chaos. They must create an environment that conditions them to embrace change with optimism.
Leaders must resource culture-rich, employee-obsessed PEAK human experiences:
Poised. Employees have confidence in their voice, express ideas, engage in debate, and fail without fear.
Enlightened. Employees understand their strengths, capabilities, and aspirations, supported by active and accountable leaders committed to developing their untapped potential.
Adaptable. Employees thrive in uncertain and ambiguous situations, drawing energy from challenges and the opportunity to respond with new ideas.
Knowledge-seeking. Employees are optimistic and enthusiastic about the process of growing, acquiring new skills, and expanding their intellectual capacity.
Sam Stern, principal analyst, explores what it takes to create a great employee experience in his latest research, "PEAK Human: The EX Equation For Dominating Our Transformation-Filled Future" — detailing the process of shaping talent from the frozen "no" to a fluid "yes" and on to a floating "more." Sam's interviews demonstrate how companies' investments in EX harness their employees' ambitions to drive growth in any type of transformation.
Please read the preview on Sam's recent blog. There's more to come from Forrester's EX research team and the future of work.