Pipeline Acceleration in the Channel
SiriusDecisions research shows that companies that align sales and marketing efforts focused on the pipeline outperform their peers
A systematic, collaborative pipeline accelerations is necessary to drive consistent channel sales and marketing activities
Acceleration tactics can impact the following acceleration zones: rapid entry, intra-pipeline and last mile
In many organizations, a wall exists between sales and marketing, which can have a negative impact on sales pipeline. Poor alignment between sales and marketing can be even worse when marketing and sales personnel from channel partners are involved. In this scenario, there is often a lack of visibility into the status and progression of opportunities within partner pipelines. Channel marketing can play a significant role in improving channel pipeline dynamics, but only when partner sales and marketing teams are aligned with each other and with the supplier.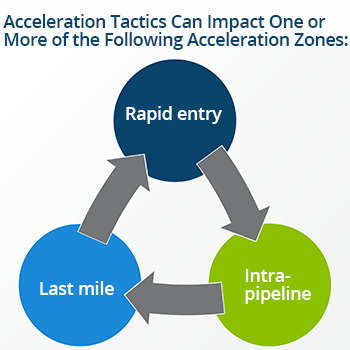 As B2B selling becomes more complex, organizations need more visibility into partner pipelines and a set of remedies to help partner sales move deals more quickly and successfully. Although channel marketing has traditionally focused on developing awareness and creating demand, today's most successful channel marketing teams are extending beyond top-of-the-funnel activities to help partner sales become more productive. Channel marketing must demonstrate its value by collaborating with channel sales to help partners improve the volume and velocity of deals within each pipeline stage.
We have seen increasing interest from many channel leaders in how to work with partners to accelerate slow-moving deals in the pipeline and get deals that have completely stalled moving again. Unfortunately, the pipeline acceleration efforts that currently exist in the channel are typically ad hoc – they are not formalized in a scalable, repeatable process. A systematic, collaborative pipeline acceleration approach is necessary to drive consistent and coordinated sales and marketing activities that will optimize results.
At this year's SiriusDecisions Sales Leadership Exchange, I will present the results of our channel pipeline acceleration research, which shows how companies that align sales and marketing efforts focused on the pipeline are outperforming their peers to achieve higher conversion rates, improvements in partner productivity, better forecasting and pipeline visibility, and the acceleration of slow-moving deals. Pipeline acceleration efforts can address specific situations to rapidly create opportunities or mitigate issues that are causing stalled deals.
To successfully plan and execute pipeline acceleration programs, organizations must ensure that they have the necessary information and supporting technologies in place, then map out a process that shows how each tactic will be deployed, and how the impact of these tactics will be measured so that he most effective approaches can be identified. Acceleration tactics can impact one or more of the following acceleration zones:
Rapid entry. In this zone, pipeline acceleration involves tactics designed to fill the pipeline with pre-qualified leads that are more likely to move quickly through lead qualification stages.
Intra-pipeline. In this zone, acceleration includes the creation of targeted offers and sales enablement assets that facilitate movement of opportunities through early and middle pipeline stages toward closed status.
Last mile. Pipeline acceleration tactics in this zone are designed to drive positive interactions that can help push late-stage deals across the finish line.
Within each of these zones, successful pipeline acceleration depends on contributions across sales and marketing at both the supplier and partner levels. The key to success is having the supplier's channel sales and channel marketing functions, as well as partners' sales and marketing teams, rely on an agreed-upon process that unites them around acceleration execution.
To hear more about the SiriusPerspective on pipeline acceleration in the channel and to network with senior sales and sales operations executives, join us at the annual SiriusDecisions Sales Leadership Exchange on February 24–25, at the Rancho Bernardo Inn in San Diego, CA.
Categories