A Potential EU Ban On "Climate-Neutral" Terms And Labels Will Force CMOs To Revisit Their Communication
The European Parliament and Council have reached a provisional agreement on new rules to ban misleading advertisements and provide consumers with better product information.
Generic Environmental Claims Will Be Banned
Specifically, terms such as "environmentally friendly," "natural," "biodegradable," "climate-neutral," or "eco-" will be banned without proof of recognized excellent environmental performance relevant to the claim. It also implies that claims based on emission offsetting schemes (e.g, planting trees to compensate for carbon emissions) will be banned. For example, if (and only if) the law has been passed (which won't be the case by the time of the product launch — except in France, where a more restrictive law has already been in place since 2023), it remains to be seen whether Apple's recent announcement of its new carbon-neutral products would be considered greenwashing, no matter how qualitative the carbon credits (see below).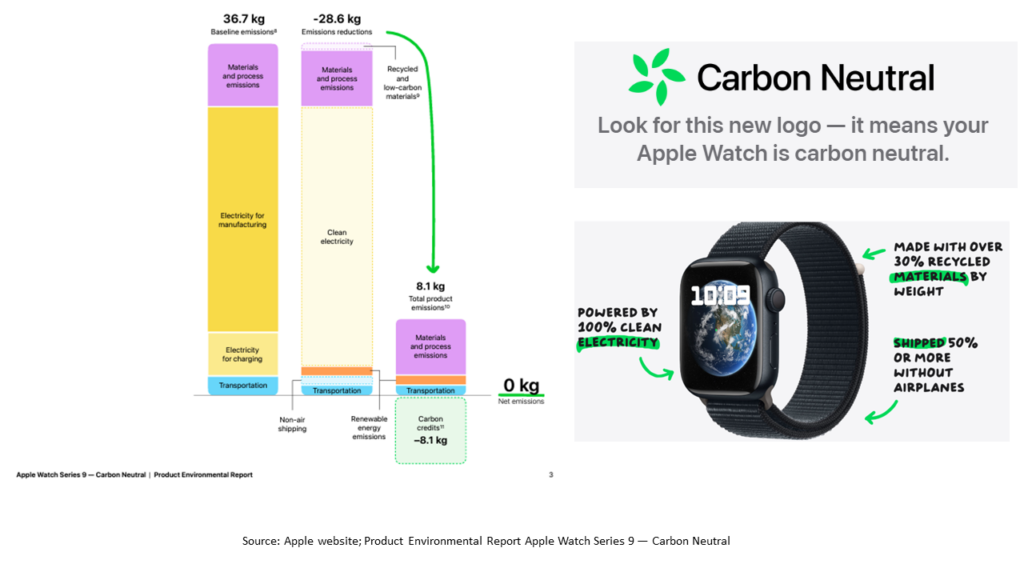 Expect A Two-Year Compliance Timeline
In order to become law, the provisional deal will now have to get the final OK from both the European Parliament and Council. The vote by Parliament members is expected to take place in November. When the directive comes into force, member states will have 24 months to incorporate the new rules into their law. With the upcoming European Parliament elections in June 2024, there is likely to be a lot of lobbying against the law and at least another two years before it is fully implemented.
CMOs at brands willing to differentiate on sustainability should anticipate this potential new law by:
Collaborating a lot more closely with their legal, communication, and sustainability teams. Greenwashing is rarely intentional but often the result of internal miscommunication between pushy marketers who prefer the talk and humble sustainability champions who prefer the walk.
Upskilling their teams on complex sustainability themes. Be honest: Did you know that six out of the nine planet boundaries have already been crossed? Have you ever thought of the impact of low-carbon emissions on biodiversity? Have you ever taken the time to read the summary of IPCC findings? Do you even know what IPCC stands for? (Answer: Intergovernmental Panel on Climate Change.) Do you know what scope 1, 2, and 3 refer to? What are the 15 categories of scope 3? Have you ever used a lifecycle analysis framework? Consumers, too — especially those known as "active greens" — will get better informed as activists and experts scrutinize environmental scientific facts.
Avoiding the "greenhushing" option. According to Forrester's Q3 2023 B2C Marketing CMO Pulse Survey, 84% of CMOs would like to communicate more on their green initiatives but fear greenwashing. Such paralysis will lead in the short term to "greenhushing," which happens when brands become silent on their sustainability engagement. Both can damage your brand's reputation and lower consumer trust. As IKEA's CEO put it, however, "Greenwashing is less dangerous than silence." A significant majority of consumers are concerned about the environment, and even if a minority are effectively paying a premium for greener products, they expect companies to act and deliver more environmental value for the same price. The good news is that the law will help sustainable brands differentiate their efforts and gain a competitive advantage.
Shifting from storytelling to storymaking. Marketers must pay attention in tow ways: both to contributing to a positive new climate message and to offering solutions that help consumers live more sustainable lives. In fact, storytelling can be actively co-created, and trusted, by customers, who not only can collaborate and contribute to the brand story but can even become change-makers in their daily lives by using truly sustainable offerings. This "storymaking" first requires companies claiming to be sustainable to align their value proposition with their purpose to deliver truly sustainable offerings and products, which implies articulating an authentic, credible, and transparent sustainability story backed with proof and data points.
Forrester will soon publish a new report on "storymaking." Contact me if you're interested in contributing, and stay tuned. And for clients looking to know more about greenwashing and sustainable marketing, feel free to schedule a guidance session with me.
Categories