Predictive Analytics: Duuuude Have You Seen This??
Predictive analytics is grabbing headlines and mindshare for marketing and sales pros
As technology advances, applications of it are also changing
These advances are also testing the ethical boundaries of these approaches
This was the subject line in an email I received from a friend last week: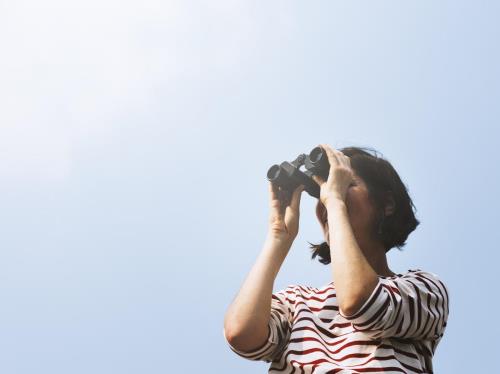 Duuuuuuude have you seen this?
It caught my attention, so of course I opened it immediately – and wow, was I alarmed!
It was an email from a business information service, containing a screenshot of my LinkedIn picture, along with a bolded, one-sentence description in an oversized font summarizing the characteristics of my personality. It was eerily accurate. Next came a button allowing viewers to tweet that information to the world. After that came a "confidence indicator" graphic claiming that my "Predicted Personality Profile" was 90 percent accurate based on information scraped from social media. The next sections contained pointed advice or important information you should know if you are trying to sell me something:
When speaking to Dana…

When emailing Dana…

When working with Dana…

It comes naturally to Dana to…

It does not come naturally to Dana to…
As I mentioned, the personality information was eerily accurate, but they missed something important: They got my gender wrong! You'd think that would be a lot easier to figure out than something as complicated as my personality type. I'm guessing they have a database of names that assumes Dana is only a female name. What is that old adage about making assumptions? I wonder what other assumptions they could have gotten wrong – not just about me, but about the company's other targets as well. Assumptions which – according to this service's signup process – they expect their subscribers to use for coaching, customer service, fundraising, legal services, management, marketing, medical services, recruiting and sales.
Personally, this service made me feel violated. It published what I believe is deeply personal information, and did so without my knowledge or explicit consent. I decided to see how to opt out. I learned that I first needed to login to the site to "claim" my profile. I also learned that the signup process is not as straightforward as we've come to expect from subscription services. First, you must request an invitation ("Add your name to the waiting list, and we'll send you an invite when we are accepting more users. We typically approve invite requests within 24 hours."). I wonder what happens if you don't get invited! How do you claim your profile?
I received the invitation almost immediately. When I was logging in for the first time, the instructions encouraged me to use my LinkedIn username and password – which would have granted the service access to all of my LinkedIn information, including all of my contacts. No thanks! I chose the option of creating a unique login.
Once in, of course, I couldn't resist the temptation to check out the names of people in my network. After a few lookups, I noticed that many of them have the same personality type. I wonder if that's because I'm drawn to people like that, or because they're drawn to me. Granted, the information is very interesting, but the real value the site pitches is that it offers a plug-in that helps subscribers craft emails designed to appeal to the particular personality types (I mean people) they're targeting, for any of the purposes mentioned above.
So, what's the name of the site? It's www.crystalknows.com and the services it offers are based on a "personality detection software" known simply as Crystal.
Crystal proves that the age of predictive analytics for the masses is finally upon on us. I applaud the CEO, Drew D'Agostino, for his boldness and creativity. According to his profile on the site, which you'll probably be able to see if you're invited to join, he's known for those characteristics. He is "disorganized and/or impatient at times, but has a rare and powerful combination of boldness and creativity." I say "probably" because, as I was writing this post, I went back to view it several times and noticed after a while that I was no longer able to access it.
Crystal is definitely going to initiate an overdue conversation regarding the ethics of predictive analytics. I wonder if we'll be as excited about the possibilities predictive has to offer B2B sales and marketing when we realize those possibilities can be turned right back on us – personally. Crystal will force us to consider whether profiling people is OK and, if so, for what purposes. Laws protect people against discrimination based on several factors, but personality type isn't one of them. We're ethically opposed to police officers profiling people. I wonder if we'll be as outraged when machines start indiscriminately doing it to us!
It's pretty easy to opt out of the Crystal service. Once you claim your profile, just send an email to hello@crystalknows.com with a link to your social media information and they'll take care of it fairly quickly. Personally, my preference would have been to be asked to opt in rather than being forced to ask to opt out. They could at least provide the same amount of controls over predictive profiling as CAN-SPAM law (i.e. opt in with consent only and opt out with an easily accessible "unsubscribe" button).
Finally, if you're trying to sell me something and you want to know more about me after you've reviewed my LinkedIn profile (something I've voluntarily shared), do the rest the old-fashioned way: spend some time getting to know me. Also, resist the temptation to launch into a canned pitch. It turns out that according to nearly every personality profile I saw on Crystal, people don't really like that. If you still think you need to know my personality type to decide what and how you will pitch to me, skip the first few typical sales questions and lead with, "Hey, what's your personality type, anyway?" I'll just tell you.
For now, I'll give you a hint: I have a personality type that compels me to write about being profiled without my consent. I'm pretty sure that once Crystal scrapes this blog post off social media, the confidence interval on the information they already have on me is going to jump from 90 percent to 100 percent!