SiriusDecisions 2017 SiriusView of Product Management Tools
Product planning, prioritization and roadmapping tools help product managers develop product plans that detail the execution of the product's strategy
Many product managers are looking for product roadmap software that can collect and prioritize feedback and integrate with product development tools
This SiriusView report summarizes the capabilities and benefits of these solutions and provides overviews of seven vendors
We are pleased to announce the release of the SiriusView "Product Planning, Prioritization and Roadmapping 2017." This SiriusView covers seven vendors whose offerings are designed to assist product managers with developing product plans, prioritizing features and enhancements, and maintaining and communicating product roadmaps.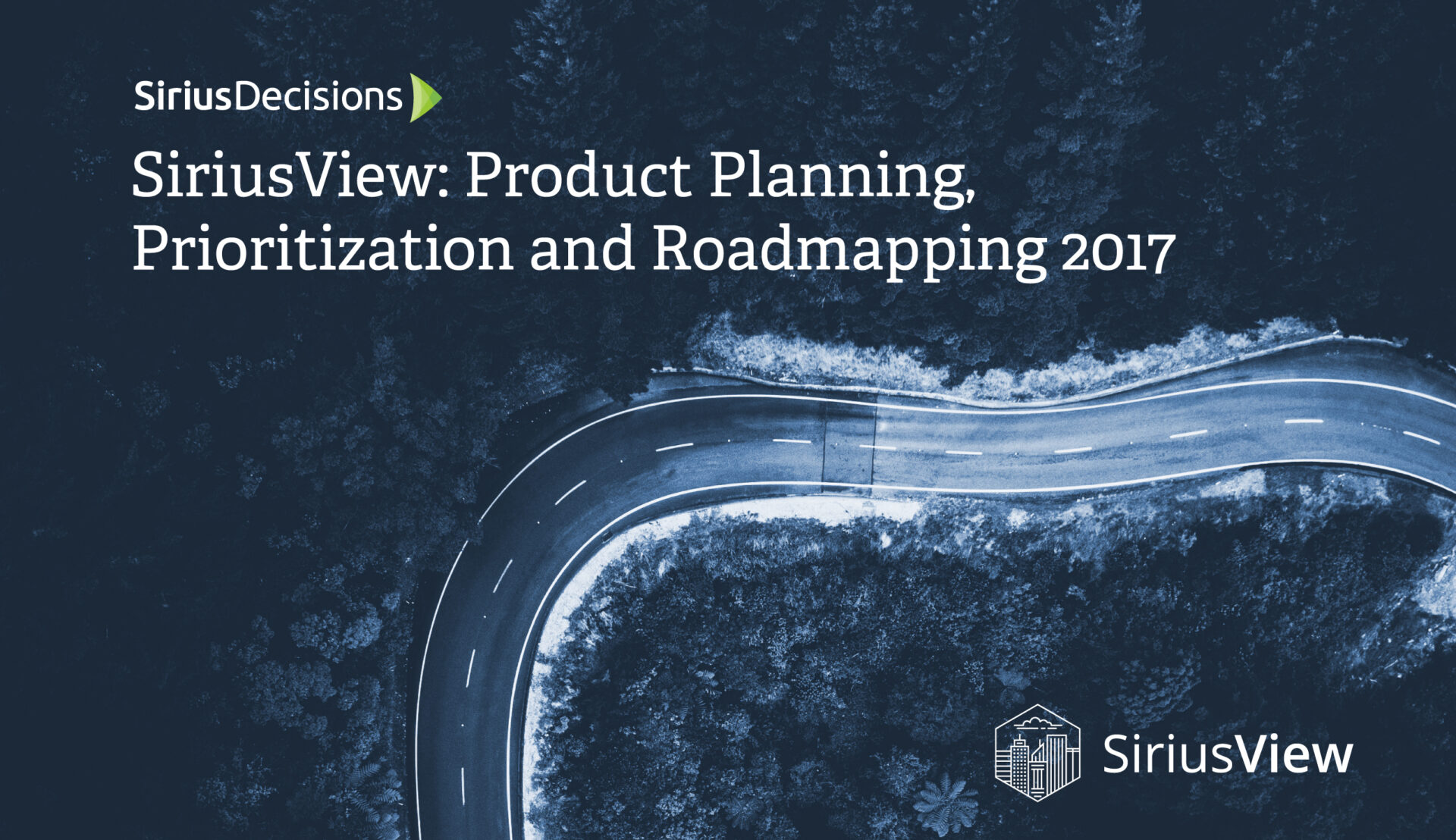 Clients of the SiriusDecisions Product Management advisory service can access the full report through our client portal and also schedule time to speak with an analyst to discuss it in more detail. We have also made a version of this report available to non-clients – click here to download or contact us to become a SiriusDecisions client.
Our initial analysis of this category of product management technologies was released in late 2014. At the time, we noted that adding deeper coverage of product planning, feature prioritization and product roadmap tools to our existing scope of research was important for several reasons. Let's revisit our perspective from 2014 and see what has changed:
What we said in 2014: We believe that product management tools can improve the efficiency and effectiveness of product management. What we're saying in 2017: We still believe that technology alone cannot fix a broken process; however, when used properly, it can aid and reinforce a best-in-class innovation and go-to-market process. We are more confident than ever that product management technology – when it's in the hands of product managers who have the right competencies and processes to follow – can help improve performance. Our research indicates that 73 percent of B2B product managers using these types of applications feel they are more effective in their role.
What we said in 2014: Until now, there has been no resource for guidance on product management tools. What we're saying in 2017: The original SiriusView was the first comprehensive look at tools and technologies specifically designed for product management purposes. SiriusDecisions continues to be the only analyst firm covering these technologies and the SiriusView: Product Planning, Prioritization and Roadmapping 2017 is the only resource that provides a comprehensive list of the different vendors as well as analysis of their capabilities.
What we said in 2014: In many cases, product managers are not aware that product management tools exist. What we're saying in 2017: This is one area where we are seeing some fairly significant changes. As I noted in my blog post "What Tools Are Product Managers Using? Results From Our 2017 Study," 2014 survey results indicated that the main reason for not using these tools was lack of awareness that they even existed, which was not surprising given the newness of the category and the many vendors. In our 2017 survey, the primary reasons product managers don't use these types of tools are not having time to evaluate (31 percent) and not having budget (24 percent), with only 15 percent indicating lack of awareness. For those without time to evaluate, the SiriusView: Product Planning, Prioritization and Roadmapping 2017can certainly help!
What we said in 2014: Satisfaction with tools currently in use is low. What we're saying in 2017: While the percentages have changed in our recent research (a more comprehensive set of findings is available in the SiriusView available for download, the general message remains – most product managers are still managing their roadmaps and product plans in products designed for other purposes (e.g. Excel and PowerPoint, or agile-oriented project management applications), and satisfaction is low. However, our research indicates that those using product management-specific applications are significantly more satisfied – in some cases, twice as satisfied as those using technologies such as presentation and spreadsheet applications for product management purposes.
Our SiriusView includes an overview of the general capabilities that these types of applications provide, along with coverage of seven vendors:
The solutions described in this report offer product managers the potential to improve their efficiency and effectiveness as well as align better with stakeholders such as product development, sales and marketing. They can also enforce consistent product management practices across an organization. As with any tool, however, these solutions cannot fix broken processes or make up for lack of competencies within a product management team. These tools are most effective when they are used to facilitate a best-in-class innovation and go-to-market process such as the SiriusDecisions Product Marketing and Management (PMM) Model and when product managers have training and support to ensure they possess competencies in key areas such as market opportunity identification, product definition, product strategy and planning, product delivery, and growth and portfolio management.
SiriusDecisions helps product management leaders understand and implement the processes and practices that enable them and their teams to deliver successful products that drive business growth. We provide product managers with the capabilities and best practice guidance to realize success. Contact us to learn more about how we can help your product management team improve their performance.
Categories