Social Media Plays A Bigger Role In Commerce Than Just Buying
In 2021, US-based social media platforms such as Facebook, Instagram, Snapchat, TikTok, and even Twitter piled on user shopping features, paving the way for 61% of US online adults under 25 years old saying that they've completed a purchase on a social network without leaving the website or app. Brands salivate at the opportunity to market to young consumers and close the gap between consumer discovery and purchase. Further encouraged by a digital commerce surge in Asia, brands are bullish on social commerce, which Forrester defines as "the customer journey from discovery to exploration to purchase of a product — all within a social media platform."
There is one problem in the US, however. In 2021, only 15% of US online adults agree that they like to purchase products through social media. US consumers have developed a deep distrust of social media platforms (see graphic below). They believe social media is rife with mis-/disinformation, they don't trust social networks with their personal information (such as financial data), and they worry about retail scams and fraud. Brands hawking products and services on social media are not immune to this consumer distrust.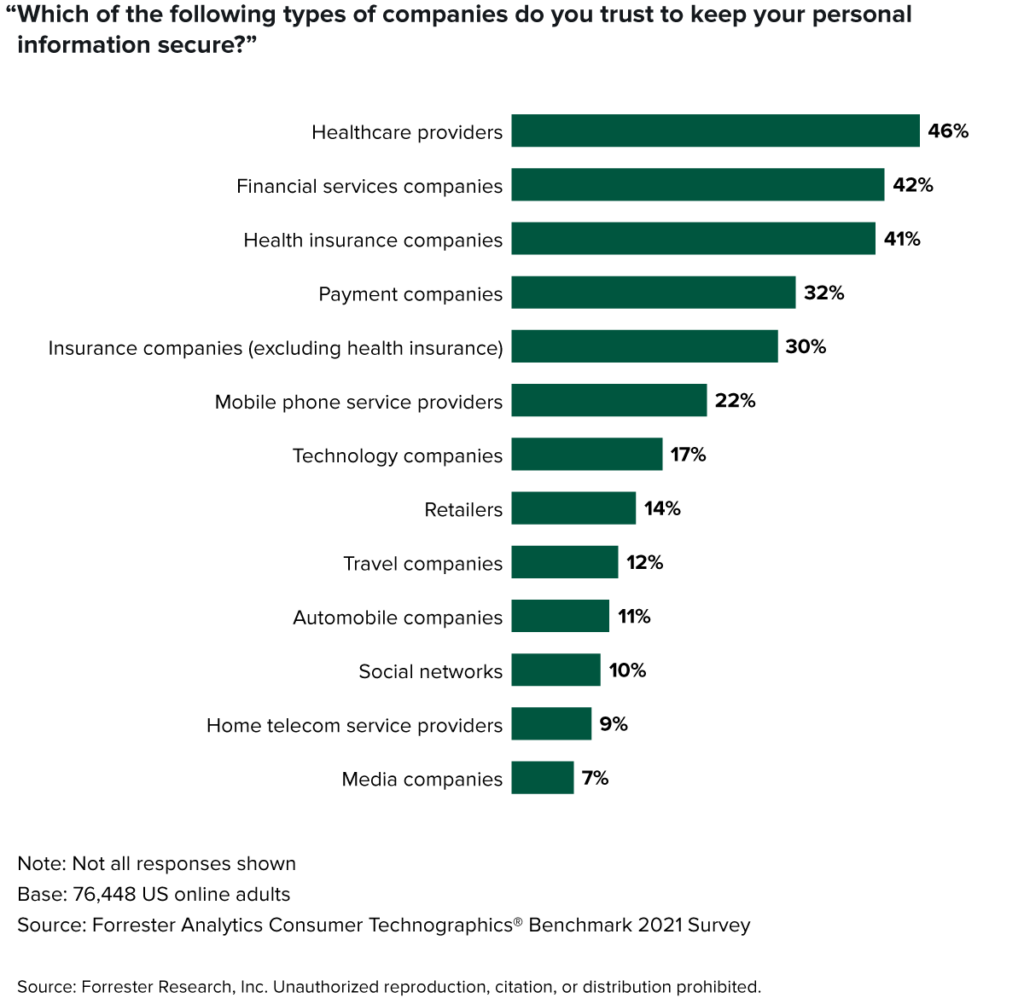 What's a brand to do? Stop thinking about social media as a standalone, do-it-all commerce channel. Instead, treat it as one piece of your omnichannel commerce plan and a key driver in the discover and explore stages of the customer journey. While US consumer distrust in social media platforms may hinder brands' abilities to sell directly via native checkout (vs. redirecting to retailer checkout), brands can get consumers closer to the point of sale on social media via dynamic product tags or embedded links that drive to brand.com, partnerships with content creators, dedicated in-app shops that encourage browsing, and even messaging apps/chatbots for specific shopping recommendations.
But before experimenting with social commerce, brands should first ask themselves key strategic questions:
Does your target audience want to shop on social media?
What is your plan for social commerce attribution and measurement?
Who will own and contribute budget to your social commerce program?
Does your tech portfolio enable omnichannel commerce?
Concrete and honest answers to these questions will dictate how much or little to include social commerce in your omnichannel commerce strategy.
More questions? Read our full report on The State Of US Social Commerce, and schedule a Forrester guidance session or inquiry session.
Special thanks to Fiona Swerdlow, Sucharita Kodali, and Emily Pfeiffer for the early collaboration and contributions!
Categories