Solving The "Do More With Less" Marketing Paradox: Human Plus Technology Equivalents
The "Do More With Less" Paradox Is No Longer Sustainable
Approximately half of C-suite professionals prioritize growing revenue. Meanwhile, CMOs have long been expected to acquire more customers with less marketing. Yet, four in 10 executives prioritize reducing costs. So, how will the C-suite grow revenue? New customer acquisition tops the list. Then, if you ask companies how they will reduce costs, the answer is cut marketing spending. Hence, you've identified the CMOs' "do more with less" paradox, in which revenue must grow, budgets must contract, and service providers must compete. The result? An atmosphere of distrust commoditizes the CMO's marketing partner model:

The Future Of Work Looks Beyond Full-Time Equivalents
The future of work is now and comprises a confluence of people and technologies working together to improve effectiveness. Some situations create job displacement. However, others call for job augmentation. This is the use case for marketing services, as AI and automation  revolutionize how providers conceive, develop, produce, activate, and measure marketing. Consequently, CMOs and marketing services companies must look beyond the conventional FTE model to account for the contributions made by agency experts working with technology platforms.
Shift To The Human/Technology Equivalent
Human/technology equivalents (H/TEs) permanently couple people and technology to form a new dimension to services: talent = humans + technology. H/TEs alter how companies create and compensate for the creation of intellectual property by allowing the tasks best suited for humans to be completed by people and the tasks best suited for machines to be completed by software. H/TEs represent a leap forward to solve the CMO's "do more with less" paradox because smaller, smarter marketing agencies control the marketing costs, increase content scale, and improve productivity and accuracy.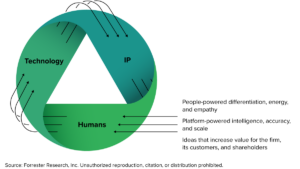 In our latest Forrester report, Modernize The Marketing Partner Model With Human/Technology Equivalents, Keith Johnston, Alex Sobchuk, and I lay out the argument for H/TEs, a forecast that demonstrates higher returns compared with FTEs alone, and a pricing model to guide CMOs and agencies in their contracts. Forrester clients are welcome to schedule an inquiry to discuss further and learn how to apply.