Brand Building Through Storytelling: Summit 2018 Keynote Speaker Molly Bloom's Story of Reinvention
Former athlete, "poker princess," and celebrated author of Molly's Game, Molly Bloom was the opening keynote speaker at Summit 2018
Molly Bloom shared her incredible story to a rapt crowd of over 3,000 B2B sales, product and marketing leaders at Mandalay Bay in Las Vegas
According to Molly Bloom, "You can never place enough value on people wanting to be heard, seen and remembered"
For some, Las Vegas can be a city of reinvention. A place where anything – no matter how big or outlandish or seemingly impossible – truly is well within grasp. As the opening keynote speaker for SiriusDecisions Summit 2018 at Mandalay Bay in Las Vegas, Molly Bloom humbly admitted in her talk "Brand Building Through Storytelling" that she too is no stranger to reinvention. A former competitive skier who was once ranked third in North America among women skiers, the brains behind the world's highest-stakes poker game, and the celebrated author of her memoir Molly's Game, Molly Bloom knows what it is like to be at the top of your game, and also what it is like to almost lose it all.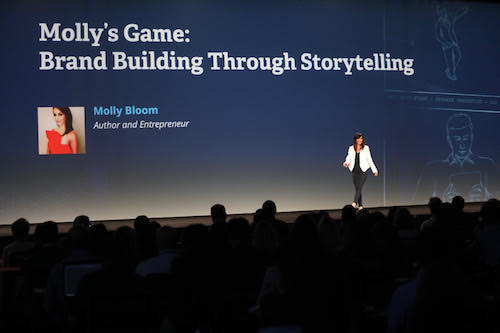 Filled with a passion for skiing since she was a young child, Bloom rocketed her way to the top of competitive skiing; she joined the U.S. Ski Team and at 21 years old was ranked third in North America in moguls. When her athletic career was tragically derailed after an injury to her spine, Molly headed to Los Angeles – far from the ski world and from her family – so she could reinvent herself. She was hired as an assistant to a real estate developer, and part of the job included helping him organize poker games for Hollywood's elite. After quickly Googling what type of music and food poker players enjoy, Molly found herself in the company of some of the most famous and wealthy people in the world. "I realized that this is not an opportunity that every 23-year-old from a small town gets," Molly said. "I had access to this network and this capital; so I learned all I could about poker and, more so, I learned about my customers – I was constantly thinking of ideas and ways I could build more value. I saw how I could turn this game into a business and a brand – and somehow, it worked."
The first thing she did when she took on her own poker game was raise the stakes. She also got to know her customers and their wants and needs. "These were people who [can] go anywhere and buy anything, but what they really wanted was a transformational experience," Molly shared. "You can never place enough value on people wanting to be heard, seen and remembered."
In 2008, Molly headed to New York, where she was determined to establish a poker game that was even better than what she had built in Los Angeles. She continued to work at raising the stakes – to $250,000 just to get in the game – and upgrading her customers' experiences. "The most authentic seller is the customer," she told Summit attendees.
While in New York, Molly's story took a turn for the worse – through her own mistakes, she admitted – and resulted in her being wanted by the authorities on both the East and the West Coasts as an informant. "I became obsessed and I got caught up in greed," she shared. "I was no longer participating in intelligent growth!"
With her network decimated and knowing that it was time to reflect on the path her life had taken, Molly decided it was time to head home and reconnect with her mother. While at the airport purchasing a ticket, her credit card was declined and she learned her assets had been seized by the authorities. Pressured by investigators to name names of those involved – she made the fateful decision to pass. "I knew I had to own my mistakes and ask myself, 'What's the reinvention here?' I soon realized that it was the story.'"
After getting her book deal for her memoir Molly's Game and returning to LA, Molly was arrested and faced 10 years in jail. "I built this game and I needed to stand up for the consequences," she said. Luckily, as she shared with the crowd of Summit attendees, she had a merciful judge and was not sentenced to any prison time. "Reinvention and rebirth was contingent on me accepting my part in it."
Refocusing her attention on her book and her own reinvention of who she truly wanted to be, Bloom knew she had to be fearless and find someone "who could make noise." She decided to head to Hollywood, determined to score a meeting with Emmy winner and Oscar nominee Aaron Sorkin. "When Aaron Sorkin makes a bet, it pays off," she said. "And he always writes with intelligence and humanity." After connecting through a mutual friend, Aaron Sorkin agreed to meet with Molly in LA and let her tell him her story. "He told me, 'I've never met someone so down on their luck and yet so full of themselves.' And the rest is history!" she laughed.
The film adaptation of Molly's Game also marked Aaron Sorkin's directorial debut and starred Jessica Chastain, Idris Elba, Kevin Costner, Michael Cera, Brian d'Arcy James, and Chris O'Dowd. Molly's Game premiered on December 25, 2017, and has received 39 nominations, including an Oscar nomination for Best Adapted Screenplay and two Golden Globes nominations for Best Performance by an Actress in a Motion Picture and Best Screenplay – a hugely impressive reinvention by any measure.
While sharing her incredible story with the crowd at Summit 2018, Molly was very quick to admit that her past difficulties were entirely of her own making. "We are all going to fall," she said. "But It's never too late for reinvention. And it's never too late for a second chance – that's my playbook on intelligent growth."
Stay tuned for more highlights from Summit 2018!
Categories