What Artificial Intelligence Means for B2B
It's imperative that B2B organizations stay informed on the implications that artificial intelligence (AI) has across all industries
The four types of AI can yield significant benefits for an organization's revenue engine
At this year's Summit in Las Vegas, Monica Behncke and Kerry Cunningham went into detail about AI and its current and future possibilities for B2B
Technological advancement has always had two faces: one of optimistic innovation and the improvement of everyday life, and one of displacement and the disruption of traditional industries and hierarchies. From the printing press and industrial revolution, to cell phones and the Internet – breaking new ground can bring enormous benefits, but can also entail massive costs if not managed properly.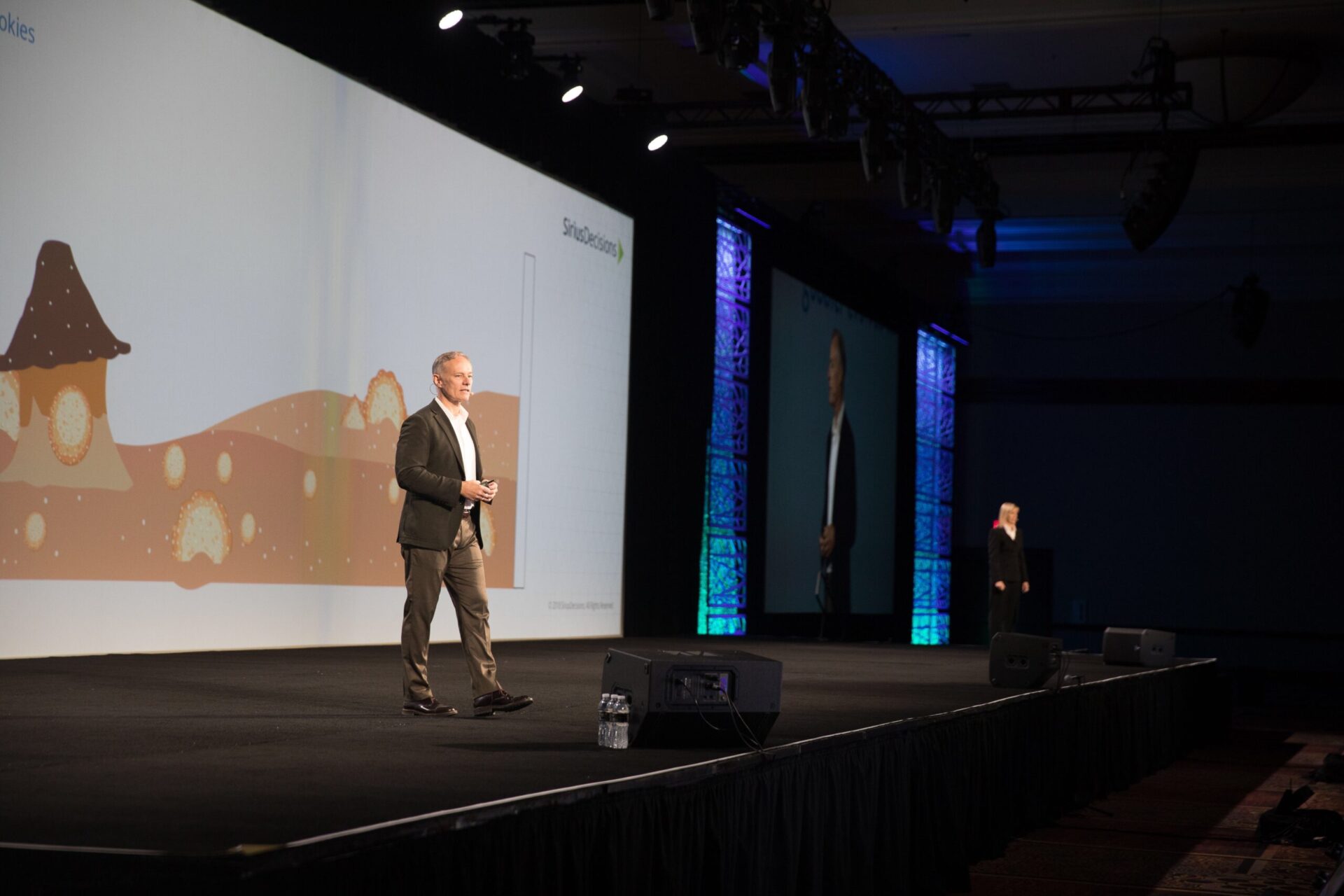 The advent of artificial intelligence (AI) in the world of B2B marketing, sales and product management is no exception. At this year's SiriusDecisions Summit in Las Vegas, Monica Behncke and Kerry Cunningham gave the audience a detailed look at AI's potential with their keynote "Building the (Artificially) Intelligent Revenue Engine."
Monica and Kerry began the presentation by describing the many of the ways that AI has made it into the news, particularly the cautionary notes about human and social implications. These include privacy, distrust of machines and, of course, robots taking all of our jobs. I recently asked Kerry about that last one, and what it means for B2B. His answer strikes an optimistic tone, but ties in with the presentation's mission to educate the audience:
"We are at least a decade away from AI having a negative impact on B2B marketing, sales and product jobs. We have a long runway of increasing productivity and effectiveness ahead of us. The biggest impact on jobs will be for people who learn how to take advantage of AI's capabilities. Those who learn to develop AI applications or learn how to effectively apply AI in the B2B revenue engine will be at an advantage. As businesses use AI to become better at creating, marketing and selling effective solutions, both the sellers and the buyers of those solutions will grow and create more and more work for humans."
It seems likely the proper application of AI will become a crucial element to successfully adapting to a changing business environment. So, what should B2B marketing, sales and product leaders do?
First, they need to understand AI's applications on the basis of the relevant problem and how frequently algorithms must adapt. Is the machine learning timescale evolutionary, or must it shift its thinking in real time? Is the goal simple or complex? Kerry mentioned that "Choosing goals wisely is critical. Choose the wrong goal, and you could end up destroying the company while perfecting a process."
Although this may sound like a daunting statement, Monica and Kerry used the example of an imaginary "Cookie Gobbler" creature to provide a lighthearted illustration of the four applications of AI – and how each approach helped the creature acquire more delicious baked goods. The first involves simple goals with evolutionary timescales and focuses on improving and enriching data repositories, thus allowing AI to better detect things like accounts most likely to enter a sales pipeline. The second application pertains to simple goals where the AI must learn in real time. This occurs in dynamic, changing environments and requires continuous feedback loops that help inform the AI about when to change tactics.
But what if your goals are complex? In the third application of AI, a master repository of buyer data doesn't just look for potential accounts, but tries to find larger accounts where deals can close faster. At this point, investments in people, process and technology become imperative. People need training, and perhaps there is potential to outsource data science capabilities to a third party. AI applications need to be properly aligned to change conflicting goals into complex – yet achievable – goals. Finally, the technology in use must be a combination of purchased and internally built applications to give the organization a degree of flexibility.
The last application of AI, one that tackles complex goals and evolves its learning in real time, is still very much an abstract frontier. AI applications cannot approach human creativity for the foreseeable future, and very few are able to create new applications on their own. Monica and Kerry illustrated this nicely by describing the four applications as akin to crawling, walking, running and flying. In B2B terms, they compared this to building a master intent data repository (crawl), building a personalization and tactic performance engine (walk), merging disparate AI goals (run), and putting your feet up and letting the AI run off on its own and even create new applications that can do this as well (fly).
All things considered, Kerry emphasized the central role that data plays in every AI application, and the extent to which humans are responsible for the data that enters any AI application: "Having bad data of your own is not a reason to put off adopting artificial intelligence. Instead, AI is the best tool for repairing and continually improving your data."
SiriusDecisions Resources
Categories