Technology and Sales Productivity, Part Two: Opportunity Management
Revenue ops and sales ops leaders should make understanding the latest sales technology innovation part of their jobs
Six key activities determine what technology can be leveraged for opportunity management
Technology solutions can improve opportunity management by automating sales activities and informing, advising and predicting outcomes at various points in the sales cycle
In my previous blog post, Technology and Sales Productivity, Part One: Business Development, I discussed the technology that supports sales productivity from a business development side. I'd like to next dive into how technology can be used to drive productivity gains for opportunity management, including sales engagement platforms, sales asset management (SAM) and configure, price and quote (CPQ) tools.
Account executives (AEs) and account managers (AMs) manage opportunities for the sales organization. Their responsibilities can be distilled into six core activities and associated business needs (see the table below). Each can be addressed by technologies that provide tangible and measurable productivity benefits (e.g. reduced time to schedule prospect calls, more relevant content, more accurate quoting). Sample productivity metrics that should be tracked are also included. Of course, to effectively measure ROI, sales organizations should measure productivity before and after implementing any technology. A sales activity study is a great way to establish a baseline for your sales organization.
Sales engagement platforms drive benefits in both business development and opportunity management. AEs and AMs have similar business needs as their business development rep counterparts. In particular, simplifying the scheduling of appointments when click-to-schedule features are embedded within emails and invites/confirmations are automatically sent and added to the appropriate calendars. Additionally, sales engagement platforms automatically capture these activities (i.e. emails, confirmed appointment times, call recordings) and log them into the sales force automation system. These solutions effectively drive productivity on the front end (i.e. scheduling efficiencies) and the back end (i.e. auto activity logging).
According to SiriusDecisions' 2019 Sales Asset Management Study, 37% of organizations reported that their reps spend 10 or more hours a month creating and looking for content. Seventy-two percent of respondents say their SAM system is meeting or exceeding expectations.
I'll be the first to tell anyone that technology alone will not solve any business problem — but it can be a large part of the right solution.
Productivity benefits from SAM technology (delivering the right content to reps at the appropriate times) are only possible with a sales asset management strategy that includes a rock-solid content process and measurable outcomes. For more on this, check out the 2019 Summit presentation "Sales Asset Management and the Productivity Promise: Are We There Yet?"
CPQ can offer a better customer experience. It allows AEs/AMs to provide quotes that are accurate, digital and can be amended or appended with less turnaround time during the negotiation process. This makes it easier for buyers to review scenarios and options quickly. CPQ technology provides reps with benefits and productivity enhancers to better configure solutions, establish pricing and keep track of quotes and proposals, streamline and automate manual processes, and reduce margin erosion caused by excessive discounting, incorrect pricing/quoting and resulting product giveaways.
A variety of sales technologies can be added to the sales tech stack to increase productivity within opportunity management. Sales, sales operations and sales enablement leaders must be aware of these productivity tools and the ever-changing functionalities that can improve the sales function.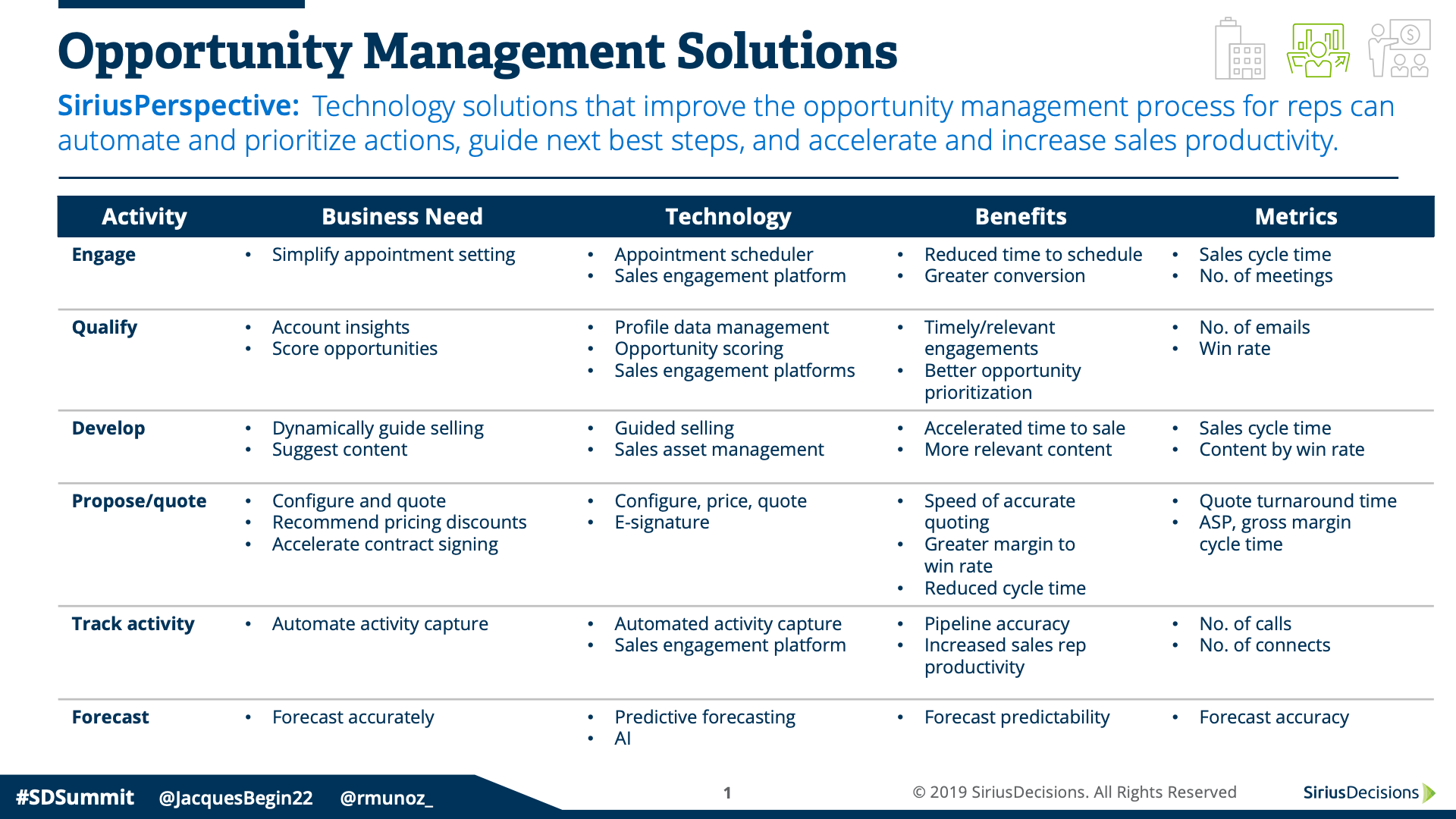 For more about AI, sales engagement platforms, SAM, CPQ and other sales and marketing technologies that impact opportunity management, join us at this year's TechX in Denver on December 9 to 11!