Webinar: Digital Business Transformation Accelerators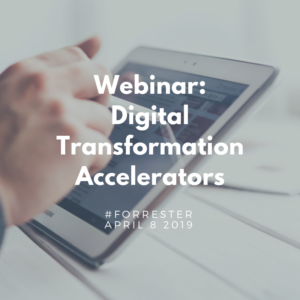 Almost every technology consulting firm, and many others besides, claims to be able to help your business transform into a digital business. Digital transformation has been used to describe everything from moving applications from a data center to the cloud to updating the systems and processes in the finance department. Many examples of so-called transformation highlight new digital experiences inside a business unit or an event within a single product line. Very few firms have sought to truly transform their business to a digital business, redesigning the operating model of the business around emerging technologies to create business agility and adapting technology to deliver new sources of customer value. Despite this simple reality, services firms want to win your future "transformation" business.
To help you figure out which vendors can best help your business, we've been comparing 15 of the largest global firms providing services to accelerate digital business transformation. We'll be publishing the results in an upcoming Forrester Wave™. This research was previewed in a Now Tech report, which highlights the vendors and some of the key criteria we used to compare capabilities across vendors.
Since we expect to publish the Wave results soon, I've scheduled a webinar in April to explore the research and the findings. Join myself and Allen Bonde as we discuss the research in a fireside chat-style webinar.
Previous post: Accelerate Innovative Digital Transformation
Next post: Digital Myth No. 5 — Every Tech Vendor Is An Expert In Digital Transformation