What I Like About Being an Analyst
We listen to clients, learn what they are working on and discuss the challenges they face
We conduct surveys, examine data, interview experts, practitioners and vendors, and examine products
Clients often tell us how they have improved their revenue, profits and efficiency by adopting our recommendations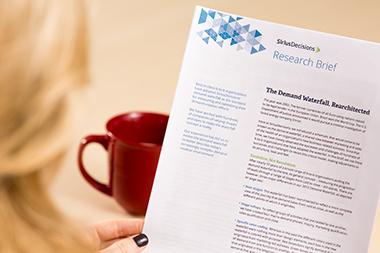 Recently a friend commented that it was obvious that I really liked my job, then asked me to explain what I did and why I liked it. I decided to turn my response into a blog post.
What we do is interesting. Our clients subscribe to our research services and through that, we develop a relationship with them. We listen to them, learn what they are working on and discuss the challenges they are facing. We conduct research to find the best way to solve their problems by conducting surveys; examining data; interviewing experts, practitioners and vendors; and examining products. We combine our own experience to develop models, frameworks and processes that address our clients' challenges. We discuss our ideas with other analysts, improve them through a review process and then publish them in research papers, reports, presentations and tools.
We share our research with our clients in small meetings that we call inquiries, as well as at forums and larger events. Sometimes we introduce big ideas about how to do things in a completely different way, and sometimes we offer suggestions on how to fine-tune operations. We coach our clients through their efforts to implement our suggestions, and occasionally they ask us to host a workshop with their colleagues to share the ideas and work through a particular problem. Sometimes we are asked to lead a consulting project to solve a unique problem or make a set of recommendations to an organization.
What makes the work truly interesting is the people we work with. First of all, our clients are special. They are curious. They are top performers at their jobs, and they are usually pushing the limits of their status quo. They are trying to find a better way to solve problems in their roles and looking to benefit from the experience and focused attention of others that can stimulate their thinking and show them better approaches. Or, they might have been placed in a new role and are now looking for best practices, or they are trying to help their company grow by improving how their sales, marketing or product organizations are run.
My fellow SiriusDecisions analysts are also incredible. They bring decades of experience in sales, marketing and product leadership, and they come up with new ways to solve today's problems. But they aren't just smart and experienced: they are collaborators and terrific communicators. They work hard, they like each other, and they know that their roles give them the unique opportunity to do work that they might not have the chance to do anywhere else.
We have an impact. In my opinion, I think the best thing about being an analyst is that we're having an impact. I work with business leaders who are changing how their companies are run. Our recommendations to our clients can be transformative, and our clients regularly share with us how they have improved their revenue, profits and efficiency by adopting our recommendations. It is a real source of pride to me when I see how clients have improved their business and advanced their careers because of the work that we have done together.
Categories