Why Customers Say They'll Recommend You And Also Say They Won't Buy From You Again
Every year, Forrester surveys nearly 90,000 US adults as part of our Customer Experience Index (CX Index™) annual benchmark study (see Figure 1). We see industries where large percentages of customers say that they don't intend to stay with a brand — but will purchase more from the brand and/or advocate for the brand. To some, this might seem like an error in the data, but that is not the case. Customers really do say they intend to leave a brand but that they will also buy more from the same brand and/or recommend it (see Figure 2).
Figure 1: Forrester's Customer Experience Index (CX Index™)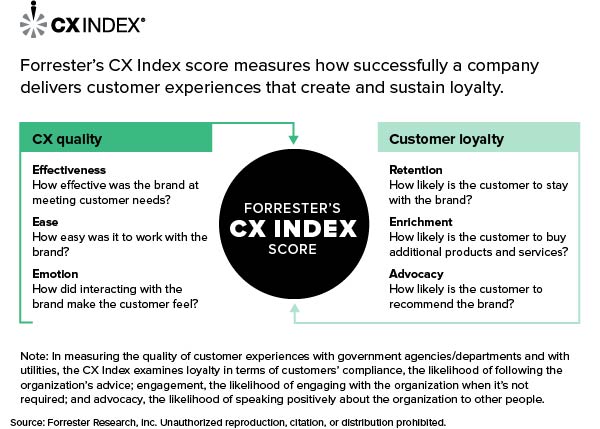 Figure 2: Seven Industries Where More Customers Say They'll Recommend Than Say They'll Stay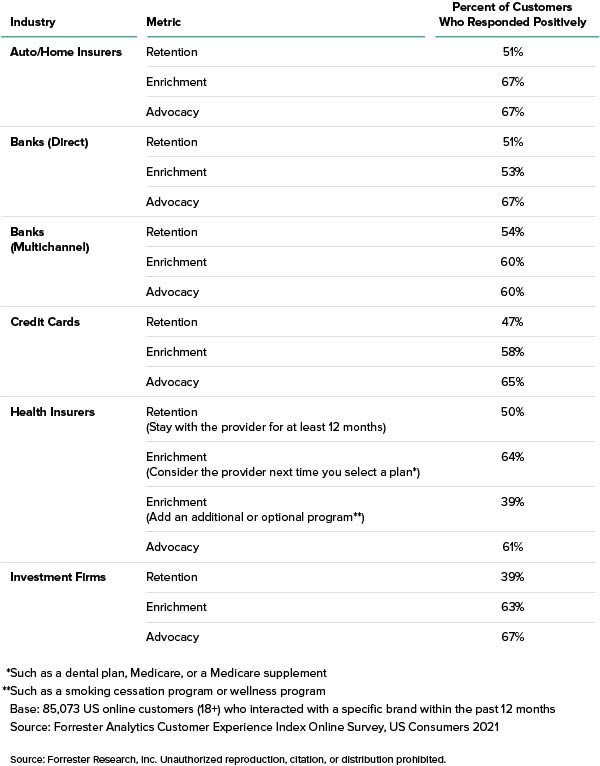 This seeming aberration in the data most often occurs when external factors cause changes in customers' lives and their needs. Consider the following hypotheticals:
"I love my bank, but they don't have a branch in the town I'm moving to." For multichannel banking customers, having access to branches is an important part of an experience. A customer who is planning to move might love their bank enough to tell their friends about it, and might even plan to take out a new loan or open an account in the short term, but knows that they will close their account once they relocate.
"My health plan has been great, but it won't cover my new doctor." A customer might have had great experiences with their health insurance plan and might tell others about how great the brand is, but after falling ill or getting injured, they will need to see a specialist that isn't covered by their current plan. In the short term, they might choose to upgrade their plan with their current insurer to cover more of their new needs, but they'll also start looking for another option that covers all their physicians.
"Switching credit cards is so much effort; I'll get to it later." A customer might not like their credit card company's CX but will put off switching to a new one. They may stay with a brand or even add a card to pay for specific purchases that earn more rewards (like an upcoming trip) and then put off closing the card because of the negative effect it will have on their credit score (even though they don't plan to use the card again). They'll tell others about how great the card was for that specific use case but will close their account eventually.
What This Means For Brands
When customers say that they are more likely to spend more with a brand or recommend it than they are to stay with it, brands should look for the external factors influencing the customers' decisions. They should also examine whether the lower intended retention scores are an early indicator of CX problems that will build up over time (like less responsive customer service or recurring billing problems). In these cases, customers will continue to spend and talk about the positive parts of their relationship with a brand while shopping around for an alternative that better supports their end-to-end, ongoing journey as a customer.
Discover Customer Loyalty Scores For Your Brand Or Industry
Forrester collects CX Index data from almost 200,000 consumers on nearly 500 brands in 14 industries across 11 markets: Australia, Canada, France, Germany, India, Italy, Malaysia, Singapore, Spain, the UK, and the US. Underlying data behind the CX Index can help brands identify the key drivers of a great CX for their customers as well as loyalty intentions. This allows you to focus on improving the aspects of experiences that matter most for driving revenue and avoid wasting time and money on those that don't move the needle.