Why You Should Make The Shift To Modular Content
Marketers and customer experience (CX) leaders have traditionally managed their communications as end-to-end deliverables — the web page, the slide show, the brochure, the catalogue, the product page, the full-page ad, and so on — each a complete, self-standing entity.
This approach to enabling customers' diverse journeys suffers in a few major ways:
Customers' needs and pathways can vary dramatically as each tries to accomplish a specific goal.
Developers don't have time to support the variations that marketers and CX leaders demand.
Costs escalate in global supply chains, with numerous agencies and partners repeating the same thing.
Errors accumulate as the one-off entity ages and no longer matches reality.
Modular content is the antidote, where marketers and CX leaders work with a system of content components that support both reuse and granular and bespoke delivery. We at Forrester break the shift into three components:
Content blobs to chunks. This takes content from a monolithic approach to experiences and to small components.
Separated storage and delivery. Components can be distributed across any number of interfaces.
Relationships between components. Logical and semantic relationships allow marketers and CX leaders to assemble meaningful experiences that scale.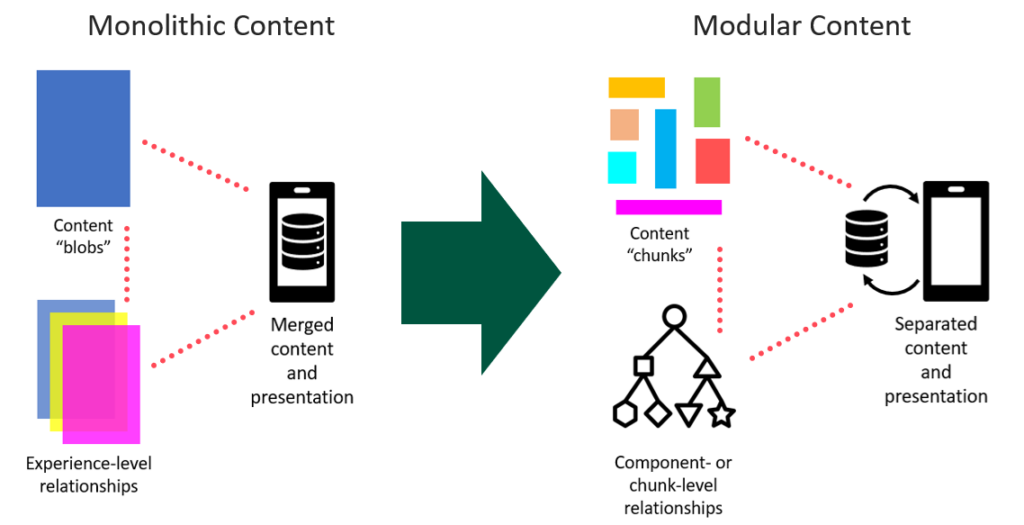 A number of businesses, including Desigual, Electronic Arts, and Novartis, have started the shift to modular content, adapting their people, processes, and technologies.
If you want to learn more about this topic or CX, join my colleagues and I at our fully virtual event, CX EMEA 2021, from September 30 to October 1, or contact us.