Authors:
Rick Parrish, Pete Jacques, and Max Ball
Contributors:
Keith Johnston, Daniel Portillo, and Kate Pierpont
Use Budget Growth Wisely To Maximize The ROI Of The CX Program
During this challenging time — when companies have lost their focus on customers, customer expectations continue to rise, and the economy is becoming more turbulent — CX leaders must invest to maximize the benefits to revenue, profitability, and resilience that their CX programs offer. CX leaders who don't will find their budgets slashed — especially if economic troubles continue.
CX Leaders Have Modest Budgets — And Hope For More
According to Forrester's Q1 2022 Global State Of Customer Experience Programs Survey, 47% of CX professionals approximate their CX programs' budgets to be less than $1 million and 61% report less than $5 million (see Figure 1). Although CX programs' responsibilities vary widely, most every program invests to some degree in five budget categories: technology, personnel, services, data and research, and project-related expenses. For example, for the 45% of CX professionals whose programs are responsible for customer insights/voice of the customer (VoC), technologies like customer feedback management and customer data platforms are key investments. Similarly, for the 40% of CX pros whose programs are responsible for experience design, compensation for sought-after design professionals is always top of mind.
A whopping 82% of CX leaders predict that their budgets will rise in the next 12 months, according to Forrester's Budget Pulse Survey, 2022. Forrester contends that CX leaders are overly optimistic about their budget prospects. We anticipate that most CX programs will have to cut spending in at least some areas as economic turbulence continues. However, CX leaders expect (see Figure 2 and Figure 3):
Small to moderate increases across all five spending categories. CX leaders have similar budget expectations across the five spending categories that we studied. In each category, about 70% of CX leaders expect budget growth. Across all categories, pluralities of CX leaders expect modest increases of 1% to 4%. However, for each category, about one in four CX leaders expects larger increases of 5% to 10% and nearly 6% of CX leaders expect increases of more than 10%. In contrast, Forrester expects spending to remain flat or decline in at least one budget category for most CX programs — most likely in the service and data and research categories, which are usually the first to see cuts.
Varying levels of growth across all 10 technology spending subcategories. For the average subcategory, 68% of CX leaders expect budget growth at their organization. CX leaders are most sanguine about budget increases for customer insights and engagement tools: 77% of CX leaders expect their organization's budgets for these tools to rise, and 9% of CX leaders expect them to increase by more than 10%. CX leaders are slightly less optimistic about budgets for prototyping and visual collaboration platforms: 63% of CX leaders expect budgets for these tools to rise, and 4% expect them to rise by more than 10%. On the other hand, Forrester contends that most CX programs will have to keep or cut current spending levels in at least a few tech subcategories. Cuts are most likely in the prototyping and visual collaboration and usability testing categories.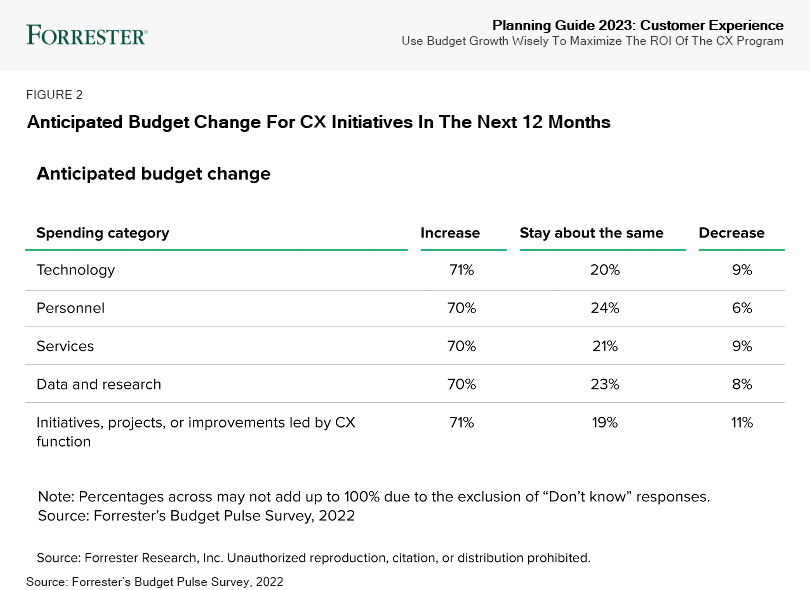 ---
Source: Forrester's Budget Pulse Survey, 2022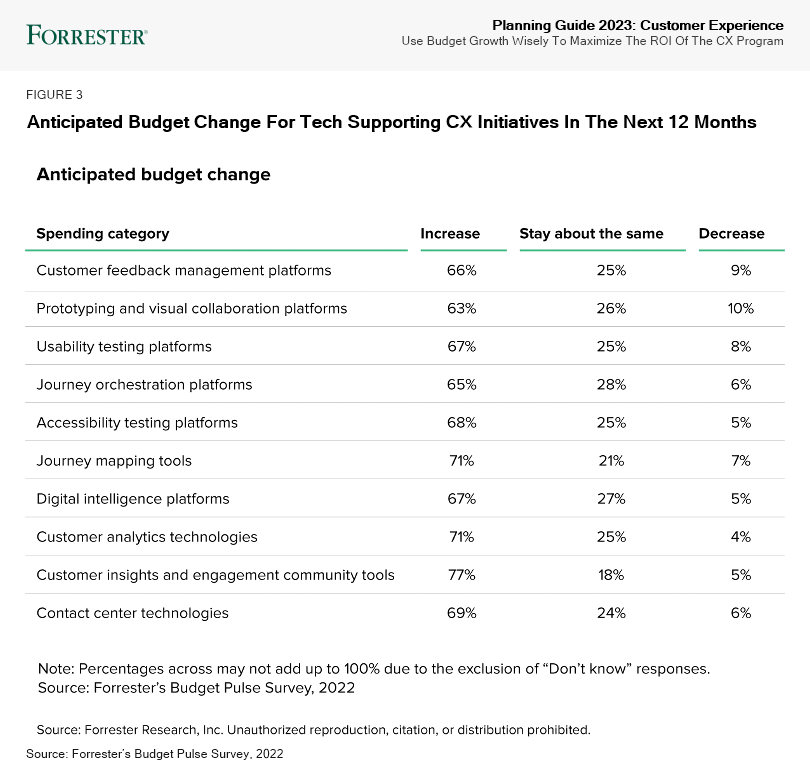 ---
Source: Forrester's Budget Pulse Survey, 2022
Invest To Drive The CX Program's Success
To help CX leaders boost the effectiveness of their work and show fiscal responsibility to senior executives who may look to trim expenses if economic turbulence continues, we recommend that CX leaders increase funding in the following key areas:
Projects for which you can prove ROI. Prioritize CX projects that you can demonstrate will improve key business metrics such as revenue or profitability. If it's unclear which projects have the greatest potential benefits, inventory meaningful metrics, determine which CX actions will support improvement in those areas, and craft a value statement that serves as an elevator pitch to use with executives. Quantify and communicate successes across the organization so stakeholders understand the value of your work.
Critical skill development for existing CX personnel. CX teams lack crucial skills like data literacy and storytelling, business case/ROI modeling, journey orchestration, survey design, and inclusive experience design. Invest in your staff's current work and future professional development by providing them with the resources they need to build these skills. Investments in coaching and career pathing for contact center personnel will also boost CX and reduce expensive and disruptive agent turnover.
Technologies that democratize and accelerate customer research. Experience research platforms (XRPs) and collaboration tools are key, even though other technologies also play a role. XRPs help CX professionals recruit research subjects, use a range of research methods, and synthesize findings more easily and quickly than ever before. As a result, even novice researchers — both inside and outside the CX function — can conduct customer studies, rather than waiting for in-demand research experts to become available. Collaboration tools allow CX pros to share insights with key business partners and stay attuned to their needs and concerns.
Customer journey orchestration (CJO) technologies. Journey orchestration is a thoughtful approach to designing customer journeys that helps organizations respond to changing customer behaviors in real time. CJO platforms can model changing customer behaviors in real time, help integrate quantitative and qualitative customer insights in a journey context, and bridge the gap between data science and design researchers. As a result, CJO platforms are a critical need for CX functions that want to help their companies differentiate for customers who seek adaptive, personalized experiences.
Contact center technologies that improve CX and reduce costs. Conversational AI for self-service — whether implemented as a chatbot for digital interactions or an intelligent virtual agent for voice — is a critical technology. For most brands, a well-designed self-service experience with smart escalation to a live agent is a good CX. Conversational AI saves money, too, because self-service channels are less expensive than staffed ones. And when escalations do occur, robotic process automation improves the speed and accuracy of the experience and agent assist applications drive customer conversations that build loyalty.
Cut Unnecessary Spending
CX leaders should run a tight ship, regardless of their companies' customer focus and the economic climate. However, in the operating environment that CX leaders now face, it is especially vital to save money by trimming spending in the following areas prone to waste:
Unnecessary user access to software-as-a-service CX platforms. Most companies pay for access for too many employees. Be pragmatic about who needs a license and scale back seat-based spending to employees who really need it. Look for vendors or features that enable read-only dashboards for employees who need to see the data but aren't going to use other features of an application.
Surveys that aren't driving action. Audit your surveys to determine which you're actually using or are likely to use in the foreseeable future. Be realistic about your organization's ability to take action on CX initiatives in the next six to 12 months and pare back solicited feedback requests to areas where you have already proven that survey insights are driving CX and business improvements.
Bloated VoC technology contracts. Many companies are paying more than they need to for critical VoC technologies. Look for ways to consolidate and renegotiate contracts. You can potentially save money by implementing one enterprisewide contract with a single solution provider, rather than using multiple vendors in different departments or a single vendor under department-specific contracts. You may also benefit from merger and acquisition activity — such as Qualtrics' purchase of Clarabridge or InMoment's acquisition of ReviewTrackers — as you can combine two legacy contracts into one.
In-person contact centers. Contact center agents who work from home increase productivity by 13% versus their colleagues who work in person. What's more, a work-from- home contact center staffing model is less expensive because it reduces facilities costs and increases hiring flexibility.
More From Forrester
Get Executives To Invest In Customer Experience
Get an ROI calculator and business case examples for customer experience. Learn to build a business case that will convince executives that CX is a critical business lever.
Supplemental Material
Survey Methodology
Forrester's Budget Pulse Survey, 2022, was fielded in July 2022. This online survey included 382 respondents in the US from companies with 500 or more employees, representing nearly 1,000 budget- related decisions.
Forrester ensures that the final survey population contains only those with significant involvement in the planning, funding, and purchasing of business and technology products and services. InnovateMR fielded this survey on behalf of Forrester. Survey respondent incentives included points redeemable for gift certificates.
Acknowledgements
Thank you to all the Forrester experts who contributed to this report: Michelle Beeson, Amit Bhatia, Gina Bhawalkar, Karine Cardona-Smits, Katy Cobian, Su Doyle, Colleen Fazio, Angelina Gennis, Martin Gill, Melissa Gill, Senem Guler Biyikli, Ian Jacobs, AJ Joplin, Sam Karpinski, Aaron Katz, Sheila Mahoutchian, Harley Manning, Christina McAllister, Tom Mouhsian, Riccardo Pasto, Brandon Purcell, Joana de Quintanilha, Ron Rogowski, Maxie Schmidt, Shari Srebnick, David Truog, and Judy Weader.