Asia Pacific is poised for large-scale innovation in 2022. Michael Barnes, VP, Research Director, shares some of Forrester's 2022 predictions for the region.
Complimentary On-demand Webinar
Customer Trust And Values Take Centre Stage
In this session, Forrester's analysts explore the dynamics that will shape 2022 and why business leaders must focus on building customer trust and tackling climate change to meet heightened customer expectations.
Complimentary On-demand Webinar
Inject Positive Change To Your Technology Strategy
In this session, Forrester's experts will deep-dive into why firms must implement future-fit technology strategies such as cloud-native approaches to improve business agility and automation to fuel growth.
Research Report
Predictions 2022: Asia Pacific
Trust And Values Take Center Stage
In 2022, access to digital services will heighten customer expectations and drive visionary Asia Pacific firms to nurture customer trust and commit to sustainability.
Client Access Only
Complimentary Guide: Asia Pacific Predictions 2022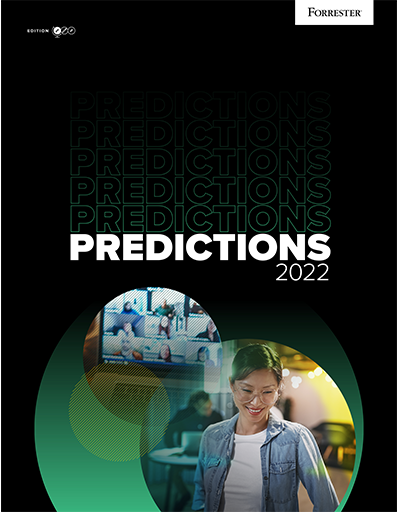 Discover the forces that will shape our world in 2022 to seize opportunities amid the uncertainty and forge a path to success.
Thank you for your interest!
If you have any questions regarding the Asia Pacific Predictions 2022 Guide, please do not hesitate to contact us at apacmarketing@forrester.com.