Top Five Windows of Opportunity for Marketing Operations Leaders in 2019
SiriusDecisions has identified five windows of opportunity that should drive the agenda of marketing operations leaders in 2019
Marketing operations leaders have the opportunity to drive strategic initiatives across data, infrastructure, planning and measurement
Take advantage of the momentum from new and emerging data privacy regulations to implement a consistent, data-driven approach for marketing activities
The term "window of opportunity" refers to a short period of time during which it's possible to accomplish something. A window of opportunity is fleeting – it must be pursued immediately or lost. In 2019, marketing operations leaders have several windows of opportunity – brought about by new privacy regulations, the need for aligned sales and marketing planning, and improved capabilities for measuring marketing's impact on the business.
Window 1: Data Privacy Drives Data-Driven Marketing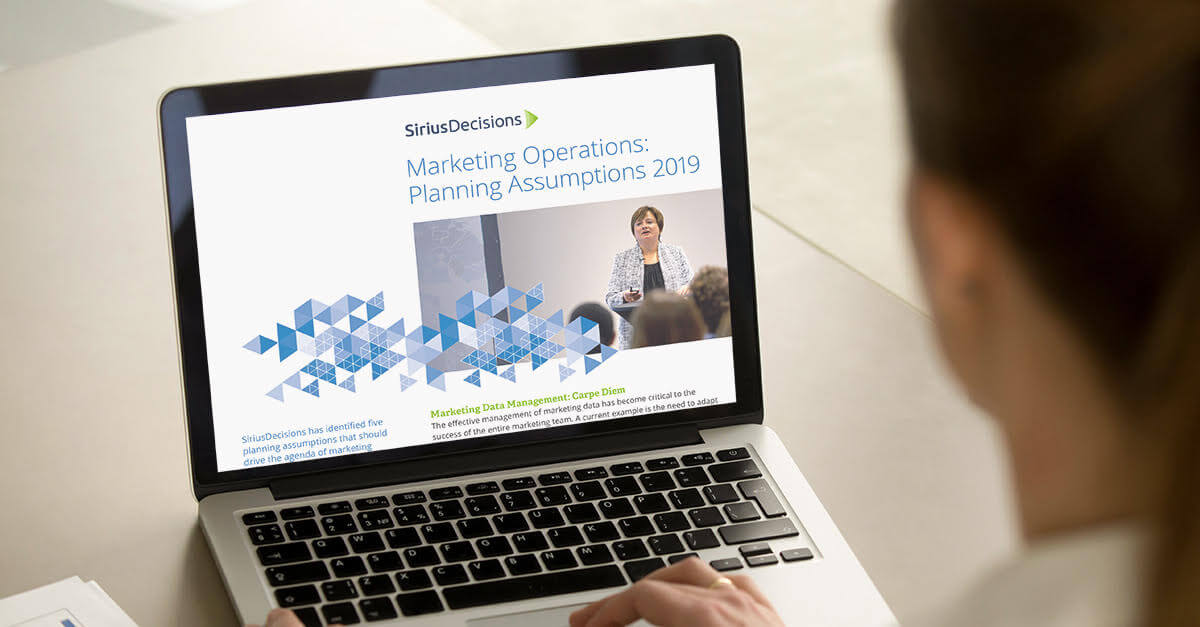 The General Data Protection Regulation (GDPR) put marketers through their paces over the last year. The challenge is not complete, as newer data privacy regulations, such as ePrivacy, are looming. Recognizing that most of today's marketing activities require a data-driven approach, marketers should take advantage of all the skills and experience they developed and use them as a catalyst for data-driven marketing activities that deliver more relevant communications to the right audiences. GDPR didn't create a one-time project; smart marketers will leverage their experience with it to establish an ongoing data-driven approach to the marketing discipline.
Window 2: Proliferation of Technology Enables Improved Technology Planning
Marketers are facing the "kid in a candy store" dilemma of too many technology options, and just like with candy, more is not always better. Instead of reacting to every discovery of yet another cool application and then cramming it into an already overcrowded marketing technology infrastructure, smart marketers identify their most important technology needs by assessing their business priorities and mapping them to the processes supported by the current infrastructure. Before you get weighed down by an unwieldy tech stack, make sure your priorities and business requirements are driving every tech decision.
Window 3: Align Marketing Planning With Sales
Even the few marketing organizations that do a good job of annual planning usually do a poor job of coordinating their marketing plan with sales. Less than 20 percent of respondents to SiriusDecisions' 2017 Sales Planning Study reported that their sales and marketing functions coordinate their annual plans. This leads to poorly aligned marketing efforts that, no matter how well executed, generate subpar outcomes. As most CMOs know, when marketing is not well aligned with sales, there is trouble ahead. The window of opportunity for smart marketers involves developing annual plans in conjunction with sales, leading to better organizational alignment and improved marketing execution effectiveness.
Window 4: Evolve Responsibilities in Marketing Operations
SiriusDecisions' global CMO studies have shown that CMOs want to increase their investment in marketing operations functions, especially in measurement and analytics, marketing strategy and planning, integrated campaign planning, and budget processes and skills. The dilemma: Marketing operations leaders push their teams to be more strategic, but they face an unscalable and growing list of tactical requests that do not align to marketing objectives. Marketing operations leaders have an opportunity to establish a culture of strategic thinking in the organization by taking on responsibility for planning that pushes measurement, data management and infrastructure management to be better aligned to the needs of the business.
Window 5: Extend Measurement and Reporting to Marketing Value
Demonstrating accountability for marketing results by measuring marketing sourced pipeline or revenue has become a core element of B2B marketing. The vision for how marketing drives business results has expanded well beyond sourcing – yet the metrics used to convey impact haven't kept pace. Marketing operations leaders must figure out how to target and track multiple individuals who come together as buying groups. This means understanding more about all the participants in buying processes, including those who are already customers and part of major accounts. There is an opportunity to improve marketing measurement through better objectives, accurate selection of measurement metrics and possible deployment of performance analytics solutions.
In 2019, there will be windows of opportunity in data strategy, infrastructure, planning and measurement to change the perception of marketing operations as a tactical group. Marketing operations leaders should identify where they can have the greatest impact. They must sort out what's urgent vs. what's important, then allocate time to focus on one or more of these areas.