Does ABM Help Produce Better Revenue Results?
Join me on a stroll down ABM memory lane?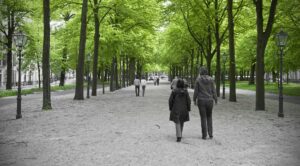 In September 2016, Forrester's B2B marketing and sales research team published our first series of reports about account-based marketing (ABM). In November, we predicted that ABM would help boost B2B marketers' customer obsession. We continue to survey the market to keep our finger on the ABM pulse to understand how well account-specific strategies are serving those responsible for fueling and driving the demand generation engine.
Earlier this week, we published our latest findings in a new, infographic-style report (subscription required). We found that marketing and sales teams that take an ABM approach together — and spend time maturing their processes and practices around it — can be as many as 6 percentage points more likely to exceed their revenue goals than teams less ABM-advanced.
ABM Maturity Corresponds To Better Revenue Results
That's cool — Forrester research shows there is a definite connection between ABM activity and revenue results.* But you knew that . . . at least those of you who are working on your own account-based engagement activities right now.
We also found that:
Sixty-two percent say they can measure a positive impact since adopting ABM.
As ABM matures, marketers are choosing to focus on fewer accounts: 56% say they actively target 99 or fewer ABM accounts, compared to 47% who said the same in 2018.
Most marketers adopted ABM to deepen relationships and expand business with existing customer accounts . . . or to pursue a few, high-value, net-new accounts. Those focusing on lots of accounts are practicing better segmentation (which is also very cool!).
Marketers strongly agree that personalized content (56%) and advanced data management (43%) are keys to ABM success.
Tighter alignment between marketing and sales is the No. 1 value that marketers can demonstrate from ABM today.
ABM is maturing as marketers integrate established ABM practices into everyday budgets and skill sets:

Fifty-five percent of respondents rated their ABM as "established" compared to just 43% in 2018.
Twenty-one percent reported a decrease in dedicated ABM budget dollars.
Seven percent reported a decrease in dedicated headcount, showing that ABM is going mainstream.
ABM Becomes The Way B2B Marketing Gets Done
Let's head back down memory lane for a moment: This last finding points to a very important call that my colleague Lori Wizdo made in her report assessing the impact of ABM on demand generation: namely, that ABM will become the next chapter in B2B marketing automation, or more specifically, that "ABM will elevate, not eclipse, lead-to-revenue management" practices.
In our survey, 94% of respondents said they see ABM coexisting alongside their other marketing approaches. That's good but not good enough. In fact, Matt Senatore, Bob Peterson, and Steve Casey predicted at this year's SiriusDecisions Summit that in five years, the term "ABM" will disappear as account-centric becomes the way most B2B organizations identify, manage, and measure demand unit and post-sale motions.
This report makes that prediction official to all Forrester readers, as well.
In memoriam: It's with a heavy heart that I share this research, because I would have liked for our colleague Matt to have been a part of it, as well. In any way that you choose to remember those who have passed on, please raise a glass, say a prayer, or send positive energy to his family. His Forrester/Sirius family misses him terribly and will continue this work in Matt's honor on a topic we love and care about.
*We geeky research analysts refer to this as a "statistical correlation," but I digress.
Categories