Portfolio Marketing Spotlight: Atlassian Wins Program of the Year Award at Summit 2020
This year's Forrester SiriusDecisions Summit recognized two organizations that exemplify best-in-class portfolio marketing
One of those winners, Atlassian, evolved successfully to an audience-centric go-to-market approach
Through implementing best practices, Atlassian saw tangible results as it tested buyer-focused messaging
The Programs of the Year Awards are some of the most popular sessions at the Forrester SiriusDecisions Summit each year. They're a great opportunity for us to highlight for attendees the organizations that exceed industry standards — and what they do that sets them apart.
One of the most common questions we get from our clients is "Can you show me an example of someone who is doing best-in-class work?" Resulting from conversations with hundreds of organizations, our Programs of the Year Awards showcase the programs we've chosen as best in class across marketing, sales, and product disciplines. Get a glimpse into insights and best practices straight from one of this year's Programs of the Year Award winners in portfolio marketing, Atlassian, in my interview with RJ Gazarek, senior product marketing manager, and Jessica Seitz, product marketing manager, who work on Atlassian's Agile at Scale product marketing team.
Can you tell us a little bit about Atlassian and what you were trying to accomplish?
Jessica Seitz: Our Agile at Scale product marketing team is making the shift from a product-first focus to an audience-centric focus. One of the reasons behind this is that our enterprise customers are embarking on large digital transformation journeys to more rapidly deliver value to their customers. We want to make sure they know we have tools to help them do that! For example, many executives and senior leaders right now need more visibility into the work that's happening across their hundreds and thousands of team members, and they need to see how that work is mapping back to their strategic goals. Atlassian is uniquely positioned to help them solve this challenge because our Agile at Scale solution connects that team-level work — commonly tracked in tools like Jira Software and Trello — to that company strategy. RJ and I are on a team of four product marketers looking after Agile at Scale solutions. We've worked closely with IT system administrators and developer audiences, but our vision is to build a more comprehensive buyer's journey for new personas such as portfolio managers, transformation leaders, and executives.
You had a vision. How did you articulate that vision and what was needed to be successful?
RJ Gazarek: Putting customers at the center of everything you do — and taking a buyer-in, audience-centric approach — completely changes your go-to-market game. It can be really uncomfortable if your company isn't used to it, and it can be hard to get others to join you on this journey. Jessica and I and the Agile at Scale product marketing team had to ask for a little bit of trust as we painted the picture for a better future. We also had to do the groundwork to show the value we would bring to the business and provide some of that early proof. To do that, we needed extremely tight alignment with three primary groups: sales, the product organization, and the rest of marketing. Sales helped us jump on those early prospecting (and existing customer) calls so that we could hear the customer pain points firsthand. With product, we provided direct value by bringing all the market and buyer research back to that team to show real proof with data on what's working (and what's not working) with our buyers. Demand generation, as well as the rest of the marketing organization, is our continuous feedback loop. It allows us to partner with marketing to test different messages and tactics in the market and get feedback on what's really working. The goal for us was how to provide real, tangible value back to the business while articulating the vision of a buyer-in approach.
Your work clearly included the evolution to a more buyer-focused go-to-market approach. Can you share what you leveraged to support this effort?
RJ: This is one of my favorite topics. If you ask 20 different people what your target market is, you'll get 30 different answers. By putting the information down — pen to paper, having the right conversations, and getting everyone to agree, you'll have much stronger alignment across the organization. It's crucial to have this alignment and a repeatable process. For us, that's where the SiriusDecisions frameworks and analysts really helped. I'd like to highlight four of them specifically: the Buyer Audience Framework, the Buyer Persona Framework, the Value Proposition Template and the Messaging Nautilus®. "Everyone" is not a target audience!
The Buyer Audience Framework helped us visualize where our focus should be — we can see exactly which audience we're targeting. It forced us to think about geographies, company sizes, buying centers, and different personas. The Buyer Persona Framework, along with a supporting interview guide, really helped us drive results and make sure we were capturing all the right attributes for each persona we were targeting. The Value Proposition Template is my all-time favorite because it forces you to think about your target audiences, their challenges and needs, your unique differentiation as a company, and your solution for solving the challenges. Lastly, the Messaging Nautilus helped us put the buyer first and build audience-centric messaging. We are far from saying our persona and messaging work is ever complete because we have to stay agile and be able to test and refresh to make sure what we hear is accurate. We'll continue to build on what we've created so far.
How did you put the models and frameworks into practice within Atlassian?
Jessica: To prove that the buyer-in approach would be successful, we wanted to run a pilot project with our performance marketing team, which is responsible for driving awareness at the top of the funnel through paid marketing. This gave us a good opportunity to test messaging, reach new personas, and gain an understanding of what works to inform the build-out of additional messaging and content. Historically, the ads had a product-oriented focus, so it was a great way to compare. We started by condensing the buyer persona research into the persona's top initiatives, challenges, and needs. I shared this research with a copywriter, who took the information and developed different variations of ads on the basis of the persona insights. One of the important elements of the pilot was how we changed our level of involvement with the performance marketing team. Before, product marketing owned the creation of the messages and ads and then would hand things off to the performance marketing team to implement and optimize the ads. Now, we meet regularly and work on optimization together and review results on much more frequently.
Were there any "aha" moments that occurred throughout your journey?
Jessica: There are two moments, actually. First, when we got the ad copy back from the copywriter, it was on message and so impressive to see how relevant it was for the persona! The copywriter was grateful for the persona insights we delivered. The other moment is when we had our first meeting to review the initial results with the performance marketing manager. Performance marketing didn't initially get what we were trying to do, but after looking at the results, we could all clearly see which messaging is working with each persona. It gives us ideas for how to continually optimize campaigns and the ability to spend those campaign dollars more intelligently!
This is all still pretty new, but what kind of results have you seen so far?
Jessica: Early results were pretty incredible. We had set some goals for landing page visits and cost per entrance (CPE). These goals were based on benchmarks from another internal team's campaign that had a similar marketing budget. In our initial test, we delivered twice the visits at half the cost. This was exciting, but we also outperformed industry CPE standards and norms across Facebook, LinkedIn, and Google paid search by an average of 14%. On the qualitative side, we learned a lot about our audience. We were able to see in real time what messages were resonating. For example, it was interesting to find that buyer needs–based messaging was outperforming initiatives- or challenge-based messaging. The whole process has created a better way for us to work with our copywriters and performance marketing managers to deliver in a more rapid and agile way. Also, I'm thrilled to share that after seeing these initial impressive results, we just started using the same messaging framework in a high-profile campaign in the Wall Street Journal in which we're targeting the executive audience. It's exciting to repeat this process with a whole new team!
What's next for personas, messaging, and overall audience-centricity at Atlassian?
RJ: Bringing it full circle, we're now orienting everything around buyer personas. We have different demand tracks by persona, and each product marketer is running an end-to-end campaign targeted at a specific persona. It's a brand-new way of working for us and it's been an exciting journey. We also now have other teams reaching out to us wanting to bring the same approach to their product lines and groups. We want to help them do this! So, a big focus moving forward is supporting our colleagues and propelling Atlassian to a buyer-centric go-to-market approach.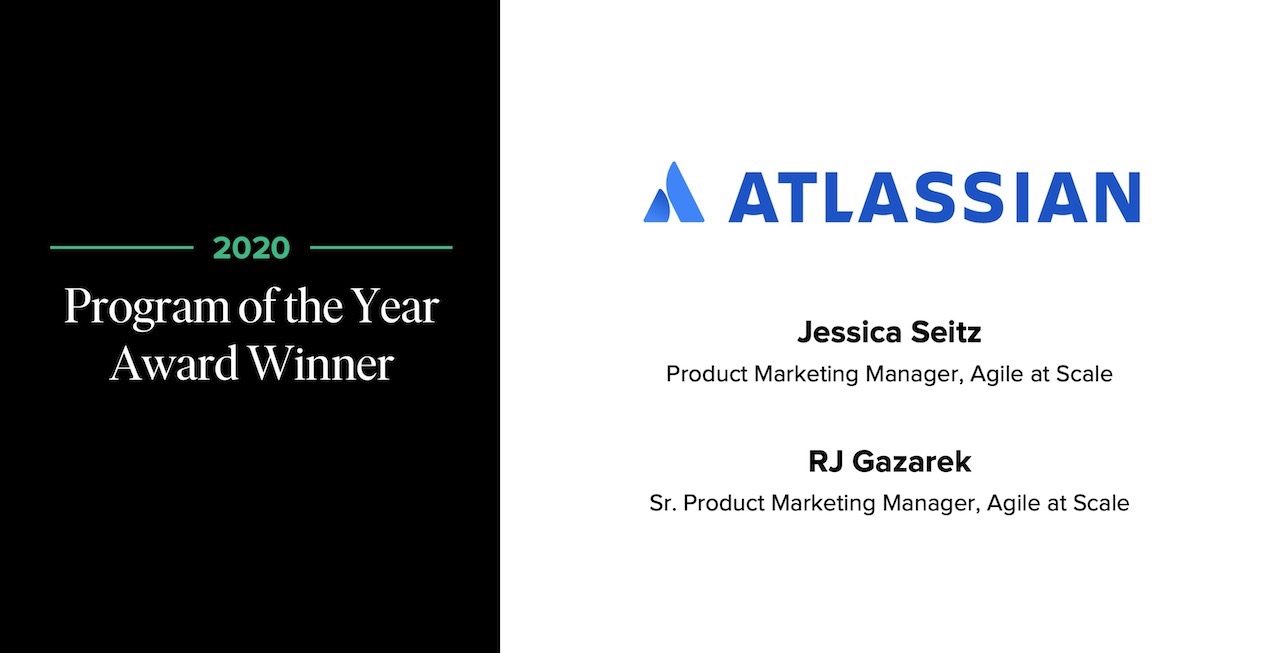 RJ, Jessica, and the Agile at Scale product marketing team started with a vision of moving to a buyer-focused go-to-market approach. Now, they're seeing broad adoption of personas internally — as well as positive results in the market. Congratulations to RJ, Jessica, and the entire Atlassian team on being selected as a 2020 Program of the Year Award winner in portfolio marketing!
Does your organization want to outperform in the area of portfolio marketing? See what Forrester SiriusDecisions has to offer.
Categories