Breakthrough Go-To-Market Strategies Require Three Components
It's more important than ever for B2B organizations to make sound strategic decisions. Yet if you ask each member of your executive leadership team how they define go-to-market strategy, you will likely get a different answer from each of them. Not only does this create confusion internally, but it's also an inhibitor to growth, as organizations face tough economic conditions and an increasingly competitive landscape. So how can companies accelerate growth during times of uncertainty? By making sure the company is focused on the ideal market segments and buyers and by delivering a superior buyer experience. To do this requires discipline, alignment, and making a cascading set of strategic decisions.
B2B organizations need a go-to-market architecture that is both customer-obsessed and laser-focused on driving revenue. They also need to establish clear ownership of the go-to-market process, or they risk ending up with multiple go-to-market strategies and a lack of alignment across the revenue engine functions. Forrester defines a go-to market strategy as the map of decisions that an organization makes to determine how it will leverage its resources to deliver its offering portfolio to buyers to maximize revenue, advance strategic goals, and secure and sustain a competitive advantage. Portfolio marketing leaders are uniquely qualified to lead this strategy development process, as they are the epicenter of markets, buyers, competitors, and offering knowledge.
The Forrester Go-To-Market Architecture (see below) provides portfolio marketing leaders with a comprehensive decision-making framework that delivers strategic clarity and helps build a balanced, thoughtful, and audience-focused go-to-market strategy.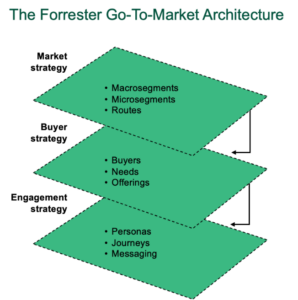 For portfolio marketing leaders to guide their organization through an enterprisewide, audience-first go-to-market approach, they must focus on the following strategy layers:
Market strategy

.

Market strategy helps determine which market segments to prioritize (considering both macrosegments and microsegments) and identifies the most cost-effective approaches to reach the market. The decisions made in the market strategy layer guide all other downstream decisions.
Buyer strategy.

Strategic decisions made at this layer include identifying the ideal sets of buyers, determining the most important buyer needs, and mapping which offerings in the portfolio are best positioned to meet those needs. The buyer strategy grounds the go-to-market strategy in customer centricity.
Engagement strategy.

The engagement strategy establishes the basis for functional planning and tactical decisions that will be made to ensure effective sales and marketing execution. This critical layer provides the foundation for enabling buyer- and customer-facing roles.
Revisiting the organization's go-to-market strategy is not necessarily an annual exercise. Rather, portfolio marketing leaders must keep a pulse on shifting market conditions and buyer behaviors and adjust as needed. If you have your own go-to-market strategy stories to share, I'd love to hear them! Let's connect and have a conversation.
For Forrester clients interested in learning more about the Forrester Go-To-Market Architecture, you can click here to access the research report.
Categories