B2B Sales in the Spotlight
Despite rumors to the contrary, the B2B sales rep is alive and well, according to recent SiriusDecisions research
B2B sales reps enjoy a level of trust that buyers rely on throughout their decision-making process
Contact us to learn more about our Sales Leadership Exchange, which will explore more about B2B sales and buying behavior
If you attended last year's SiriusDecisions Summit in Nashville, you may have witnessed the dramatic moment when analysts Marisa Kopec and Jennifer Ross proved, beyond a shadow of a doubt, that the B2B sales rep is alive and well, despite rumors to the contrary.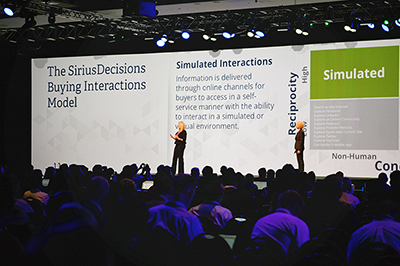 Based on the results of the SiriusDecisions 2015 Buying Study, which polled more than 1,000 B2B buyers in North America and Europe, Marisa and Jennifer revealed just how much salespeople influence buying decisions. To illustrate this point: When asked, "What do you recall were the content assets that you or your colleagues considered meaningful or impactful during each phase [of the buyer's journey]?" analyst reports and sales presentations were the top two out of 13 choices.
This finding suggests that B2B salespeople enjoy a level of trust that buyers rely on throughout their decisionmaking process, whether they're making a complex or simple purchase, whether that purchase is made individually or by committee, and whether it involves digital or human transactions.
SiriusDecisions continues to explore the ramifications of the 2015 Buying Study, the role of sales in B2B, as well as the importance of aligning sales, marketing and product. In addition to our Sales Leadership Exchange, which will be held on February 24 and 25 in San Bernadino, CA, this year's Summit will feature a range of sales-oriented presentations based on in-depth research. Here are a few of our upcoming Summit keynote sessions:
Evaluating B2B Sales Organizations: The Productivity Quotient. John Neeson, managing director and co-founder of SiriusDecisions, will introduce the sales productivity quotient, which defines the core elements that must be measured and analyzed in order to calculate sales productivity and takes into account how other functions (e.g. marketing, product) contribute.
Sales Content: What Winners Do Differently. Heather Cole (service director, Sales Enablement Strategies) and Christine Polewarczyk (research director, Strategic Communications Management) will discuss the results of a new survey that reveals the best practices of organizations that are especially effective at managing and delivering sales content. They will provide guidance on ensuring that sales assets are designed to support the buyer's journey and the sales process. They will also introduce a framework for rationalizing and managing internal and external sales content for maximum findability and utilization.
The Revenue Stream: Completing the Demand Waterfall®. Bruce Brien (chief technology officer), Terry Flaherty (senior research director, Demand Creation Strategies) and Mark Levinson (service director, Sales Operations Strategies) will provide insight on adding demand creation rigor and focus to sales generated leads, as well as new data on sales pipeline conversion, opportunity flow and revenue.
In addition to our featured keynote sessions, the sales track sessions at Summit 2016 will cover a comprehensive range of topics including the war for sales talent, the evolution of sales operations, sales compensation plan design, sales onboarding and recognition of the sales enablement programs of the year.
Summit is only a few months away, so take a moment to mark your calendars. Here are the details: SiriusDecisions Summit 2016 will take place May 23 to 27 at the Gaylord Opryland Resort in Nashville, TN.
---