Canada Customer Experience Index, 2020, Results Are Now Live!
Forrester's Canada Customer Experience Index (CX Index™), 2020 reveals the scores of 147 brands across 12 industries. This year is especially exciting for two reasons:
We added the utilities industry to our study. Our full report shows the scores for four of Canada's largest electric utilities. Readers will be able to compare these scores with the performance of other companies across the private sector.
Our survey spanned the beginning of the COVID-19 pandemic. The CX Index survey was still in the field on March 18, when the government of Canada announced a series of economic measures to help stabilize the economy. This provided us a unique opportunity to examine how customers' perceptions changed as life transformed across the country. The full report has the details of our findings.
Canadian CX Quality Is Flat
Our full report has a wealth of data at the brand and industry levels. In brief, we found that the overall quality of the Canadian customer experience remained flat from 2019, with an average score of 67.4. What's more:
Gains and losses at the brand level were a wash. About the same number of brands rose as fell: 16 brands had statistically significant score increases, while 12 had statistically significant score decreases. What's more, brands that rose gained an average of 3.3 points, just as brands that fell lost an average of 3.4 points.
Changes in score distribution across CX quality categories were mostly illusory. At a glance, the number of good scores rose by 8 percentage points, the number of poor scores rose by 1 percentage point, and the number of OK scores fell by 9 percentage points. However, most of these changes resulted from statistically insignificant shifts in brand scores at the edges of quality categories and from the addition of the utility industry to the CX Index in 2020.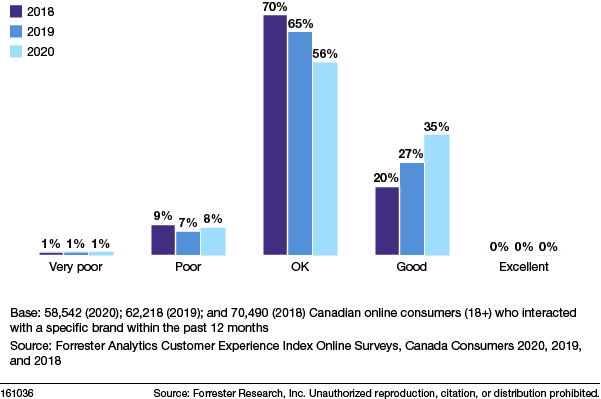 Real CX Leaders Have Yet To Emerge
Despite the improvement in Canadian CX quality, not a single brand has managed to rise to the top of our rankings and continue to move upward — the mark of a true CX leader. Instead:
Elite brands' scores remained flat. We refer to the top 5% of brands across all industries in the CX Index as the "elite brands." Of this year's seven elite brands, six showed no statistically significant score change.
Most industry front-runners were new. Six industry front-runners were new this year, while five were repeats. Seven front-runners showed no statistically significant score change, while four improved and none worsened.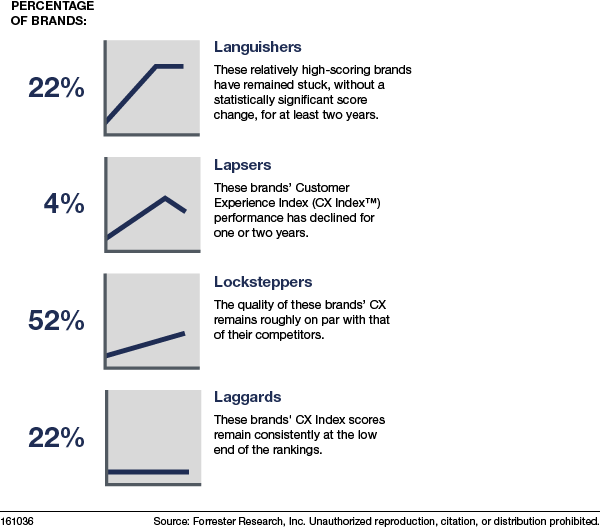 Emotion Holds The Key To CX Leadership
Brands that want to break away from the pack should focus on emotion: How an experience makes customers feel has a bigger influence on their loyalty to a brand than effectiveness or ease in every industry. Brand performance in the Canada CX Index, 2020 reflects this: Elite brands provided an average of 20 emotionally positive experiences for each negative experience, while the lowest-performing 5% of brands provided only three emotionally positive experiences for each negative experience.
To see the rankings of all 147 brands in the Canada CX Index and a much more detailed analysis of the results — including every brand's score and the emotions that drive loyalty the most — check out our report: "The Canada Customer Experience Index, 2020."