The Canada Customer Experience Index, 2019: Canada's Best Year Yet
Modest Gains Amidst Stagnation Give Canadian CX Its Best Year Yet
Forrester's 2019 Canada Customer Experience Index (CX Index™) reveals that the overall quality of the Canadian customer experience rose by 1.2 points, to 67.2. The report is based on Forrester's CX Index methodology, which measures how well a brand's CX strengthens the loyalty of its customers. In this year's report, we reveal the complete numerical scores of all 161 brands across 14 industries, based on a survey of 62,218 Canadian adult customers.
Nearly one in four brands improved modestly. A 23% plurality of brands' scores rose, while just 1% declined and 76% stagnated. The size of the average point gain was about 3 points, which was slightly larger than the average point loss of about 2.5 points.
The number of good scores rose, while the number of OK and poor scores fell. The percentage of scores in the good category increased from 20% to 27%. The percentage of OK scores declined from 70% to 65%, just as the number of poor scores fell from 9% to 7%.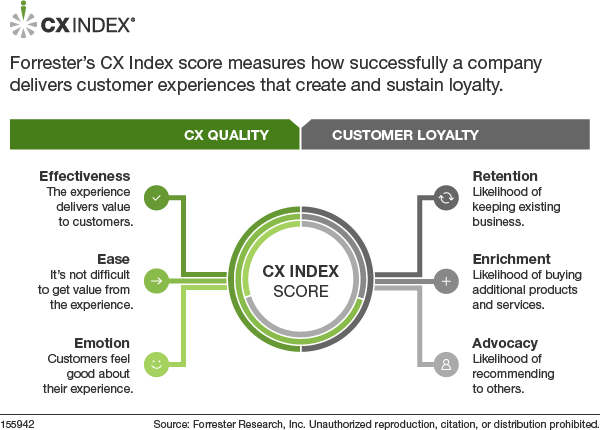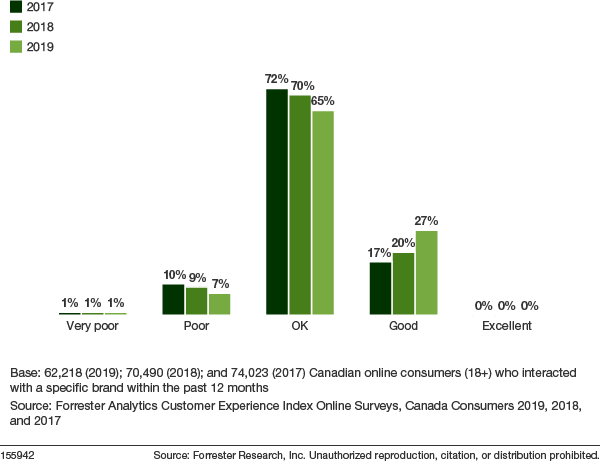 Real CX Leaders Have Yet To Emerge From The Torpor
Despite the improvement in Canadian CX quality, not a single brand has managed to rise to the top of our rankings and continue to move upward — the mark of a true CX leader. Instead:
Most elite brands' scores remained flat. We refer to the top 5% of brands across all industries in the CX Index as the "elite brands." Among this year's eight elite brands, five showed no statistically significant score change, three improved, and — for the first time — none lost points.
Most industry frontrunners stagnated; half were repeats. Ten of 14 industry frontrunners' scores were flat year-over-year. The frontrunners in three industries gained points; the frontrunner in one industry lost points. Seven of the 14 industry frontrunners were repeats from 2018.
Without Real Leaders, Only Four Types Of Brands Remain
In the absence of real leaders that rise to the top of the pack and continue to improve, there are only four types of brands:
Languishers: brands that rose high and then stalled. These relatively high-scoring brands have remained stuck, without a statistically significant score change, for at least two years. Overall, 14% of brands in the entire Canada CX Index are languishers.
Lapsers: brands that rose and then fell back. Lapsers' CX Index performance has declined for one or two years. Across the entire Canada CX Index, 1% of brands are lapsers.
Locksteppers: brands that move up and down with the pack. Even when these brands improve, they fail to differentiate themselves because the quality of their CX remains roughly on par with that of their competitors. A full 65% of CX Index brands are locksteppers, including four elite brands and seven industry frontrunners.
Laggards: brands that have stayed at or near the bottom. Although some laggards have improved the quality of their CX, their scores remain consistently at the low end of the rankings. Overall, 21% of CX Index brands are laggards.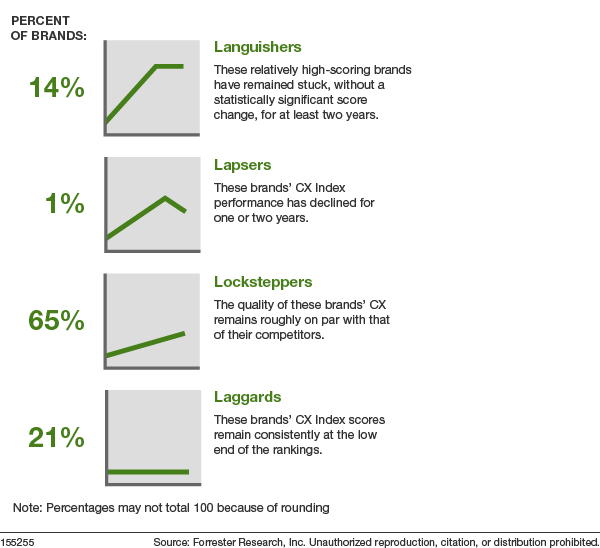 Emotion Holds The Key To Achieving CX Differentiation
Brands that want to break away from the pack should focus on emotion: How an experience makes customers feel has a bigger influence on their loyalty to a brand than effectiveness or ease in every industry. Brand performance in the Canada CX Index, 2019 reflects this: Elite brands provided an average of 17 emotionally positive experiences for each negative experience, while the lowest-performing 5% of brands provided only four emotionally positive experiences for each negative experience.
To see the rankings of all 161 brands in the Canada CX Index and a much more detailed analysis of the results — including every brand's score and the emotions that drive loyalty the most — check out our report: "The Canada Customer Experience Index, 2019."