Catch The 2019 Experience Platform Wave
Mark Grannan and I just completed "The Forrester Wave™: Digital Experience Platforms, Q3 2019," our fourth evaluation of the major software vendors focused on digital experiences: Acquia, Adobe, BloomReach, Episerver, Liferay, OpenText, Oracle, Salesforce, SAP, and Sitecore. There are Leaders, Strong Performers, and Contenders among this group of important software suppliers. Forrester clients can get the full breakdown here. See Mark's post to understand the links between experience software and experience strategy.
In the 2019 evaluation, we updated our approach from 2017 to look at three levels of experience architecture: experience management, platform services, and infrastructure services. It was in the realm of platform services and infrastructure services that vendors showed their commitment to an architecture. That allowed us to clearly see the differences between vendors with a coherent experience architecture and vendors still operating with a product portfolio.
Here are some important things to consider when making an architectural bet on a software vendor:
Does it have the applications that drive your business? An experience platform carries capabilities for marketing, commerce, customer data, content, analytics, and integration into transaction systems. Does it have what you need?
Is it deployed in a cloud you can work with? Adobe is pivoting toward Azure to join Episerver and Sitecore there. Oracle is on its own cloud. SAP is moving toward Azure from Amazon and its own. Salesforce has its own cloud with a propensity to avoid Azure in favor of Amazon and Google.
Does it offer the right amount of muscle for your particular need? We often see smaller firms buying too much software horsepower that they pay for but aren't ready to take advantage of.
See below for the vendors/products that we assessed. We're happy to talk about them.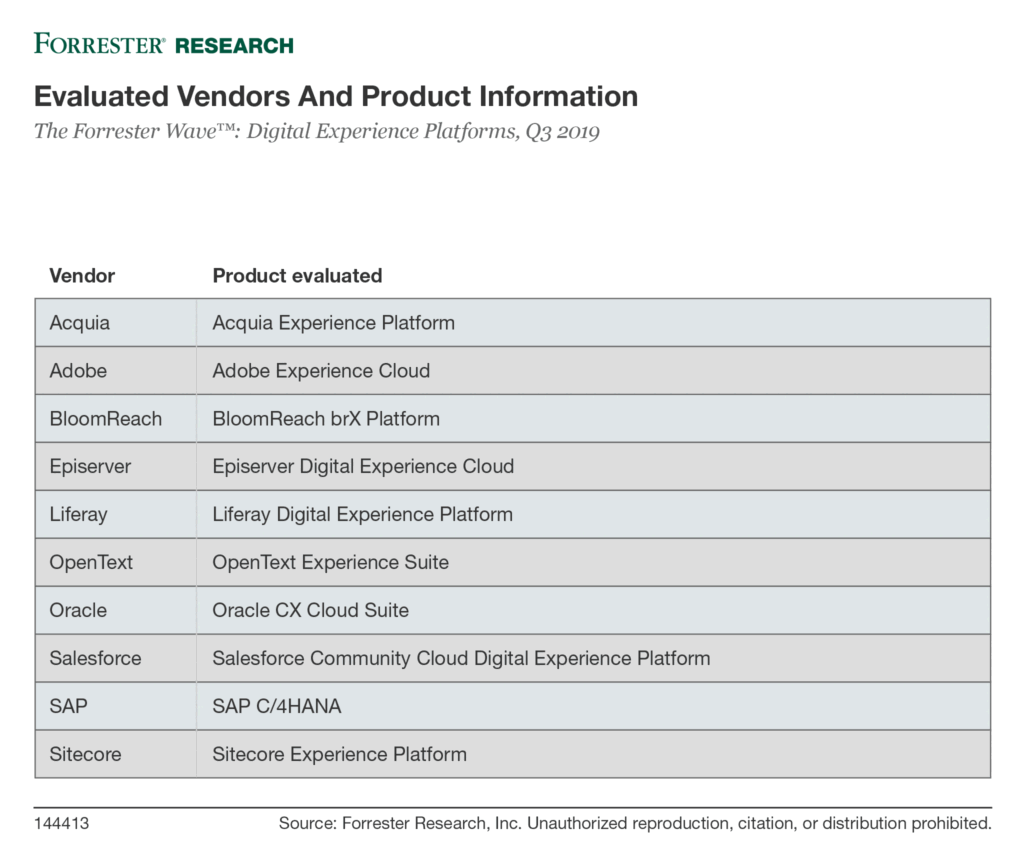 Categories