CEOs Own Software Competency — And The Structure Of Innovation Delivery
World-class innovation delivery requires weaving together three foundational realities:
"Software is eating the world." Marc Andreessen famously said this in a 2011 essay in The Wall Street Journal. It was true then, and it's all the more true today. Whether your firm is disrupting markets or playing catch-up, every major business activity and strategy requires software. Furthermore, changing the business requires changing software, and historically, software has been difficult to change.
"Culture eats strategy for breakfast." Forbes traced this quote to Ford executive Mark Fields, who attributed it to Peter Drucker. Poor culture degrades software success at multiple levels. With poor collaboration between business and tech teams, you build the wrong thing. Poor collaboration among tech teams slows delivery and introduces defects. And business leaders that don't understand software will underinvest in it, creating pressures that stifle collaboration.
"Constant innovation" drives corporate longevity. Marcus Wallenberg, chairman of 160-year-old SEB, says "the owners, board, and top management" of a firm have a "strong duty to foster a culture of constant innovation that drives its own creative destruction on the inside." Wallenberg pulls Joseph Schumpeter's notion of "creative destruction" inside the boardroom, placing responsibility for it squarely on the laps of top leadership.
Put together, what do these mean?
Every business is a software business — whether or not its leaders realize it.
Every major enterprise needs a strong software strategy.
Software strategy must have structures and patterns to build software for continuous change and creative destruction.
Software strategy must identify, build, and continually nurture specific cultural and process alignments.
Raise Your Innovation Delivery Game With Four Critical Alignments
In other words, to quickly, consistently, and continuously deliver innovation, enterprises need software-centered cultural and structural alignments, and these must run from CEOs and boards on down. In a recently published infographic, "Forrester Infographic: Make Software Central To The Structure Of Innovation Delivery," Forrester provides a bottom-line summary of the changes required.
As Andreessen highlighted, software enables innovation and underpins market leadership for both major tech firms (e.g., Amazon, Apple, Google, LinkedIn, Skype, and more) and leading firms in multiple vertical industries (e.g., retail, logistics, travel, oil and gas, agriculture, financial services, and more). But it runs deeper than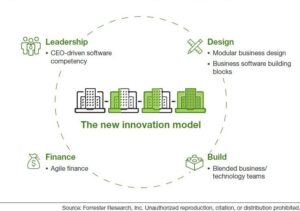 simply changing the model for innovation delivery: The structure of upstream ideation for innovation must also change. When software is an integral part of designing and running a business, it no longer works to design a new way of doing business and then try to put a tech strategy behind it. Instead, innovation starts with cohesive digital business concepts that interfuse business design and technology design. That sets the stage for the four key elements of innovation delivery:
CEOs and boards that drive software as a core enterprise competency.
Modular business design structures underpinned by flexible software-based business building blocks.
Blended business-plus-technology teams, aligned to the business design and empowered to innovate.
Agile financial planning and budgeting, framed for innovation time scales.
CEOs: It's On You To Drive Software As A Core Enterprise Competency
CEOs are the center point of cultural alignment, with two major focal points: Agile finance and software as a core enterprise competency. Modular, domain-driven business design is the center point of structural alignment; software design and team structures flow from business design structures.
To achieve high-speed, high-impact, continuous digital transformation, one must do well on many execution details within these major elements. But these are the foundation — the most important aspects to establish the right base for innovation delivery.
Related Forrester Content