CMOs Can Unlock New Value With Lifecycle Revenue Marketing
Revenue performance has become a standard measure for B2B marketers. But 20 years ago — around the time when B2B marketing automation was first introduced — the idea was radical. Adopting the practice required cultural change, significant reengineering of marketing and sales processes, rethinking the relationship between marketing and sales, and a large investment in technology. Practitioners have demonstrated that the benefits are worth the investment: Marketing's contribution to pipeline and revenue increases, end-to-end conversion ratios improve, and return on marketing investment increases. Claiming a stake in revenue production has greatly improved the status of the marketing organization — and the CMO — in B2B companies. But, without swift change, some of that hard-won strategic standing is vulnerable to attenuation.
Shifting Dynamics Require Evolution In Revenue Marketing Practices
In 2000, B2B marketers generally viewed revenue marketing as automating existing program processes, implementing drip marketing on steroids, and fully illuminating the conversion dynamics of the lead funnel. While revenue marketing pioneers have realized major business gains, more than two decades later, the buyer has changed, technology has advanced, and the philosophies of customer obsession and customer-centric marketing are inculcated in B2B marketing strategies. The discipline of revenue marketing must evolve to accommodate the changes of the twenty-first century.
Business buyers are more restless than ever, and their buying behaviors keep changing. Forrester's 2022 data shows that 77% of B2B marketing decision-makers agree that buyers and customers expect an immediate response to their questions, and 74% agree that buyers expect an experience personalized to their needs and preferences across sales and marketing interactions.
B2B buying is in danger of becoming a numbers game dominated by procurement professionals, vendor selection checklists, and lowest-price mentality. Forrester's 2022 data indicates that on average, buyers consider three vendors, only one of which succeeds in winning the deal. Meanwhile, sales, general, and administrative (SG&A) costs among the S&P 500 jumped 19% from the third quarter of 2018 through the third quarter of 2021.
A more cohesive strategy and systemic changes are needed. Forrester calls this new approach lifecycle revenue marketing (LRM): a customer-obsessed growth strategy for frontline marketing that encompasses the entire customer lifecycle and the full range of buying motions and opportunity types, from initial purchase to retention and from transactional to transformational.

Marketing Mindsets Must Evolve For LRM
LRM is a breakthrough business capability that helps B2B marketers acquire and expand customers, and achieve overall revenue growth goals. LRM standardizes, automates, and scales these practices to engage customers across the lifecycle — from attraction to advocacy. But it also exposes siloed marketing, introduces process rigor that frustrates creative marketing minds, exposes skills gaps, and challenges the traditional dynamic between sales and marketing. As you lead your organization through this transformation, you'll need to lead your team through several mindset shifts.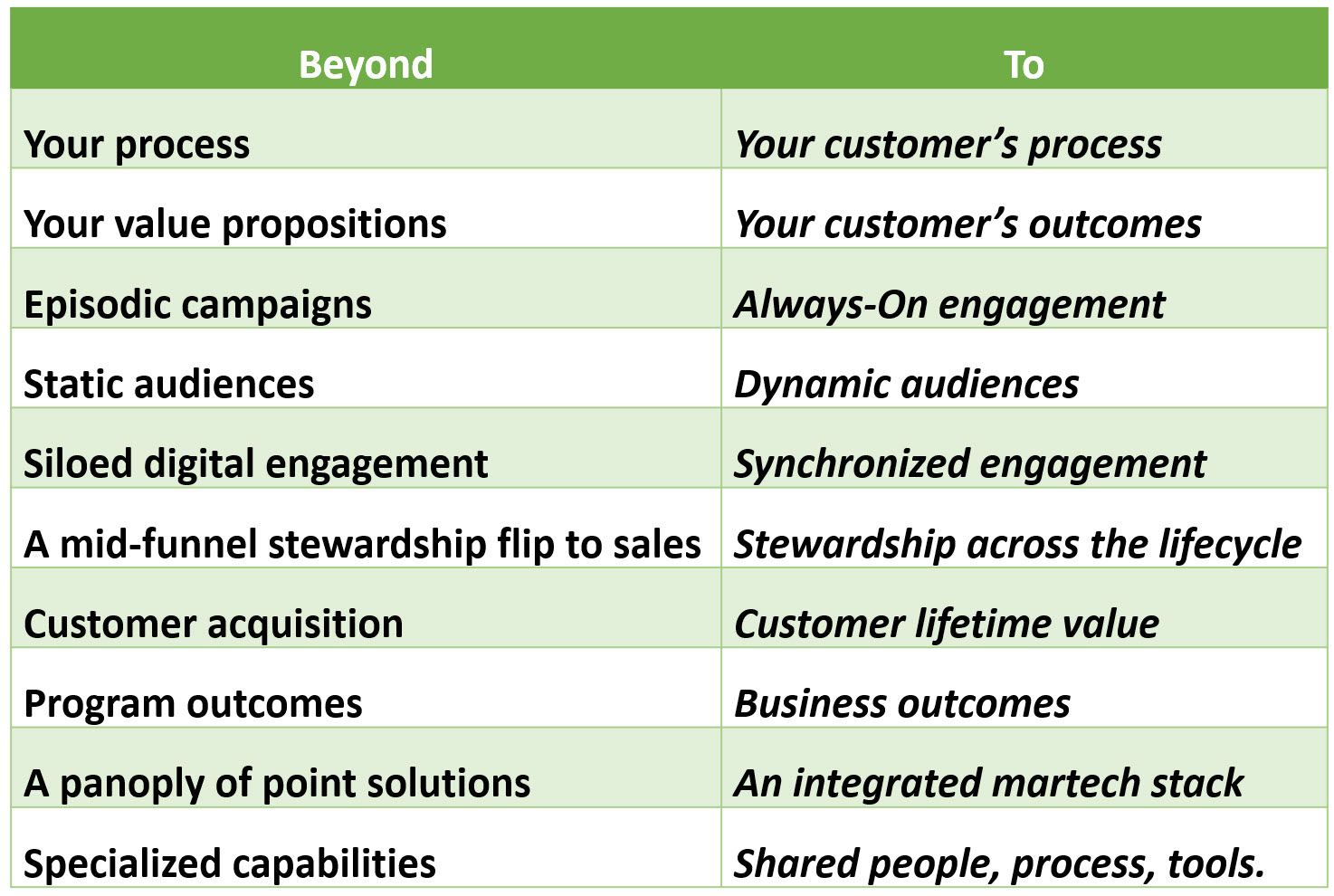 LRM As The Path To Marketing Transformation
Forrester has predicted that the number of demand teams reporting into sales organizations will spike to 20% by the end of 2023, owing to waning leads-based contributions to revenue results, stagnant win ratios, and fragmented customer engagement across demand marketing, customer marketing, and account-based marketing silos. But reconfigured reporting lines alone will not fix the underlying focus, alignment, and execution challenges.
Savvy marketing leaders are reengineering their processes to transform marketing from a top-notch supplier of leads for the load-bearing sales channel to the architect of customer engagement across the entire customer lifecycle. LRM is a modern, outside-in approach that breaks through siloes, redefines audience engagement, and better aligns marketing programs to the full lifecycle of revenue opportunities.
Transformation Is A Complex Endeavor, So Do Your Homework
I will be exploring LRM at Forrester's B2B Summit North America in my session "What CMOs Should Know About Lifecycle Revenue Marketing." Learn more about this year's event and register.
Forrester clients can also access our new LRM capstone report, which details changing buyer behaviors, the challenges facing frontline marketing, and the benefits of LRM as a strategic approach to customer-obsessed growth. You can also read the companion reports that explore the seven essential LRM capabilities and discuss technology implications from converging platforms. Please reach out to schedule a guidance session or inquiry with us to discuss the implications of this new strategy for your B2B organization.