Current Malpractice Handicaps Social Selling's Potential
We first published research on social selling in 2016, and B2B sellers continue to flock to various networks to interact with their customers and prospects. Social provides the opportunity for authentic connections, mutually beneficial professional relationships, and positive business outcomes for both buyers and sellers. But sellers' inconsistent and boorish behaviors and a lack of programmatic support from executives challenge this opportunity. Engaging appropriately and effectively with the right tools is essential for sellers to find success in the channel.
Matthew Camuso's message to B2B sellers:
Mary Shea's message to marketing and sales leaders:
To demonstrate how empathetic and buyer-oriented engagement is far more effective, we'll compare two hypothetical sellers, which we've sourced from our research and personal experiences. I expect these will be familiar to you, too. We've named our two sellers Tom and Jerry, and we'll show how these dramatically different approaches manifest themselves.
Tom sees the potential of social networks for engaging his customers and prospects but hasn't taken the time to understand the nuances of the channel.
Jerry, like Tom, views social networks as a great way to build relationships and engage with his prospects and customers and approaches it thoughtfully.
Profile Sophistication
Tom hasn't built out his LinkedIn profile effectively. His job descriptions contain spelling errors, and he features a wedding photo as his profile picture. When buyers land on his LinkedIn page, they find it cheesy and unprofessional.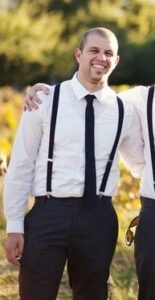 Jerry sees the value of having a professional and polished profile. In advance of publishing his, he scheduled time with his marketing team to take his head shot. Additionally, he had his manager and a couple of peers review everything to make sure he'd presented himself in a professional and company-brand-consistent way. When buyers visit his page, they see a personable, informed, and polished seller.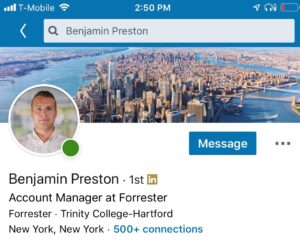 Cadence Of Communications — Reaching Out At The Appropriate Time
Tom has abused cold calling and email in the past and carried over these bad practices to social networks. Tom believes in the product he is selling, but his unrelenting persistence does more harm than good. Tom scans LinkedIn public discussions of relevant topics and connects with participants. Once they have accepted his invite, he then sends a direct message to ask for a demo. Many of these individuals have neither interest in the product nor influence on the buying process and are annoyed with the outreach.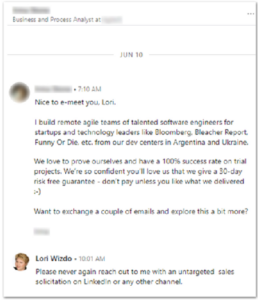 Jerry can empathize with buyers who feel frustrated after getting unwanted direct messages or cold calls, especially when they have no interest in buying a product, so Jerry researches possible customers and initiates a relationship before trying to sell anything. This helps Jerry build goodwill so that his connections see him as helpful, not annoying, when the buying signals are there.
Sharing Content
Tom made several connections with prospects at an industry event. However, after several weeks of sharing his company's marketing content, his connections decided to unfollow him.
Marketing and sales leaders at Jerry's company educated him on the importance of not oversharing promotional content. As such, he shares a mix of relevant industry content with a sprinkling of branded content. Prospects see Jerry as someone who is helpful because he shares content that matters to them.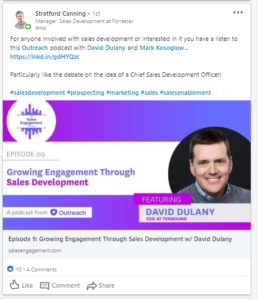 This is just a sampling of some interactions that take place all the time on social channels. It's disappointing. But blame is not sellers' alone to shoulder. It's time for marketing and sales leaders to empower their sellers on social by providing them with the right tools and training. We can help you get there: