DBS Bank Followed Four Design Principles When Building Its Enterprise Data Platform
I recently had the pleasure to talk with Siew Choo Soh, group head of consumer banking technology and big data/AI at DBS, on how the bank has set up its enterprise data platform to enable a data-driven organization. That session was part of Forrester's APAC Financial Services Webcast Week 2020, and you can find the full session for replay (as well as all other session replays) at https://forr.com/apacfsweek (free registration required).
In the session, Siew Choo and I talked about the situation at the starting point of the bank's journey and how the team set the objectives and design principles for a single end-to-end platform. That platform, named "ADA — Advancing DBS with AI," was conceptualized to provide data ingestion, data security, data storage, data governance, data visualization, and analytics model management capabilities.
"We saw the need to democratize the access to data and reduce the time from data to insights to become a truly data-driven organization."
Siew Choo Soh, group head of consumer banking technology and big data/AI, DBS Bank
I realized that there were three aspects of DBS's journey that would be particularly helpful for others starting out on a similar journey. This blog post aims to summarize the first aspect: the architecture principles that guided the design of the ADA platform. I will cover the other aspects in a later blog post.
Four Architecture Design Principles Emphasize Continuous Evolution, Scale, And Security
The first aspect is about the design principles for ADA. Having been an architect myself in the past, I was very excited by the design principles that the ADA team had laid out at the very beginning:
Constant evolution of the platform and components. This allowed the bank to keep up with the rapidly changing landscape by continuously implementing, updating, and expanding individual frameworks and capabilities without breaking the architecture.
Multicloud infrastructure with open source priority. Virtualizing and decoupling the data and compute layers enables scale and frictionless use of private cloud and any public cloud. Further, DBS can benefit from the speed of development across a global open source community.
Autonomous self-service data and machine-learning platform. The ADA team set out to create a data and machine-learning platform-as-a-service, where users can use the platform via training by and pairing with the ADA team.
Security, privacy, and quality by design. The ADA team took great care to align closely with the bank's strict security and data governance guidelines and integrated the capabilities into the design from the outset.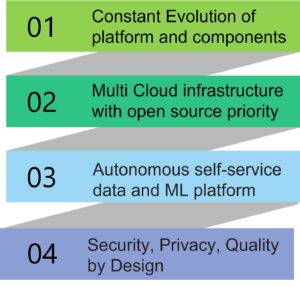 Setting up these four design principles at the very beginning of their journey has allowed Siew Choo and her team to establish the ADA enterprise data platform as an integral part of DBS's enterprise architecture and make its capabilities available to all lines of business within the bank.
Continue to part 2 of the DBS case study!
Please connect with me on LinkedIn!
—Achim Granzen
Forrester clients can read the full report, "Case Study: DBS Bank Enables An Insights-Driven Organization With An Enterprise Data Platform."
If you'd like to discuss how this affects you and your organization, please don't hesitate to schedule an inquiry call with me.
If you are a vendor or service provider and would like to be included in future research, please do schedule a briefing with me.