Deliver Brand Relevance And Growth With A New Experience Architecture
At Forrester's Technology & Innovation Forum, Joe Cicman and I are revealing new research we've been working on that will help brands avoid irrelevancy and drive growth. It's called experience architecture (XA), the technology strategy that the likes of Target, The Home Depot, and Starbucks use to deliver quality experiences to their customers and employees.
So what is it? Experience architecture is a technology strategy holistically applied to the total brand/enterprise experience — strategies, core technologies, services, and processes that power customer and employee experiences. It's different from enterprise architecture because it goes well beyond the plumbing of back-end technical systems and equips technology and business leaders with a holistic approach to the seamless and continuous delivery of a brand's expression of customer obsession.
One of the biggest challenges we have heard (or seen) from brands is the friction in the customer journey. When marketing hands off to commerce to support, there is a consistent duplication of effort and lack of continuity — anyone who has called customer service and had to recap their frustrations knows this! This is the product of technologies and processes that sit in silos and aren't connected together with the customer experience in mind. Outdated enterprise architectures result in friction and unnecessary pain points, ultimately affecting the trust and loyalty to your brand.
Technology is of course an important piece of XA. We know from our research that customer-obsessed firms almost universally agree that they need to use technology to provide better customer experiences, but it goes well beyond the use of integrated tech.
The Home Depot's CEO calls it an interconnected experience. Since customers pick up half of all online orders in the store, XA has to do more than just connect the technology systems to support the handoff between commerce and the order management system. It has to enable collaboration and communication between supply chain employees and digital teams to develop a seamless mobile experience that integrates local physical inventory within the mobile app. The Home Depot and other brands rely on XA to enable them to compete against digital natives such as Wayfair.
There's no one-size-fits-all approach to XA. You're also not going to buy it from a software vendor; rather, you build and practice XA. It requires looking across the customer lifecycle and bringing together marketing, commerce, service/support, supply chain, and more to work in service of your customer, rather than in siloed teams or buckets of technologies. The below graphic is how we think about XA today. Again, it goes beyond the point solutions of technologies and meets customers and employees in the channels and on the devices they use today or will use in the future.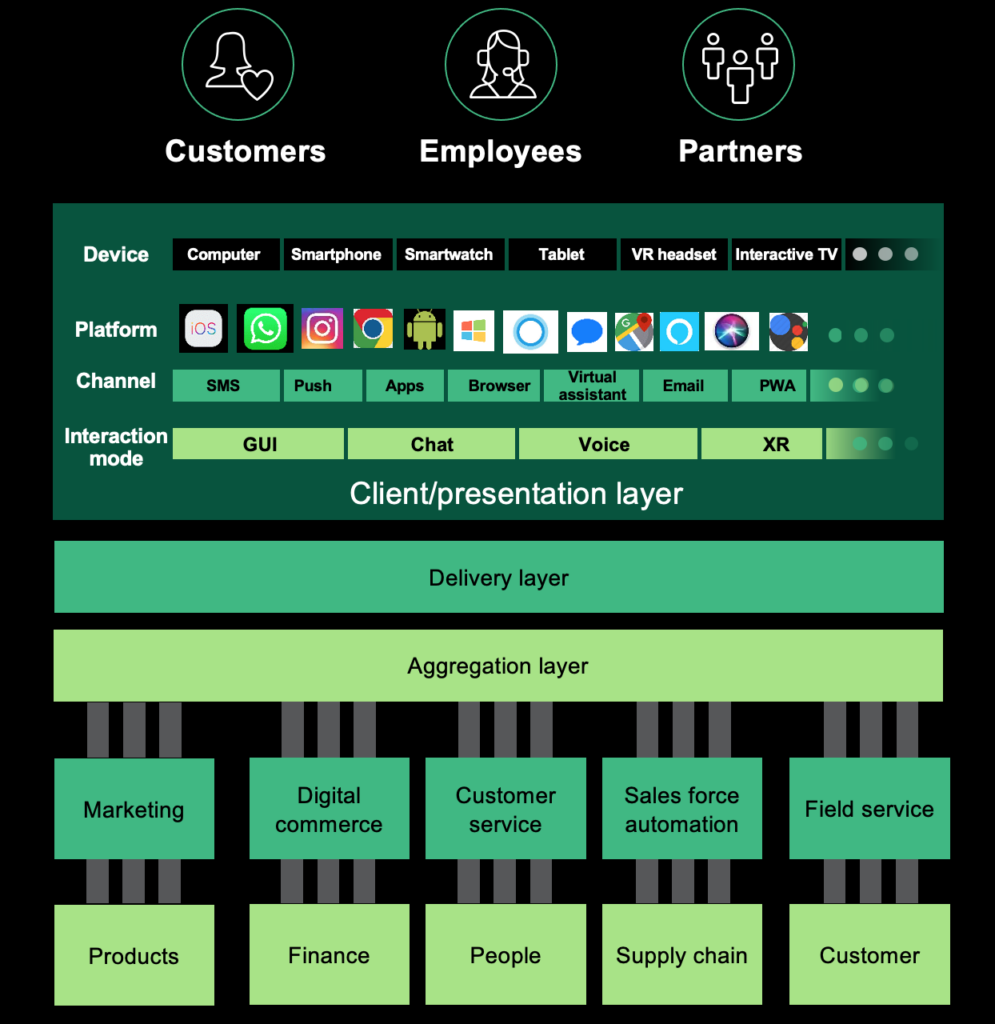 So what's the benefit of adopting XA? Growth, differentiation, and elevated levels of customer experience, to start. Firms also become more adaptive and resilient to the next business challenge or disruption. We'll be sharing more data during our Technology & Innovation Forum session, Unlock Enterprise Creativity With Your Experience Architecture. Please come join us.
(Kate Leggett and Kara Wilson contributed to this blog post.)