Demand Program Plays: Get And Move Buying Group Members Through The Waterfall
Traditional acquisition and nurture programs have ignored the reality of how buyers work together. Buyers work as a group to make a unified decision. As organizations embrace the reality of buying groups, demand programs must change from focusing on individuals to opportunities. The new B2B Revenue Waterfall needs demand programs to get new opportunities into the waterfall and move existing opportunities through it.
A demand program organizes a set of inbound and outbound tactics to achieve an objective. Each demand program has a program objective so that it can drive measurable results, based on where the opportunity is within the waterfall. Demand program objectives are the following:
Activate. Activate new logo demand, reactivate previously disqualified demand, or leverage cross-sell and/or upsell opportunities within current accounts.
Validate. Capture and engage additional buying group members, and prioritize, engage, and qualify prospective demand.
Accelerate. Increase the velocity of the opportunity and buying group.
To support the movement of an opportunity through the waterfall, each program objective has multiple program plays. Program plays are simply variations or types of programs that support the program objectives. And when it comes to the buying groups associated with the opportunity moving through the waterfall, different members of the buying group can be in different program plays. However, the opportunity and all buying group members must move together from activate to validate to accelerate.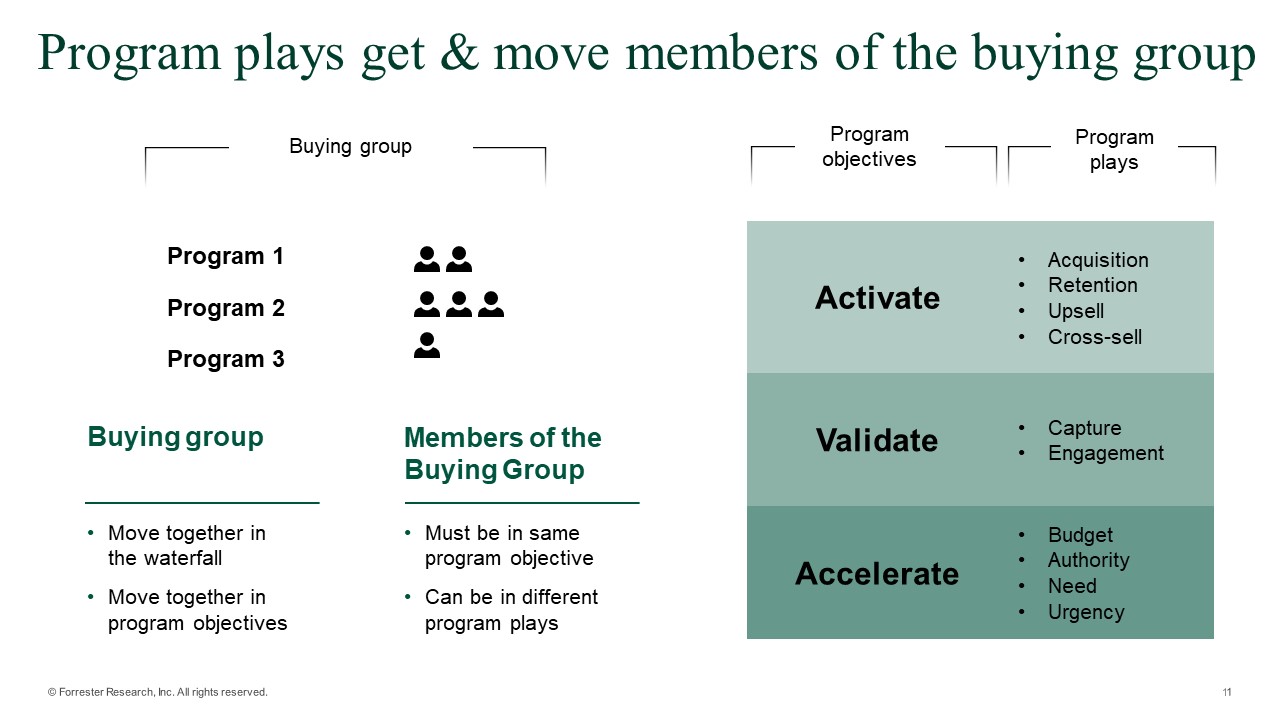 Activate Program Plays Engage The First Buying Group Member
The B2B Revenue Waterfall needs programs to activate buying groups aligned to the targeted accounts, targeted opportunities, and detected stages in the waterfall.
Acquisition. Get at least one member of a buying group to activate a net-new logo opportunity within a candidate account.
Retention. Get at least one member of a buying group to activate a retention opportunity in a current customer account.
Upsell. Get at least one member of a buying group to activate an upsell opportunity in a current buying center within a customer account from a buying group that has purchased a previous solution.
Cross-sell. Get at least one member of a buying group to activate a cross-sell opportunity within a new buying center in a current customer account.
Validate Program Plays Capture And Engage All Buying Group Members
The validate demand program objective aligns with the engaged, prioritized, and qualified stages of the B2B Revenue Waterfall.
Capture. Capture additional members of the buying group, and enrich the information about the buying group.
Engagement. Engage and influence all the members of the buying group.
Accelerate Program Plays Move Buying Group Members To A Decision
In tight alignment with sales, the accelerate demand program objective aligns with the pipeline stage of the B2B Revenue Waterfall.
Budget. Help each existing buying group member realize the value in the solution to obtain budget.
Authority. Help when buying group members change (late to the party, replacement for a specific buying group role). This program play must get any new buying group members up to speed on the value of the solution and on pace with other buying group members in the opportunity.
Need. Overcome common objections regarding a business need(s) that has come up during the sales cycle.
Urgency. Influence and shorten the decision time frame.
Want to hear more? Join our colleagues for the North America Planning Assumptions 2022: B2B Marketing webinar where we'll discuss more about demand program plays. Register here.