Flipkart To Cross $1 Billion In Sales During This Year's Big Billion Days
On October 6, 2014, Flipkart launched "Big Billion Day," which falls during the festive season in India that accounts for 40% of key Indian brands' total annual sales. Now in its fifth year, Big Billion Days has become a five-day event; this year, it starts on October 10 — the same day that Amazon will launch its Great Indian Festival. This year, we expect Big Billion Days to really live up to its name, as Flipkart is likely to sell goods totaling more than $1 billion across the five days.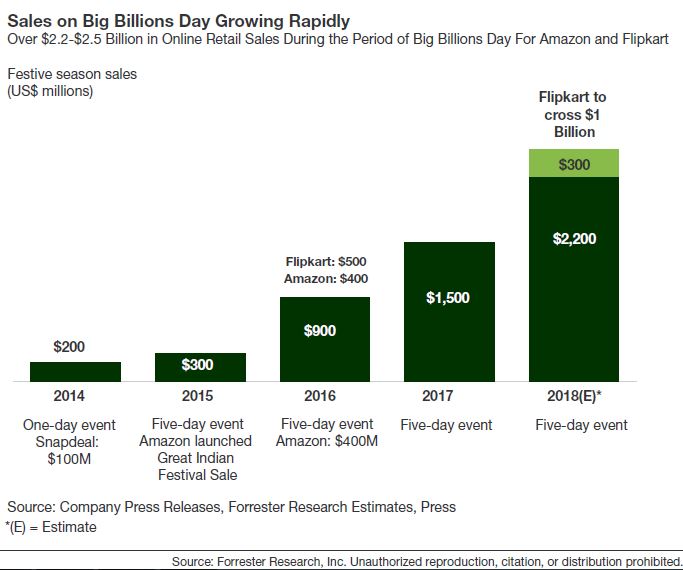 A lot has changed in India's online retail market since 2017; it now looks like Amazon versus everyone else. On May 9, Walmart announced that it would jump into the fray, paying $16 billion to acquire 77% of Flipkart and finally getting the chance to sell goods to Indian consumers. During this year's festive season, we expect that:
Consumer spending will increase. Unlike last year, there should be no handicaps like demonetization or GST. As a result, we expect consumers to spend more freely, significantly increasing the number of online buyers and online spending wallet share. Both Flipkart and Amazon are focusing on providing easy financing to facilitate customer purchases of big-ticket items like smartphones, appliances, and TVs.
Grocery and fashion will bring new online buyers. Both Amazon and Flipkart will focus on these two categories to bring additional buyers to their respective platforms. While Amazon will continue to focus on making customers buy more frequently and in more categories, Flipkart will play to its strengths in online fashion via Flipkart's fashion offerings, Myntra, and Jabong.
TV is going to be the category to watch out for. The smartphone and fashion categories will be in the limelight throughout the festive season, but TV is the category to watch. With Xiaomi's entry into the Indian TV set market in March 2018, the market is ready for disruption. We expect 105 million TV sets to be sold in the next five years, and the festive season will account for the majority of these sales. We expect Flipkart to use TV as the next category to help it maintain its lead in market share, including exclusive product launches.
Flipkart will cross $1 billion in sales. We expect Flipkart to reach the benchmark of $1 billion in sales during this year's Big Billion Days, powered by its strengths in the fashion, smartphone, and TV categories.
The shopping spree will produce $2.2 billion to $2.3 billion in sales. In 2017, Amazon and Flipkart sold goods worth $1.5 billion during Big Billion Days and the Great Indian Festival. We expect the two companies to sell goods worth $2.2 billion to $2.3 billion (see figure) this year, powered by the increase in the number of categories and the discounts that the well-funded retailers are offering.
We will be updating our online retail forecast for India next month. Meanwhile, for more detail on the future of the Indian online retail market, ForecastView clients can access our online retail forecast for Asia Pacific.
Categories