Generate Better Leads? Make ABM Engage Buyers? Start With Your Messaging!
What is the most effective way to generate qualified leads and make your account-based marketing (ABM) strategies pay off?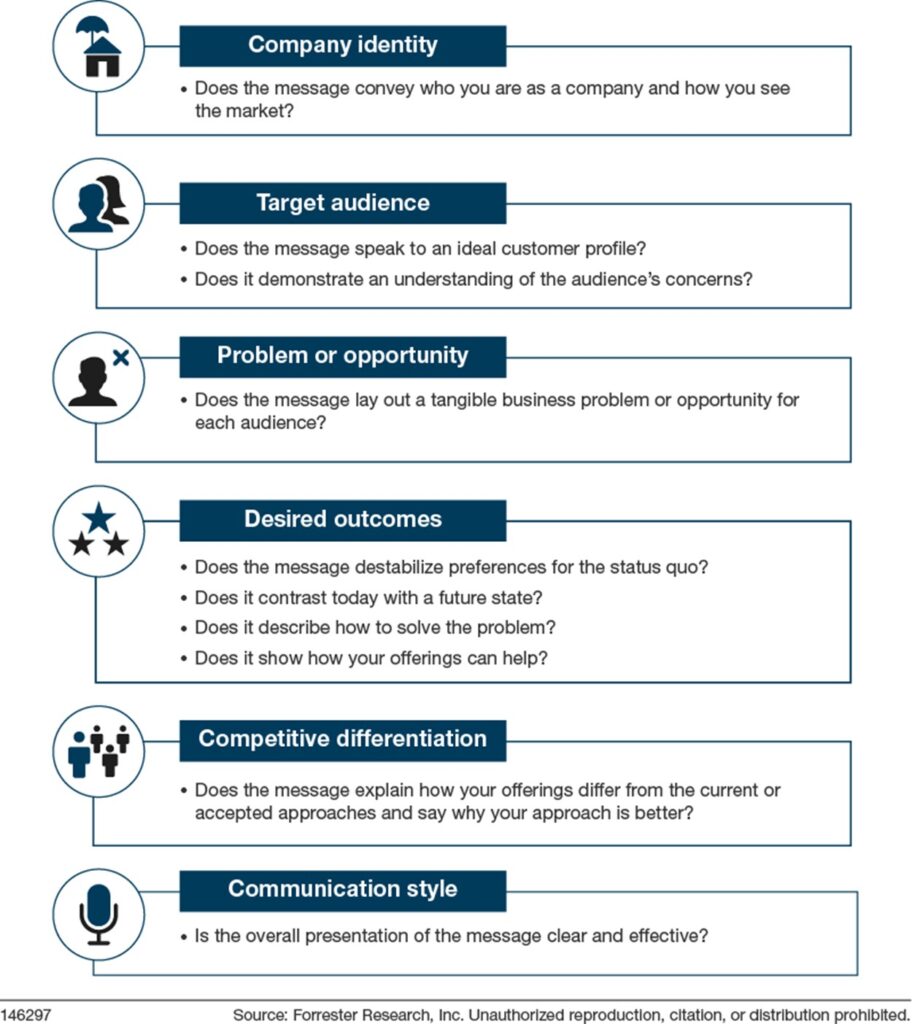 Start with a customer-centric message.
This advice sounds laughably basic but proves to be very difficult to accomplish in practice. Few get it right. How do I know?
Earlier this year, Forrester published new research examining how well B2B website content focused on customers (subscription required). We reviewed 60 websites (as we did in 2017) and found that B2B marketers continue to fail miserably at creating content that business buyers find interesting, interactive, or compelling.
Most failures you can trace back to one key issue: website content that talks too much about your products and what those products do and not enough about how you help customers solve their problems and achieve specific, measurable business outcomes by working with you.
In research released this week, we look further at how a foundation of customer-focused messaging produces content that buyers want to see and leads eventually to differentiated customer experiences. In our survey, we asked questions that related to our strategic messaging framework (shown in the image). To create great marketing content, B2B marketers need a disciplined approach to developing it and tracking its impact. The most effective messaging architecture centers your content story on customers and provides a framework/benchmark that keeps it focused on what matters to buyers: business results.
Our Messaging Survey Results Show:
45% of B2B marketers — who work at firms that exceeded revenue goals (i.e., "exceeders") during the past 12 months — include visual elements and content that address different audiences or use cases on their websites. Only 27% of firms that meet or miss their goals did the same.
63% of "exceeders" also name customers and show examples with evidence of business outcomes. Only 40% of "met/missed" do that.
"Exceeders" are 1.7 times more likely to deliver sales enablement content that explicitly identifies the companies or decision makers their strategy targets.
Unfortunately, hardly anyone:

Includes a model in their content that demonstrates business outcomes buyers can achieve, grounded in specific, tangible metrics (only 19% of respondents claim to do this).
Describes the outcomes customers can expect to accomplish stated in business (not technical or abstract) terms (18%).
Shows measurable outcomes compared to other products or current approaches (14% say they do this in their sales content, and only 7% do this on their website).
Uses narrative to walk visitors through a story or persuasive argument (just 13%).
Makes clear comparisons to competitors' offerings (only 3%).
Product-centric messaging is not only ineffective, it can be downright wasteful. Buyers can find out about your products and services on their own. This means marketing content must do double duty educating buyers and then making sellers more relevant when those prospects finally agree to a first call or meeting. Customer-centric content shows buyers how their situation could improve thanks to the products or services you offer — and why they should do something differently now.
When marketing messages authentically explore the issues decision makers want to solve — and point out how your firm can deliver those outcomes better than alternative choices — buyers feel that you get them and trust that what you say is honest and relevant. B2B marketers who really understand customers create messages targeting specific, identifiable audiences, talk about business problems rationally, deposition alternatives against a more desirable future state, and show evidence that their current customers have achieved those promised outcomes.
Forrester offers B2B marketers a checklist for assessing and ensuring that your messaging is focused where it matters: on customers. How do you answer these questions? Or stack up against your competitors against these six key comparison points? Evaluate yourself (or ask Forrester to help) to make the switch from product-first to customer-relevant.
Categories