Go-To-Market Strategy: The Three Core Engagement Elements Needed For Successful Execution
This is the third of a three-part series on go-to-market strategy. If you missed the key steps needed to make decisions at the first two strategy layers, you can read the market strategy blog post here and the buyer strategy blog post here.
A one-size–fits–all go–to–market strategy is nonexistent. But B2B organizations do need a methodology in place to support the creation of an audience–focused go–to–market strategy. The Forrester Go-To-Market Architecture is a comprehensive decision-making framework for evaluating different go–to–market options and choosing what is most viable for your organization. Delivering desired results requires a cascading set of decisions across three strategic layers: market, buyer, and engagement.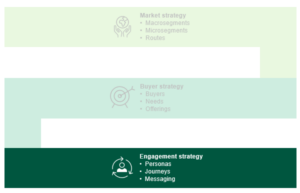 The engagement strategy layer is where portfolio marketers build the critical deliverables that will guide go-to-market teams, ensuring collaborative and successful execution. Creating a successful engagement strategy only happens when decisions about the market and buyer strategy layers are finalized. These ideal pathways to market (i.e., agreed-upon market segments, routes to market, and target personas) guide portfolio marketers to build actionable engagement strategies. This third and final strategy layer includes three core elements:
D

evelop

ment of

k

ey

person

as.

B2B purchases can be complex. M

ost business

 

buying

is not done by a single buyer but by groups of people working together to make the best purchasing decision for their company. Key in on a

ll members of the buying group, and isolate key personas

based on their presence

throughout the decision-making process

and

the

role that they play

.

Well-developed personas are the starting point for a

successful

engagement strategy.

Construct

ion of

b

uyer journey map

s

.

Actionable engagement strategies are dependent on journey maps

, a critical tool for enabling teams to create content, programs

, and tactics

that engage buyers and help them buy. Portfolio marketers construct dynamic journey maps that include key buyer questions, information needs, interaction and content preferences, and the engagement level of the buyer throughout every phase of their decision-making journey.

Creation of

a

udience-focused messaging

.

Sadly,

too much

B2B messaging continues to be product-oriented, emphasizing features, functions, and capabilities. Portfolio marketers must use their buyer

expertise

to build messaging that captures the attention of buyers

—

 messaging that is

built

on

an understanding of

the

initiatives

,

challenges, and business outcomes that they are looking to achieve

. Importantly, messaging must be aligned

with

each phase of

their

buyer's

journey

because their

questions will

differ

along the way

.
Portfolio marketers package all three components into a go-to-market playbook that cross-functional leaders use to direct investment decisions for marketing campaigns, sales and marketing programs, content development, and revenue enablement. Each go-to-market pathway should have a unique engagement strategy. The go-to-market playbook drives coordinated planning across buyer-facing teams, ensuring the delivery of a cohesive and positive buyer experience that is intentionally designed to meet buyer expectations.
Forrester clients interested in learning more about the Forrester Go-To-Market Architecture can click here to access the research report. If you enjoyed this post and want to connect, you can find me on LinkedIn!
Categories