Guest Speaker Platon Inspires Summit 2018 Audience of B2B Leaders
The British photographer and philanthropist Platon, celebrated for his portraits of world leaders and celebrities, spoke to the Summit 2018 audience in Las Vegas
As Platon showed his award-winning photographs and told stories about his interactions with his subjects, he also spoke eloquently about what makes a good leader
Platon urged the B2B leaders attending Summit to uphold the leadership values of courage, empathy and respectful debate
Midway through SiriusDecisions' Summit 2018 event in Las Vegas, the British photographer and philanthropist Platon took the stage as a guest keynote speaker. For a memorable hour, Platon kept the Summit audience of B2B sales, marketing and product leaders enthralled with his stories, images and observations about the political leaders, celebrities and ordinary people whom he has photographed during his celebrated career.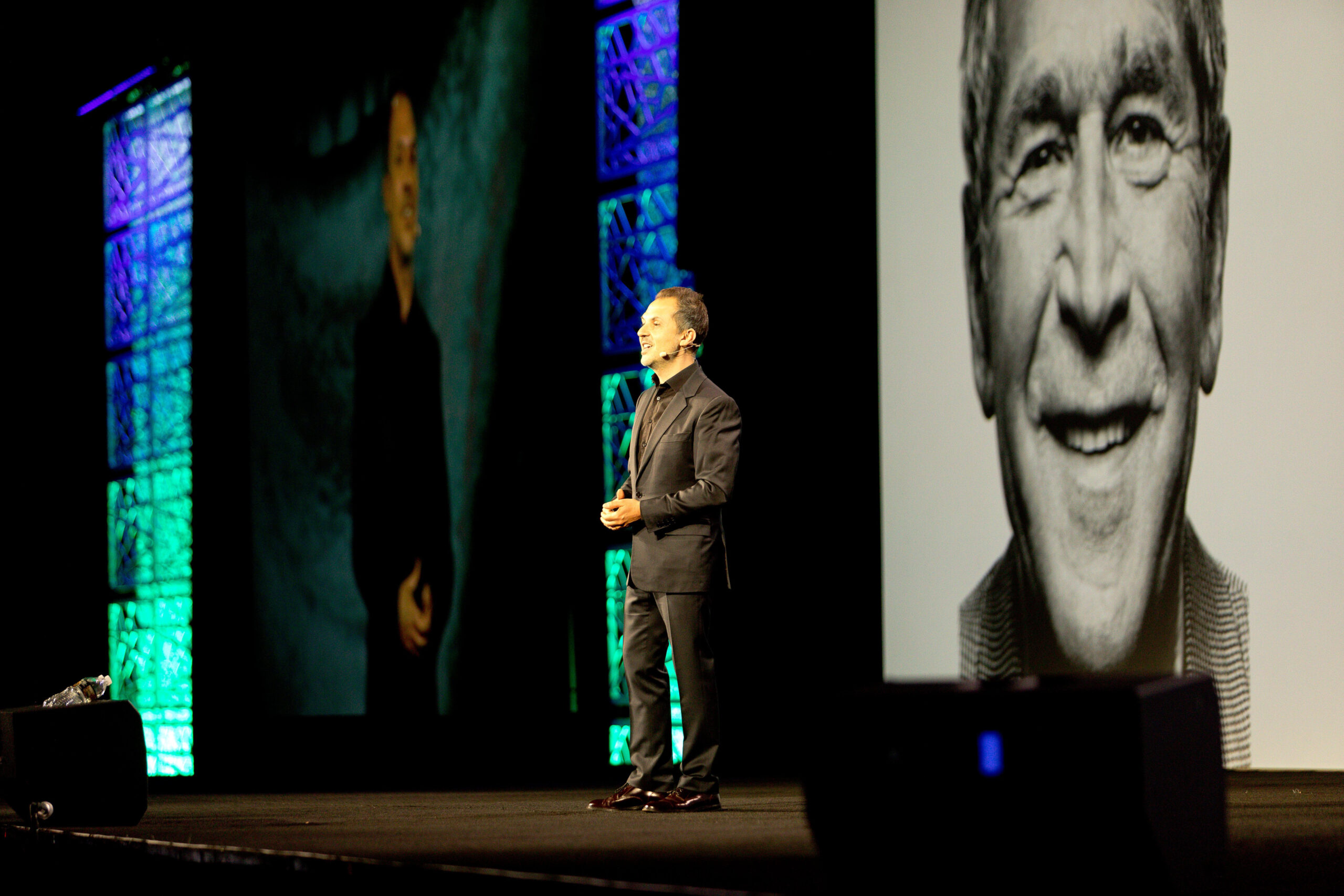 Throughout his talk, as Platon explained the circumstances and meaning he took away from each of his photographs, he used his stories as inspiration to urge the leaders in attendance to develop their own leadership skills and values – based on the themes of empathy, service to others, and open dialogue rather than confrontation.
As the photographer recounted his colorful experiences and impressions in an engaging but rapid-fire style, dozens of his close-up black-and-white portraits of people appeared on the giant screen behind him – including his portraits of the last five American presidents. "I will take you on a journey through power as I've been privileged to witness it," Platon told the Summit audience at the beginning of his talk.
He explained that seeing through the mask of leadership or celebrity to the human personality has been an important part of his success. Whether the subject was Bill Clinton or Michelle Obama, Mark Zuckerberg or the singer-songwriter Adele, Platon described how he was able to break through the individual's reticence or resistance to capture a glimpse of the authentic individual within.
Even when he felt he could not break through – as with George W. Bush, who insisted on smiling broadly in every shot a few months after he left the pinnacle of the presidency – or Vladimir Putin, whose unsmiling face in his photographs conveys implacable power and authority – the results were often revealing. "Sometimes the mask shows more than the truth does," said Platon.
Besides political leaders, Platon told compelling stories about his experiences taking photographs of other famous individuals in difficult situations – including the last photographs ever taken of Muhammad Ali and Stephen Hawking. Both the boxer and the scientist were gravely disabled by illness when Platon met them – yet both managed to share inspiring messages with the photographer.
Platon also told a dramatic tale about arranging a secret photo session in Moscow to photograph – and, it turns out, to listen to – Edward Snowden, the former CIA employee, regarded as either a traitor or whistleblower, who leaked thousands of classified National Security Agency documents that revealed the existence of mass surveillance programs, and is now living in Moscow where he has received temporary asylum. While chatting with Snowden about loneliness and history, and the right and wrong of his actions, Platon took a photograph of the fugitive wrapped in an American flag.
"I'm not trying to sell you Edward Snowden or anybody else," said Platon, who has founded a nonprofit organization called The People's Portfolio to promote compassion and responsible citizenship. "I do know I've traveled the world and photographed people who have been imprisoned for even singing a song about freedom. I feel privileged to live in America, where so many sacrifices have been made so that we could have freedom. And we need to use our freedom to respectfully debate painful issues."
In one of the most moving parts of his speech, Platon spoke about a project called "Service" that he completed for the New Yorker magazine, a photographic tribute to America's military personnel during the wars in Afghanistan and Iraq. Platon described in poignant terms the circumstances of how he was able to take several portraits that focused on survivors who had experienced the disability or death of a loved one in war.
"Did you feel that?" he asked the audience. "If you felt that, then something real just happened. If all the people in this room, with all of your differences, all felt that together, that's something called compassion – and that's the power of storytelling."