Harness Friction In Customer Journeys To Drive Emotional Engagement
How To Leverage Friction In Customer Journeys To Build Trust
Friction, of course, can be bad, but there is such a thing as too slick of an experience. One customer inadvertently purchased six figures worth of data because the checkout process was so slick that it gave them no moment for pause.
Companies that prioritise frictionless experiences above all else risk alienating customers and missing out on opportunities.
While you want to avoid unwanted delays at emotional peaks and at the end of the journey, mistimed interventions that interrupt key tasks, and friction during service-recovery journeys, there is such a thing as good friction.
Forrester defines good friction as:
Extra time, steps, engagement (human or digital), or information in the short term that lead to a desirable outcome for the customer and/or company in the form of empathy, accountability, and dependability that engender trust.
Why is this important? Because designing the appropriate level of friction in customer journeys drives emotional engagement that earns customer trust, creates brand advocates, and drives revenue-generating loyalty behaviours such as retention and advocacy.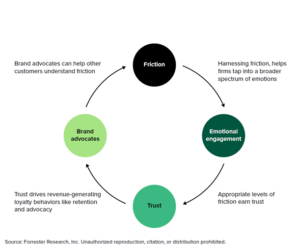 A focus on optimising friction encourages emotions, such as:
Feeling reassured from a proper setup and successful resolution. Consistent processes, like asking a customer to review a shipping address or set up an alert to drive future value, might delay the completion of a transaction, but they'll also reassure the customer that they have made the right choice. Human-brokered interactions are high in friction, but customers who need to solve an issue may prefer the added friction in return for reassurance.
Confidence and safety in the right checks and balances. Friction can signal that an organisation is running processes and checks in the background to protect sensitive data or critical transactions, creating a sense of safety and confidence for the customer.
Pride for a unique purchase. Friction can contribute to a sense of pride when connected to curation or tailoring of products and services.
A feeling of worthiness for a values-based purchase. Adding extra steps in the journey to elicit excitement or pride can give customers a sense that they are doing something good and aligned with their values.
Feeling respected and valued as a human being with unique needs. Friction can also make customers feel respected and valued if it reflects integrity and transparency.
Develop A More Nuanced Understanding Of Friction
Customer journeys differ based on their level of complexity (number of channels and steps) and intensity (fear of missing out or level of commitment). Ordering a pizza through Alexa requires a lower level of friction than purchasing airline tickets, which you would want to review and actively confirm before you buy. But how much friction is the right amount of friction? Some journeys, such as a gambling block, a high-ticket purchase, an onboarding journey, or a journey that requires customers to share sensitive information, require a higher friction quotient. To start thinking about friction in a more nuanced manner to engender customer trust, customer experience (CX) leaders need to:
Distinguish between good and bad friction.
Understand the friction quotient of different industries, journeys, moments, and individual customers.
Adjust the dial by testing and learning, orchestrating in context.
Educate customers about the value of friction.
If you want to learn more about this topic or CX, join my colleagues and I at our fully virtual event, CX EMEA 2021, from September 30 to October 1, or contact us.