How To Accelerate A Cultural Employee Experience Shift In Europe
The current crisis proves that having great employee experience (EX) is critical to the brand and the CMO. EX was already a key driver of customer experience (CX) and business performance. Today's crises require brands to meaningfully engage employees even more. In fact, our latest data (see figure below) has shown that the correlation between employee experience, consumer experience, and business performance is higher than ever in Europe.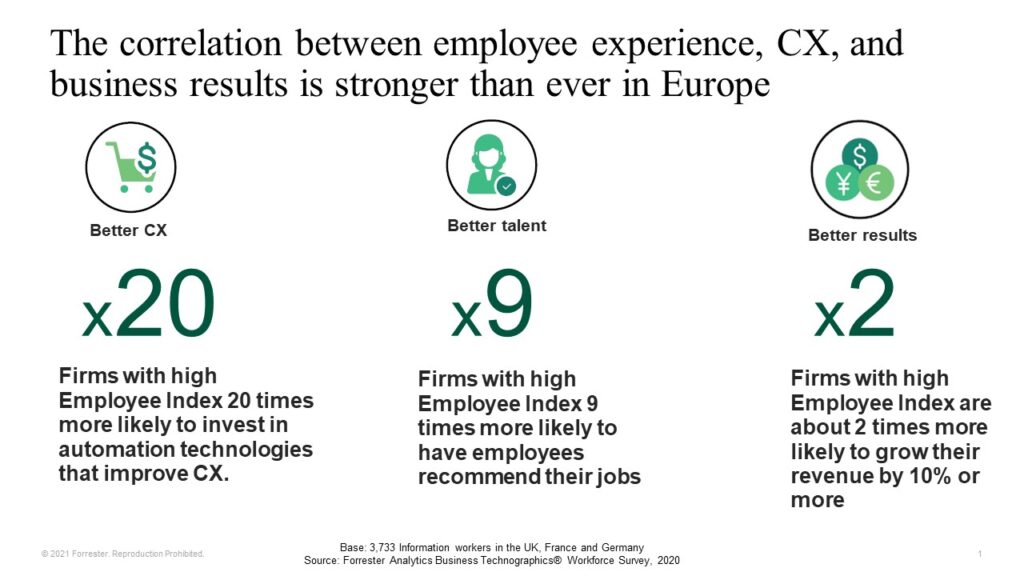 The crisis is drastically accelerating the shift to new forms of organizations adapted to the digital era. However, many leaders at European firms underestimate the importance of embracing a new management approach to deepen employee engagement and culturally transform their firms. Embracing remote work and collaboration tools and moving to the cloud in only weeks and months was a challenge but nothing in comparison to the upcoming challenge of evolving processes, changing management style, and updating a culture based on physical offices. This will take much longer and is the key to success.
HR must take a more strategic long-term role, even though it is a struggle to face day-to-day pandemic workforce management — and to maintain energy, collaboration, and creativity among teams.
Several firms across different industries are implementing significant changes to embrace anywhere-work strategies and to transform their organizations and the way managers engage employees. For example:
Siemens reports that it will enable a two- to three-day remote work standard, starting immediately and continuing permanently, for 140,000 of its employees — despite German firms historically being the least likely to support remote work due to an in-person culture.
Société Générale, the French bank, launched an internal project and surveyed close to 6,000 employees to accelerate its future-of-work deployments and wrote a white paper to make recommendations to the top management on how to design a new employee experience, embrace anywhere work, and culturally transform the management and the organization.
Novartis in the health industry designed a new "Choice with Responsibility" programme to give more flexibility to offer many associates the choice to decide how, where, and when they work.
It seems like many firms in Europe have only started to measure employee engagement more regularly through pulse surveys to assess their perceptions of the pandemic situation or their willingness to come back to the office, but it is still early days in measuring employee experiences.
Employees in Europe (20%, 15%, and 10% of UK, German, and French employees, respectively) are less likely than in the US (26%) to consider that their firm delivers an excellent employee experience. Why is this?
This is one of the many questions I am trying to answer in the context of some new research on employee experience in Europe. Together with my colleagues Enza Iannopollo, senior analyst, and Dan Bieler, principal analyst, we are investigating the cultural and regulatory consequences of the crisis. If you're open to chat with us, feel free to contact me — we'd love to discuss your EX priorities for 2021.
We will discuss the results of our findings in a complimentary webinar on April 14.
If you want to learn more about The Future Workplace: Top Considerations for Technology Leaders in Europe, feel free to register to our webinar.