How To Build Your Business Case For Microsoft 365 Copilot
Microsoft 365 Copilot: Here Comes Workplace Generative AI
Microsoft 365 Copilot's general availability day is here: On November 1, 2023, a broad audience of organizations will be able to buy the service for $30/user/month. It's a key pillar in what Microsoft calls "the age of copilots" in which AI-based tools reshape the way we work. For its part, Microsoft 365 Copilot brings generative AI (genAI) directly into programs such as Word, PowerPoint, Excel, Outlook, and Teams. It allows us to use natural language to ask Copilot to perform tasks on our behalf.
We've released two new reports to help clients navigate this landmark genAI opportunity:
Build Your Business Case For Microsoft 365 Copilot, our guide to Microsoft 365 Copilot, forecasts adoption for 2024 and lays out the benefits, costs, and risks you face when considering purchasing this genAI solution for productivity and collaboration. Microsoft's hopes for — and claims about — Microsoft 365 Copilot are ambitious. As Microsoft CEO Satya Nadella declared, "we believe this next generation of AI will unlock a new wave of productivity growth with powerful copilots designed to remove the drudgery from our daily tasks and jobs, freeing us to rediscover the joy of creation." Our report helps you decide its value for yourself.
Business Case Calculator For Microsoft 365 Copilot, the companion report, helps you establish a traditional business case baseline for your potential investment. Although traditional business cases have their limits — they're too focused on costs and don't capture all the potential benefits you can expect when adopting a new technology — they remain a crucial tool. You need one to convince gatekeepers, such as your CFO or procurement department, that an investment will pay for itself. This report contains a downloadable decision tool Excel model to get you started.
Clients can read the full reports, replete with many more insights and tools; for everybody else, here is the short version, with three of our key findings to get you started:
We predict that Microsoft 365 Copilot will reach 6.9 million US knowledge workers in 2024.
We describe numerous drivers of demand in our reports and present a model of adoption. By the end of 2024, we forecast that about 6.9 million US knowledge workers will be using M365 Copilot (see figure). That equates to roughly 8% of US knowledge workers. Based on Microsoft's public musings about adoption, we think we're in the neighborhood.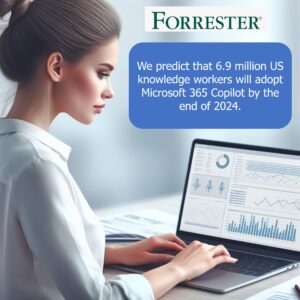 The break-even point for recuperating your investment is likely low.
Every CFO wants to know the answer to one simple question: Will we recover our costs? To answer this, we modeled the break-even point for different salary levels. Even with relatively conservative assumptions, the solution pays for itself: If it provides four hours of time savings per month — just one hour per week — an employee would only need to earn $7.50/hour to break even on the cost of Microsoft 365 Copilot over the course of a year.
There are risks both to adopting and not adopting Microsoft 365 Copilot.
In our reports, we lay out some of the known risks and assert that there are numerous unknown risks that will pop up, as well. One risk is that employees will push too hard on these tools without applying their robotics quotient (RQ) to question Copilot's outputs. There's also a risk associated with not adopting, or at least experimenting, with M365 Copilot, because employees will then turn to bring-your-own-AI, magnifying risks such as hallucination and data leakage significantly.
Client Next Steps:
Read our full reports, then schedule a guidance session with me to analyze your own business case:
J. P. Gownder is a vice president and principal analyst with Forrester's Future Of Work team.