Introducing Forrester's Digital Go-To-Market Review: Home Goods Edition
In a rapidly evolving retail environment, brand manufacturers that have traditionally sold through wholesale channels now need to think very differently about distribution. Some traditional wholesale partners are shrinking — meaning those (often long-standing) distribution partnerships simply can't generate the sales and growth for brands that they did for decades. By contrast, online marketplaces are growing — and fast. Marketplaces promise access to vast swaths of new customers — but potentially also arm's-length relationships with those customers and less control around placement, plus proximity to gray-market sellers for brand goods.
So what's a brand manufacturer to do? Take control.
To help them do that, Forrester's just-launched Digital Go-To-Market Review evaluates a set of brands in a specific category to see how well they are positioned to thrive independently. This initial review focuses on home goods brands, which target consumers with products such as cookware, kitchen goods, and small home appliances. We evaluated 34 brands on five elements, covering 20 sub-elements. Specifically, for each brand, we reviewed its:
Direct-to-consumer strength

Brand visibility online

Distribution and e-control

Organic consumer enthusiasm

Product innovation
From this review, we rated 10 brands as best in class: All-Clad, Breville, De'Longhi, Dyson, Instant Pot, KitchenAid, Nespresso, Simplehuman, Weber, and YETI. To learn more about what makes these brands stand apart and best practices for this sector overall, please see the summary report, "Digital Go-To-Market Review: Home Goods Brands 2020."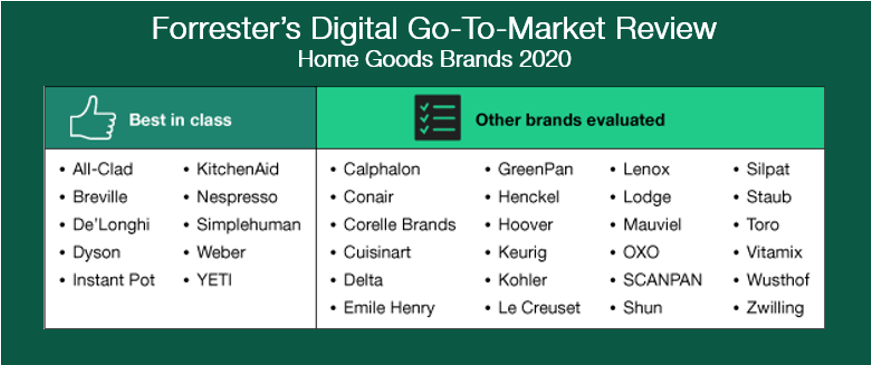 Next up: Watch for upcoming Forrester Digital Go-To-Market Reviews for brands in the beauty and consumer electronics sectors, with more sectors to follow. And tune into the replay of our How Brands And Manufacturers Thrive In The Age Of Marketplaces virtual event, featuring a series of panels and sessions on the most important topics for brand manufacturers now, such as marketing, direct-to-consumer sales, marketplace forecasts and models, innovation, drop shipping, e-control, blockchain, personalization, and more.
To learn more about our brand manufacturer research and the Digital Go-To-Market Review — and what your company should do based on these findings — please email Madeline Cyr (mcyr@forrester.com), me (skodali@forrester.com), or your Forrester account manager.