How EA Teams Can Deliver True Business Value
There are few capabilities in modern technology more conflicted than enterprise architecture (EA, or often just "architecture.") Predictions of EA's demise are common. Notable influencers in digital-native firms such as Amazon VP Adrian Cockcroft believe that architects per se aren't needed, because "that's what managers do." Stories abound of EA organizations being disbanded because they cared more about ivory-tower architectural purity than about delivering for customers.
And yet, for every tale of an EA team coming to grief, I hear two of companies instituting (or reviving!) their enterprise architecture practices. And the chief architects and other EAs among Forrester's clients want to increase the maturity and the performance of their architecture capabilities.
Forrester believes that enterprise architecture remains a critical capability for companies looking to operate at scale and stay competitive over extended time horizons. The first phase of Agile and DevOps transformation has resulted in far more effective digital delivery. But Agile teams' local optimization has also resulted in a fragmented system landscape. As one executive Forrester who recently interviewed put it, "Agile teams work wonderfully and creatively; we've given them lots of tools where they can get things done quickly and pragmatically. However, I tend to find they make me less resilient." Concurs another, "In the new Agile model, classical IT architectural considerations such as availability, reliability, robustness, supportability, and so on often take a back seat to the pure functional considerations." Uncoordinated teams may use whatever tools they choose, which translates to expanded attack surface. Related concerns around technology lifecycle management and technical debt are seeing a resurgence in interest.
High-performing EA teams must connect their work clearly to business value and business outcomes and remain grounded in core principles. Only then can EA translate its capabilities into clear services that add real value to digitally transforming organizations. Our goal at Forrester is to help the modern architect influence complex digital delivery organizations toward greater sustainability and long-term agility. As both researchers and practitioners of enterprise architecture, our team was well aware of EA's challenges when we created this visual model to describe and guide our revitalized coverage: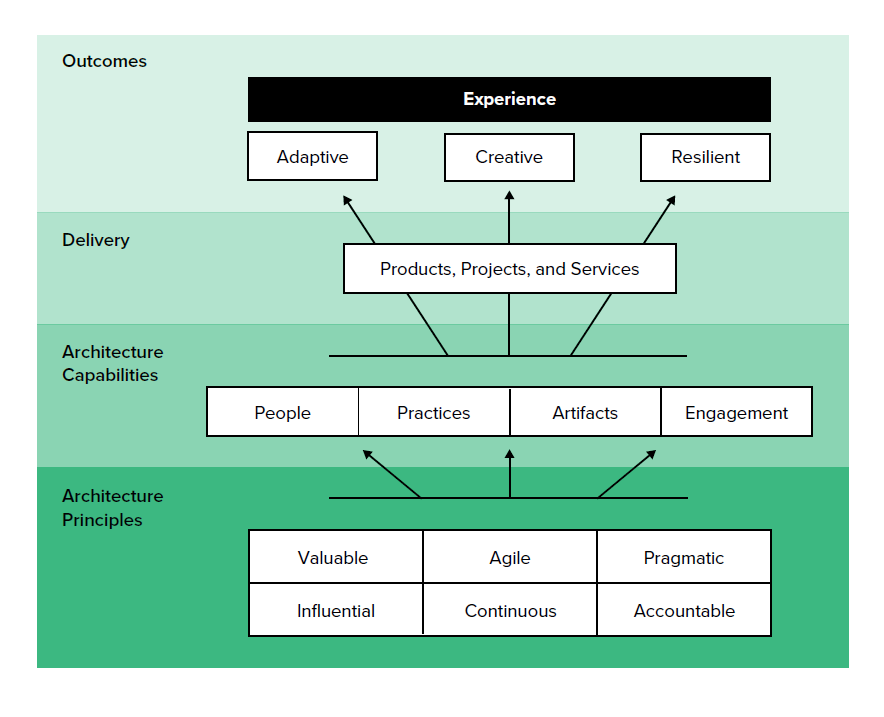 To dive into this model and our whole new portfolio of research, guidance, and tools to support EA leaders as they build high-performing, pragmatic architecture practices, start here.
I'm excited to be partnering with a talented group in elevating architecture at Forrester, including Gordon Barnett, Charlie Dai, Sam Higgins, Laura Koetzle, David Mooter, and Margo Visitacion. Stay tuned!
Want to learn more about this topic? Join us at the upcoming Technology & Innovation North America event live September 29-30 where I'll be hosting a session entitled Get It Done With A Pragmatic Approach To Enterprise Architecture.
Categories