Malaysian Firms' Digital Transformation Momentum Is Stalling
Malaysian firms' digital transformation efforts stagnated in 2021, and services decision-makers at these firms are even more cautious with their 2022 plans. Key transformation challenges include technical topics like data and security as well as technology strategy. Malaysian firms also need help reinventing their tech strategies to remain relevant and future fit in a fast-changing and uncertain world. Comparing the results of our 2021 and 2020 surveys reveals that:
The percentage of Malaysian firms engaged in digital transformation is flat. In 2020, just 45% of the services decision-makers we surveyed in Malaysia said that their firm is actively engaged in digital transformation. This hasn't changed in the past year, indicating that Malaysian firms' 2021 plans largely fell flat. Unsurprisingly, firms that shelved their plans to start digital transformation initiatives in 2021 are also more cautious about plans to do so in 2022.
Digital transformation is losing momentum. While 27% of services decision-makers say their firms plan to start a digital transformation in the next 12 months, this is down from 33% a year ago. When we asked these planners about the challenges that prevent them from executing their transformation, they most often mention data issues (41%), employee availability (37%), and a lack of technical (34%) and nontechnical (32%) skills. Sixteen percent of respondents say their firms are interested in implementing digital transformation but have no immediate plans to do so, a slight increase over 2020.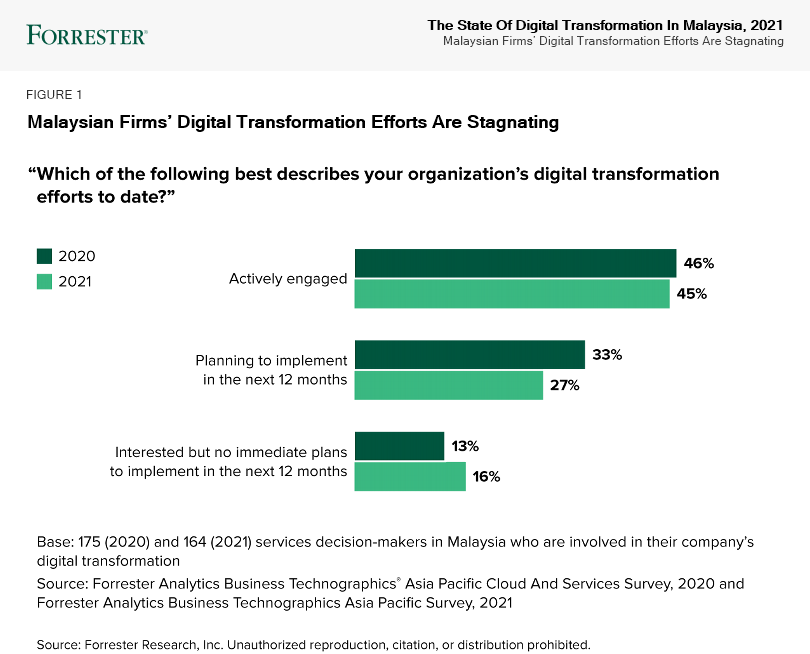 In 2022, Malaysian Firms Will Focus On Growth, Product Improvements, And CX
While the rankings have shifted slightly, the top business priorities remain largely unchanged from the previous survey. Malaysian firms' 2022 business priorities continue to align with growth, innovation, and CX. Accelerating the shift to digital also remains a top business priority. To deliver on these priorities and get back on track with accelerating digital transformation, Malaysian firms must tackle their data and skills challenges first and foremost and continue with well-judged funding of their initiatives.
Forrester clients can read more details about the state of digital transformation in Malaysia and why Malaysian firms should adopt a future fit technology strategy to make their business more adaptive, creative, and resilient, in the report: The State Of Digital Transformation In Malaysia, 2021.
Please connect with me on LinkedIn!
If you'd like to discuss how this affects you and your organization, please don't hesitate to schedule an inquiry call with me.
Related Forrester Content