Marketers, Sharpen Your Mobile Messages
Enterprise use of mobile messaging has skyrocketed over the past few years — and it's no secret why. In 2020, brands turned to mobile messaging to meet consumers where they were: at home, largely. And even though mobile messaging technology is by no means new, brands leaned heavily into mobile last year to garner customer attention in a socially distant world.
Marketers Are Having A One-Sided Conversation
Our newest research finds that, unfortunately, the quantity of marketing messages has often trumped the quality. Marketers, who use mobile to deliver offers and promotions, drive brand awareness, and build customer loyalty, have struggled to channel their muse. Take, for example, this puzzlingly vague message from an undetermined brand: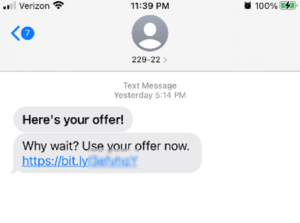 The customer wonders, "Who is this from? Why do they have my number? What happens (*gulp*) if I click that link?"
To reassure you: This is not spam — this is an actual message from an actual retail brand. But you would never know it.
So, Marketers, What Do You Do?
Crafting engaging, yet concise, mobile messages that are delivered to the right customer? At the right time? It's hard. And it's also expensive, especially if you're sending out messages via SMS, which requires you to pay per message sent. But far too often, marketers end up just adding to the noise. The average US consumer glances at an incoming message on their smartphone between 150 and 200 times a day. With all those notifications, getting your message to resonate with a consumer before the next text inevitably comes along can be a real challenge.
That's why Forrester has researched Mobile Messaging Best Practices Illustrated: Marketing, the marketer's new guide for composing and delivering clear and captivating SMS messages. This report outlines the five most important criteria for effective mobile messaging: opt-ins, clarity of content, personalization, trigger and timing, and orchestration across channels. We also provide examples that demonstrate outstanding mobile messaging across these criteria, which will help marketers write, deliver, and optimize the next messages they'll send to their customers.
If you'd like to chat in more depth about what makes a great mobile marketing message, please schedule an inquiry!
(cowritten with Cole Walsh, senior research associate)