New Technologies Transform Transportation Management
It does not come as a surprise that during times when supply chains are getting continuously disrupted and customers are anxiously waiting for their ordered goods, Forrester clients are anxious to understand how advances in transportation management systems (TMSes) could help handle this fluid situation. I've been thinking about the evolution of the TMS, from rate card and freight audit to real-time networks that anticipate and respond to market conditions.
In our earlier research, we described the landscape of TMS applications. Transportation management systems used to focus on cost and compliance, streamlining operations and reducing logistics costs. But given the challenges businesses are currently facing, TMS's focus is now shifting from cost to customer and employee experience. And this journey is supported by many technology advancements.
From Apps To Platforms
Cloud deployment enables shippers and carriers to share a platform to match freight, maximize "backhaul" opportunities, and boost sustainability. Cloud deployments of solutions such as Centiro also help virtualize the complexity of estimating cost for a global multimode, multicarrier shipment.
Embedding AI
Transportation depends on documents. But certificates of origin, packing lists, and bills of lading are often incomplete or riddled with errors. Modern transportation platforms can exploit AI from vendors such as ABBYY to correct documentation errors. This reduces stress for truck drivers, who suffer most from document deficiencies. It also reduces stress for customers anxiously awaiting deliveries and for CFOs worrying about order-to-cash cycle time.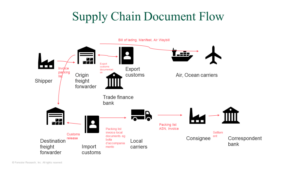 From Platforms To Mobile Cloud Deployment
My colleague Michele Goetz describes how Uber and Lyft recreated fleet management for taxi services using available cloud, mobile, data, and analytics. Some transportation solutions, like Trucker Tools, entered the market from the (independent) carrier's perspective. They leverage mobile apps that provide load tracking for shippers and (smart) freight matching to the carrier.
Design For Data Makes All The Difference
All platforms now provide a mobile app that provides real-time supply chain visibility. But what differentiates one platform from another? In B2C commerce, it's the simplicity of the direct e-commerce order connection to a shipping API. In B2B, it's the ability with a few mobile clicks to apply AI and analytics and to elastically match carrier services to developing demand.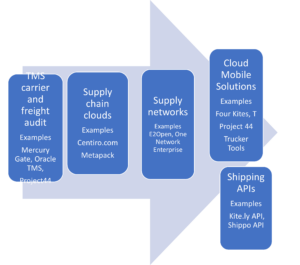 The named vendors and examples in this blog are just examples. Let us know what you think and if you would like us to dive deeper into TMS. I would love to hear your views.