Peachtree Corners — One Of The Smartest Smart Cities

This modern suburban city outside Atlanta, Georgia is driving one of the most empowering and successful smart-city initiatives on the planet. Curiosity Lab, founded in 2019, is driving open innovation efforts with everyone from large corporations to early-stage startups investing in edge computing, 5G, the internet of things, autonomous vehicles (see the image below), robotics, and more. Its city manager and CTO are allowing top technology companies to use real-world, connected public/city infrastructure for free to test and improve current and future smart-city technologies.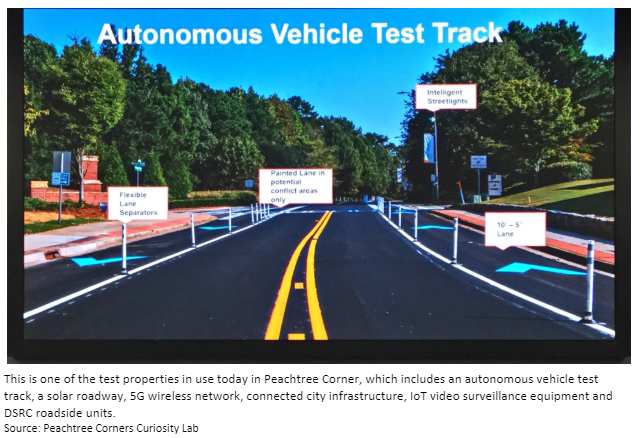 This living laboratory, opened in September 2019 within an existing 500–acre technology park comprised of nearly 8,000 workers and over 1,000 residents, is already responsible for helping to fill hundreds of thousands of square feet of empty office buildings and creating hundreds of jobs. Curiosity Lab's corporate partners have invested heavily in advancing its smart-city initiatives — a move that is resulting in this city's reputation as one that is becoming an East Coast Silicon Valley of sorts. Unlike closed laboratory settings used by many companies to test various forms of technologies today, Peachtree Corners allows companies to prove out and mature solutions in real-world conditions, including autonomous technologies and vehicles interacting with everyday city residents, real environmental conditions, and people-driven vehicles.
Curiosity Lab also has a research affiliation with the Georgia Institute of Technology and Delta Air Lines that has resulted in autonomous ground transportation and connected-vehicle research being conducted at the facility. This level of broad market engagement for its smart-city initiatives is dramatically empowering the city's innovation efforts, through which it fully plans to advance its citizens' lives as well as foster attractive distinctions for business and retail hosting.
Its initial technology partners include Sprint (the provider of its fully deployed 5G network), Hargray, The Ray, ASHRAE (American Society of Heating, Refrigerating and Air-Conditioning Engineers), TUSA (Taiwan-United States Sister Relations Alliance), GAMA (Georgia Automotive Manufacturers Association), AUVSI (Association for Unmanned Vehicle Systems International), Cyber 2.0, TrafficCast, and more.
The federal government has also invested in Curiosity Lab by awarding almost $2 million to the city for the purchase of a 25,000-square-foot building to house a tech incubator and corporate innovation center. And later this year, Peachtree Corners will be expanding its city engagement model for these innovations to include downtown, local hotels, stores, and restaurants.
City managers across the US may definitely look to this model as a reference point for best practices, as smart-city empowerment is key to future city growth, citizen empowerment, and emerging tech enablement. It's exciting to share yet another great government innovation lab. For more examples, see my report on this topic, published last month.