Predictions 2023: Tech Teams Set Sights On Communication Coordination To Inform Insights Initiatives
It's almost 2023! Here we find ourselves still shell-shocked from the prior three years and already heading into a new calendar year. You can almost hear the click … click … click … as we make our way up to the top of the roller coaster that 2023 will undoubtedly be. For some, this ride will be a boring kiddie coaster; while for others, it will be a high-terror twister of a ride. Where you are will depend on the unique circumstances of your organization. Take the ride in stride, letting insights illuminate your trajectory. In 2023, data teams that can configure their content and communications best will outperform (and outlast) their competitors in the long run.
With such uncertainty on the horizon, here's a glimpse of Forrester's 2023 data and analytics predictions for technology executives and their data and analytics colleagues:
Psychological safety and communication will be critical for insights initiatives in 2023 and beyond. Workplace psychological safety pertains to one's ability to speak up without fear of rejection or ridicule. Data, analytics, and insights can make people uncomfortable. If you are unwilling to have uncomfortable — even vulnerable — discussions within your data and business insights teams, you can kiss innovation goodbye. While you are mourning the loss of innovation, be sure to wave as recent new hires also exit your organization. Those who came to be a part of an insights-driven revolution are instead driven right out the door when they discover that the transformational mission they signed on for is really just sifting through spreadsheets.
Leaders of insights-driven businesses will make the most of what they have. Under increased pressure from anxious executives, tech leaders will be forced to articulate business value from every angle. In 2023, we expect business intelligence professionals to slow (but not stop!) spending on new solutions while getting serious about maximizing the value of the products they have. Likewise, employees working adjacent to data and analytics teams (think customer service or sales SMEs) will be urged to "come to the data side" as data communicators and data-literacy training initiatives help adaptive, future fit employees gain insights to share with the departments they report to.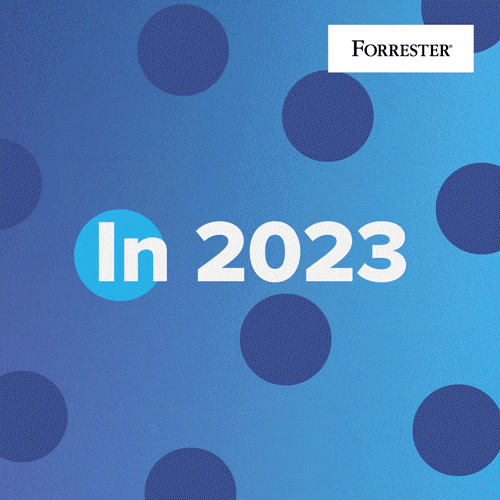 Governance teams will continue to grow in 2023. We know that the world today is vastly different than it was in 2019 but not just because of social and political upheavals along with a global pandemic. While we were all focusing on new advancements in AI, governance teams were taking root within organizations. As more organizations now understand that governance is the bedrock upon which data, advanced analytics, and artificial intelligence all sit, people are less nervous talking about governance because they can find more information and best practices on the interwebs and because the technology in this field has evolved. Firms that take this growth seriously and look at governance as more than a checkbox will start thinking about connected intelligence and be able to measure and monetize data as the valuable asset it is.
Want to see us put our metrics where our mouths are? Learn more about the data fueling these business insights predictions for 2023 and beyond. Clients can read the full set of Forrester's 2023 predictions here. If you aren't yet a client, check out the complimentary Predictions guide, which covers our top predictions for 2023. Get additional complimentary resources, including webinars, on the Predictions 2023 hub.
Related Forrester Content