Prioritize Digital Initiatives With Forrester's New Tool
Digital strategy is a continual process of developing and refining a company's approach to a fast-shifting landscape, one that requires decisions about what to do and what to avoid. As noted corporate strategy expert Roger L. Martin put it, "Strategy is what you choose to do and not do in service of a particular goal." So how can digital business and strategy leaders assess the various initiatives that their teams take on?
To decide which digital projects and initiatives to prioritize, you need a structured approach. A clear and consistent prioritization methodology leads to a higher likelihood of achieving better business outcomes. It also improves your collaborations with partners and stakeholders.
Forrester has developed a dynamic prioritization tool that lets you assess and quantify the likely impact of different digital initiatives. Based on seven factors — customer impact, business impact, employee impact, feasibility, risk, likely ROI, and whether an MVP will be used — the tool automatically ranks (i.e., prioritizes) the digital initiatives that you are considering (see the figure below). Our prioritization tool also lets you calibrate the criteria and weightings to accurately reflect how relevant they are to your specific business and strategy.
If you're a Forrester client, we urge you to try it out right now! You should also read our accompanying research report that walks you through the tool and how it can help you.
FIGURE: THE INPUTS AND OUTPUTS OF FORRESTER'S DIGITAL INITIATIVE PRIORITIZATION TOOL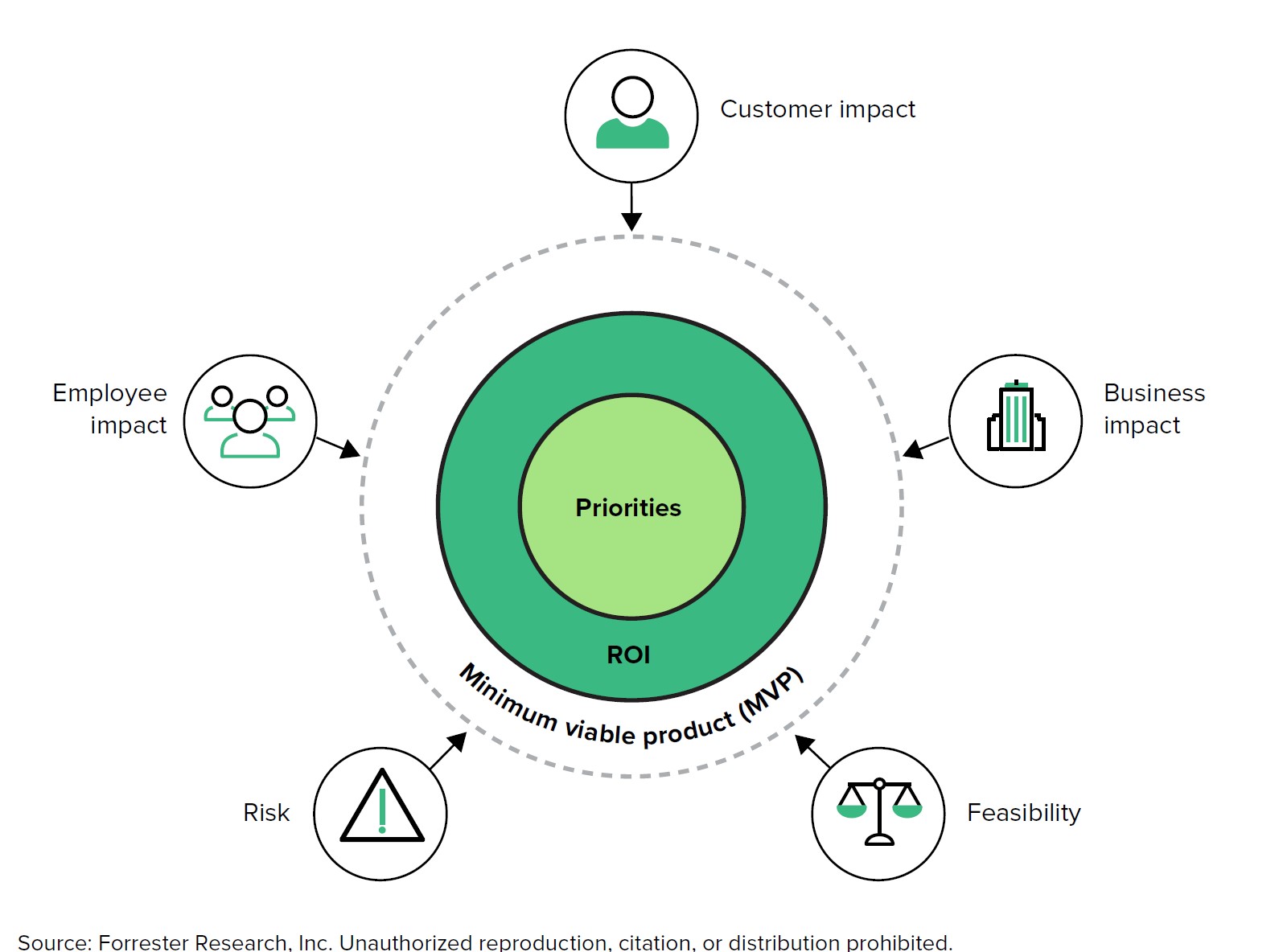 If you want a little more info on the seven inputs involved in this prioritization tool, we've got you covered here:
Customer impact. This component of the tool uses four criteria to gauge a given digital initiative's impact on the customer.
Business impact. This component of the tool uses six criteria to determine the financial and business impact of the initiative and assess its alignment to your overall business strategy and brand promise.
Employee impact. This component of the tool uses three criteria to consider how the initiative will directly or indirectly affect your workforce.
Feasibility. This component of the tool uses four criteria to estimate the availability of critical resources needed to execute the initiative — and to support it going forward.
Risk. This component of the tool uses two criteria to determine the likelihood of achieving expected results without incurring significant risks and to gauge confidence that risk/compliance requirements are known and addressable.
Minimum viable product (MVP). This component of the tool gives digital business and strategy leaders the opportunity to note whether a given initiative is intended for immediate use by most or all customers/employees — or whether it is intended as a mechanism to explore a new market or idea.
ROI. This component of the tool uses two criteria to assess whether a return on investment is quantifiable and to estimate the likelihood of positive ROI within a specified time frame.
Use Forrester's prioritization modeling tool to determine how and where to use your scarce resources most effectively. Need help getting started? Read the accompanying report! You can also set up a guidance session to discuss how to leverage this modeling tool for your organization's needs.
[This blog post — and the research behind it — was coauthored by Judy Weader and Ashley Villarreal.]
Categories