Four Questions Marketers Should Be Asking as They Plan for 2021 (Part Two)
As they plan for 2021, marketing leaders need to recognize and capitalize on what's changed in the post-pandemic world
Leaders have an opportunity to transform their functions and help rebuild revenue streams
Planning should start with answering four fundamental questions: what's changed for your markets, programs, organization, and team
In this two-part blog post series, I present four questions B2B marketers should be asking as they prepare for 2021. In the first part of this series, I looked at external factors, starting with markets and understanding how customers and competitors have adapted and changed during 2020. I then looked at program performance and the implications of the digital pivot. In this second part, I'll turn the focus inward and suggest how marketing leaders should respond to organizational and team changes.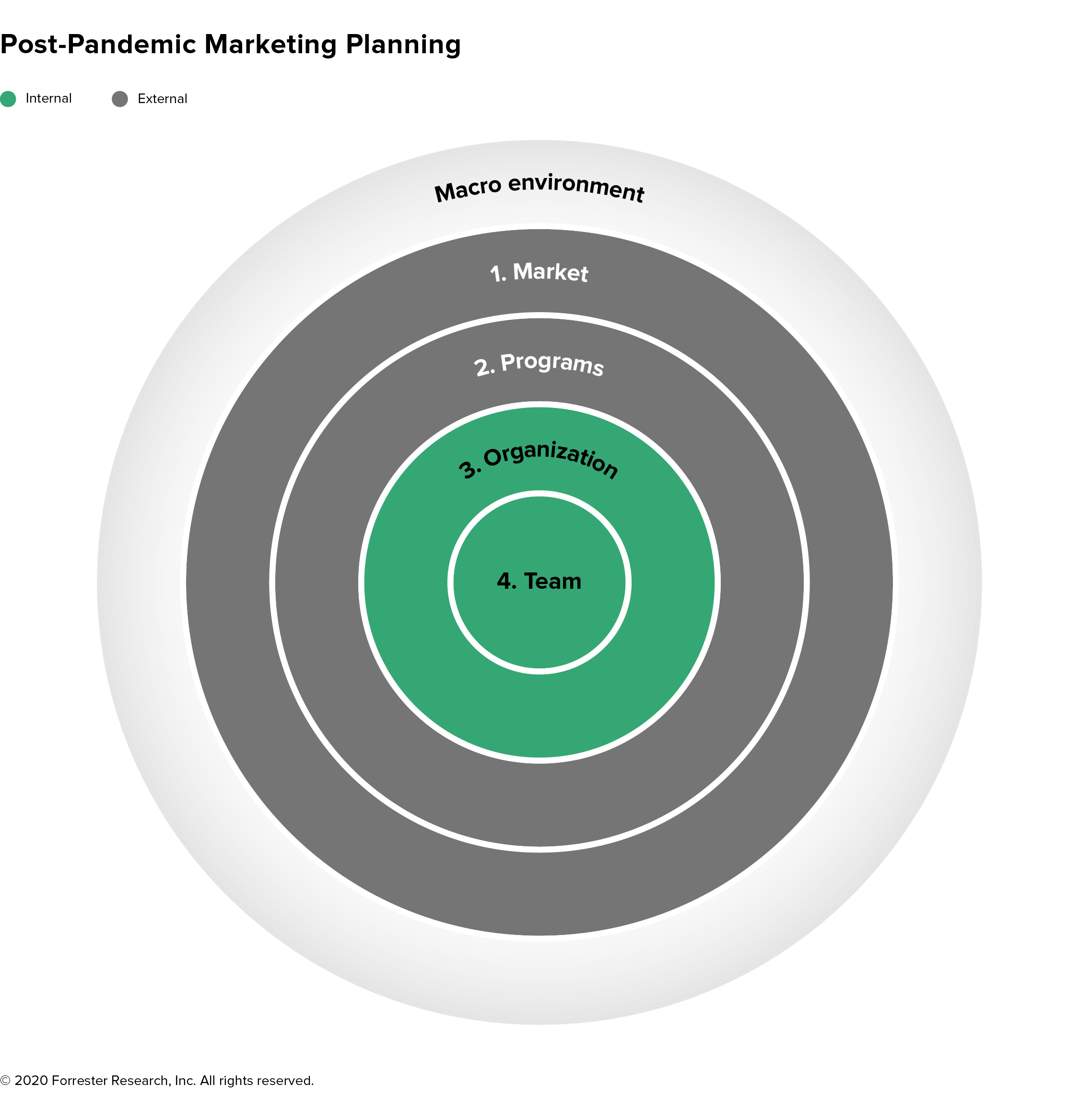 Question 3: How has the pandemic impacted your organization?
Many organizations have seen revenue streams impacted by the pandemic. This may require budget and headcount reductions for B2B marketing teams. Recent Forrester research suggests marketing spend will decrease by 27% overall in the U.S. next year. Within this figure, there are some interesting nuances — for example, marketing technology spending is predicted to grow by 2% over the coming 12 months. However, not all organizations have suffered declines and some marketers may be looking at flat or increasing budgets next year.
If you're facing budget reductions, look at contractually committed spend and consider how the organization can get more value from the investment. For example, any organization with a marketing automation platform and sales force automation system in place can shift its marketing focus from individual leads to buyer groups, thereby driving stronger sales alignment and improved revenue engine productivity.
Are there any opportunities to consolidate spend that won't impact program delivery? Start by auditing marketing technology and identify any underused and/or overlapping platforms. Are there contracts coming up for auto-renewal that fall into either of these categories? Think about what you need to run your organization's account-based marketing and demand programs from a single integrated tech stack. The SiriusDecisions Revenue Technology Model provides a great blueprint to start with.
Historically, physical events have taken up the biggest share of program spend, and it's unlikely that face-to-face events are returning to pre-pandemic levels any time soon. This will alleviate any budget reductions and it opens up an opportunity for organizations with flat or growing budgets to transform the program mix according to data and insight. That said, B2B marketers shouldn't discount physical events from their 2021 tactical mix entirely — instead, look for opportunities to explore hybrid experiences that combine elements of both. For example, think about how an event app could enhance an attendee's experience at a physical event while also minimizing physical contact.
If your budget is likely to be flat or growing, you most likely will be looking to spend it in different ways next year. Do you have any gaps in your organization's tech stack that will help sales and marketing teams understand and drive digital engagement? If so, you're in a strong position to make a case for the extra investment — as long as you can show its measurable impact.
Question 4: What's changed for your team?
The planning season presents marketing leaders with an opportunity to think about the skills and capabilities their teams will need to deliver the new digital-centric program mix. Data and analytics will become even more important as marketers seek to understand and react to market changes and pivot programs. Be proactive, and review your team's skills and capabilities (including agency partners) and identify any gaps that need filling. Agency spend may be reduced in the coming year, so marketers should consider how to grow and develop their team's skills, which will also help with rebuilding team morale.
When you begin the planning process, keep in mind that many members of your team will have spent the last few months working remotely. Despite marketing leaders' best intentions, colleagues may be feeling distanced from their organizations. Actively involve team members in 2021 planning — while it might not be possible to physically congregate in the same room, there are applications like Google Jamboard that make it possible to brainstorm remotely and ensure everyone's voice is heard. On a practical level, it's important for leaders to gather broad input and ensure the team is excited by the opportunities that 2021 presents.
Marketing leaders have a real opportunity to take a lead in understanding and responding to changing markets with agile, redefined programs that build pipeline and help recover revenue shortfalls. Clear, proactive planning is essential to delivering these programs and thinking about the four questions raised in this blog post will help marketers prepare as they enter the planning season.
For a deeper dive into planning in the current environment, join us October 6-7 at Forrester SiriusDecisions Summit EMEA where "Building Resilient Plans Across the Revenue Engine" will be a mainstage session. Learn more about Summit here.
Categories