Ready, Set, Go! Get A Quick Start On Your Consumer Personalization Strategy
Consumers and customers interact with brands across their customer journeys (see figure). Many of these moments are personalized. Though the end customer doesn't necessarily distinguish between different types of interactions, companies acutely know that different personalized tactics require different strategies, data, and technology.
Those moments could manifest across the customer lifecycle as: segmenting ads and employing dynamic creative optimization; testing offers in owned channels; deploying quizzes to understand preferences and collect zero-party data; recommending products based on browsing/search/purchase history; creating unique welcome experiences post-purchase; guiding progress to realize value in the product; providing tailored and proactive customer service; sending product expiration and renewal reminders; offering individual or tiered customer loyalty programs; or even using gamified referral programs — among others.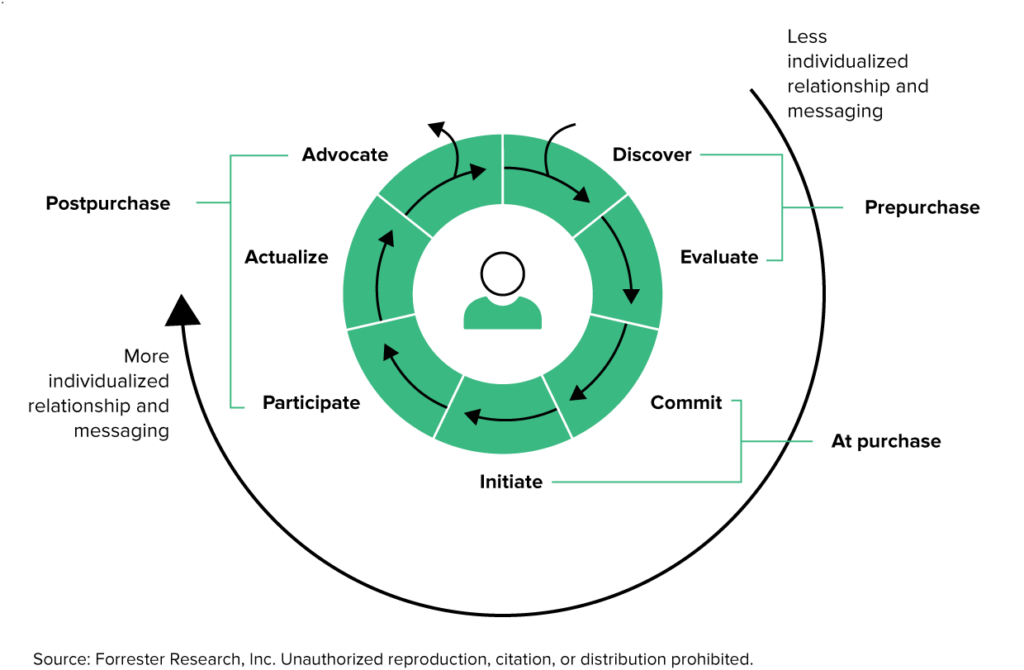 To navigate through the multitude of tactics, pinpoint where in the customer lifecycle your customers find the most value from your personalization tactics. Use our newly published quick start cards to guide your strategy based on the different stages of the customer lifecycle:
Pre-purchase. You want to help consumers learn about the value of your brand, products, or services through personalized tactics. Embrace consumers' desire for relative anonymity at this stage, and be comfortable with using broader personalization tactics.
At-purchase. You want to create a seamless and tailored purchase experience for customers using personalization tactics. Connect volunteered consumer info and activity to the purchase moment, and anticipate what will happen immediately after the purchase.
Post-purchase. You want to show customers you value them and encourage additional engagement after they've committed to your brand by leveraging personalization tactics. Leverage the volunteered customer data you now have to deliver a next best experience.
For more on consumer personalization, read our complete research stream:
Prefer to talk live? Schedule an inquiry or guidance session with us.